How to make moving for work easier on your family
Sometimes, the decision to move is something that someone will impose on us for different reasons. One of those reasons might be a work-related relocation where you have to move to another city or even state to pursue a job opportunity. That situation itself is hard enough, not to mention when you have a family with small children. Your primary concern should be finding ways to make moving for work easier on your family. With all the moving preparations you have to undertake, paying close attention to your family will be challenging but not impossible. We will help you with some tips you can hopefully use to your advantage. Keep reading to get some additional insight into what you can do to ease the moving process on your family.
Start by talking about the move
One of the first things you should do is have a conversation with your kids. Relocation is a stressful event for both adults and children. Talking about it will help with accepting and embracing the upcoming change. There is no right or wrong time to have a big family meeting and discuss moving. However, some might suggest that you talk to your family as soon as you have confirmation about the new job position. It's important that you not spring such news without prior indications. A family should be able to discuss major life changes together and come to shared decisions.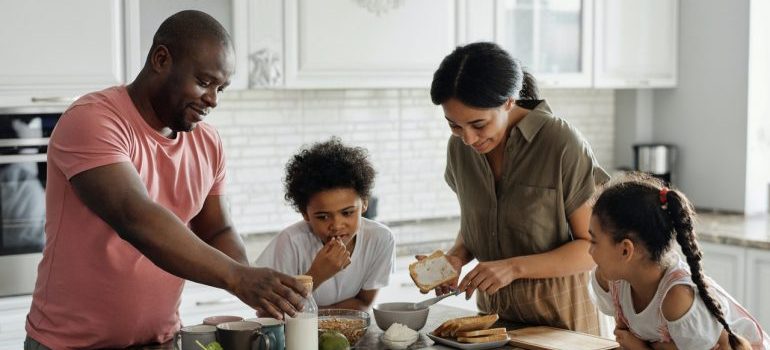 Because this is a massive change for everyone, opting for professional assistance from a moving company Washington is definitely a rational step to follow. That way, you will guarantee that the moving process will take its due course the right way. Subsequently, you will have enough time to spend with your family. Use this time to talk some more and help your kids get acquainted with the entire moving process. Knowing what to expect can ease up the situation and make the transition a little bit less stressful.
Stability and unity are something you want to emphasize
While discussing the relocation, you should always emphasize that you will go through this as a family. Small children can react to the change with disbelief and fear of the unknown. It is your job as a parent to make sure that everyone feels safe and secure during the whole process. One of the best things you can do is leave all the heavy lifting to local movers Seattle and explain to your family that professionals are handling everything from start to finish. That could help preserve the sense of stability and security, even when the living conditions are going to change.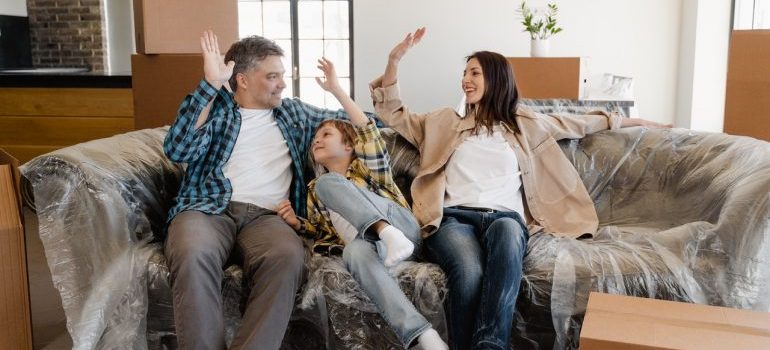 Relocating for work is a hard decision to make, but it is, in most cases, one that will benefit your family. At least financially. Weigh in all the pros and cons of making such a decision. Also, think hard about your short-term and long-term goals. It could happen that your family members don't understand your reasons right away, but be honest and lay all the cards on the table. Honesty should always prevail, especially when talking to children. The more gaps you leave for them, the more their imagination will have room to roam. So, laying down all the facts will help them embrace the bigger picture.
Make moving for work easier on your family by preserving the memories
An inevitable aspect of moving is getting rid of some of your possessions and belongings. If you are moving for work to another city, chances are you are not taking your whole household with you. If this is the case, it is essential to mention that your youngest family members get attached to things. Most probably, they will be reluctant to let go. An excellent option would be to book Seattle storage and put some of your belongings there for safekeeping until you are ready to transfer everything. Explain to your kids that all your items are safe and secure in the self storage unit.
Consider decluttering before moving and preparing your belongings for storage. Make sure you keep all the photos and family memorabilia in a separate box. Take the box with you and keep it close. Your children might want to look at some old pictures of your house, friends, and neighborhood.
Visit your new place of residence even before you move
If you are looking for more effective ways to make moving for work less stressful for your family, you should try visiting your future home. Kids are visual beings and can understand things better if they see them. Consequently, if you organize a visit to the new city, your new home, or even your new workplace, you will have better chances of avoiding moving stress. A good option would be to visit the new school as well and talk with the teachers. Getting to know the new surrounding and the new community will prove to be beneficial. There is no doubt about it.
Let your family express their emotions about the relocation
Even if you manage to prepare everything before moving day promptly and successfully, you and your family might still have mixed emotions. When moving day comes and goes, you could be left feeling a little anxious about the whole change. Do not panic because many people deal with post-move anxiety and successfully deal with it. Talk to your family. Seek out professional counsel if you deem it necessary. Remember that relocating is never easy on anyone.
Hopefully, some of these tips have made you think about some other methods you could use to eliminate the stress that builds up when relocating. Surely, you will do everything in your power to make moving for work easier on your family. It is going to be challenging but the experience is also going to be rewarding. Have this in mind while you get closer to your moving date.
Let our team put together a comprehensive moving plan for you. Complete our simple free quote form or contact us at 1-888-300-7222.