Tips for moving cables and electronics
Technology has been a part of our everyday lives for decades. But never has it been more prevalent than it is now. You probably have tons of appliances and devices in your house. And when the time comes to relocate, most of those will probably be coming with you. But even with the help of the best movers Seattle, there's more to moving electronics than just unplugging them. Remember: when moving cables and electronics, you have to keep unpacking in mind. You'll need to ensure your devices survive the trip and make setting them up again possible. So what is the best way to do that?
Moving cables and electronics requires some planning and preparation
Given the number of devices you probably own and the number of moving parts each of them has, you can't just start putting them in boxes at random. You're going to need to prepare a bit before you start packing.
Start by taking photos of the setup
One of the hardest things about moving electronics is setting them back up in your new home. To make this easier, take photos of the cable setup before taking it apart. That way, you won't have to wonder which cable goes where when you start unpacking. Instead, once your movers North Bend WA deliver your belongings, you can unpack and set up again easily using the photos you took as your guidelines.
Check if any electronics require special preparation for transportation
Most devices you can just shut down and unplug. When it comes to computers, tablets, and similar items, you may want to consider backing up your files either on an external drive or on a cloud. That way you won't lose anything even if the device itself gets damaged. But certain appliances do require special treatment.
Before you pack your dishwasher, for example, you'll need to clean it and let it air dry. Similarly, a fridge will require defrosting, cleaning, and drying. Bringing any amount of water or moisture into Seattle storage could spell out disaster for all your belongings and although moving typically won't last so long that rust will form, other types of water damage are faster to form and can be equally bad for electronics. So it's important to give yourself enough time to prepare appliances like the fridge, dishwasher, and washing machine.
Prepare your packing supplies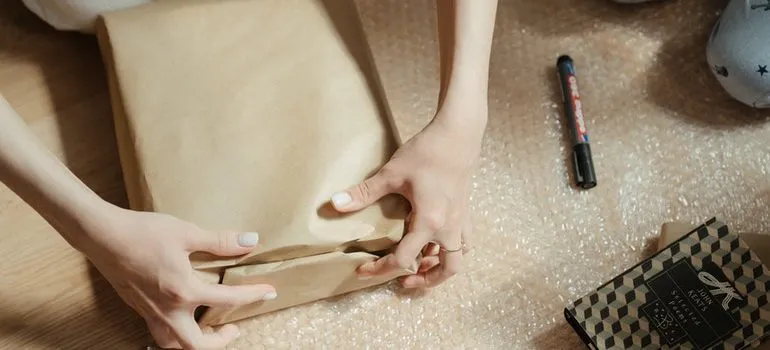 You should always gather packing supplies before you start packing. This will streamline and speed up the process as you won't have to stop packing every so often and go look for more boxes or tape. If you still have it, you should pack electronics in their original packaging. But that's not always possible, especially with older devices. Luckily, you can make-do with regular moving supplies. What you'll need are:
moving boxes,
paper, plastic wrap, or bubble wrap,
packing peanuts or styrofoam molds,
resealable plastic bags,
durable tape,
markers and labels.
The guide to moving cables and electronics
Once you have everything set up, it's time to start packing. The exact process will, of course, always depend on the individual device you're packing. But the general rule is to follow these steps:
Turn off and unplug
Always start by turning off your electronics. Modern devices typically have safeguards against damage from sudden power loss, but it's always better to be safe than sorry. Then, unplug from the power source. If the device runs on batteries instead, it is imperative to take the batteries out. Batteries are pretty sensitive; if they overheat or leak, they could permanently damage your electronics. With some simple appliances, this is pretty much all you need to do before putting them in a box.
Disconnect all the cables
With more complicated devices that connect with multiple cables, you'll need to disconnect all cables before packing. It's safer for both cables and the device to pack and transport them disconnected. Taking photos before doing so is the easiest way to reconnect the cables after unpacking. But if you forgot to do so, there are other things you can do:
while packing, you can use stickers to label different cables; put the same sticker above the port the cable needs to go into so you can reconnect them later
when unpacking, you can use the manual that came with the device to reconnect the cables; there are ways to find manuals online if you've lost or thrown away yours
Pack the cables separately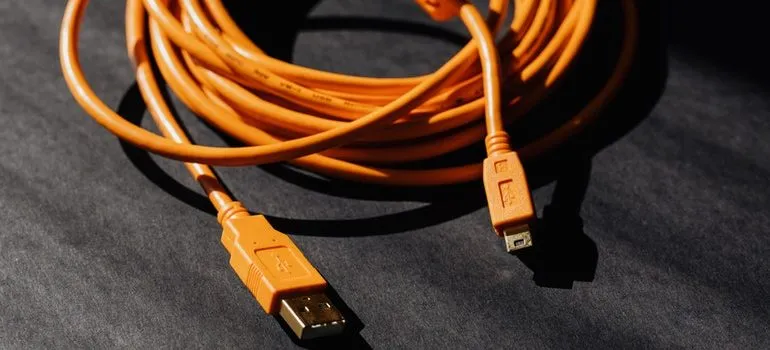 Unless you're using original packaging which has designated space for cables, you'll want to pack the cables in resealable plastic bags separate from the device itself. This protects your cables from damage and ensures they don't wrap around random things in moving boxes. However, to make unpacking easier, you should keep the bag with the cables inside the box you're using for the appliance or at least attached to it. Label the bag just in case too.
Protect your devices
Finally, remember to wrap your electronics to protect them during transportation and storage. Plastic wrap is fine for large devices like the fridge, especially if you want to keep the doors safely closed. But you should avoid it for computers, tablets, and TVs as it won't provide much protection and can trap moisture. Instead, wrap sensitive devices in towels, blankets, or bubble pack.
If you're using a moving box (rather than original packaging), make sure to line and reinforce the box as well. Fill empty space with cushioning material like fabric, bubble pack, styrofoam, or large packing peanuts. Avoid small packing peanuts and paper as they can get caught in ports, ventilators, and other small openings on the devices. Most importantly, don't forget to label the box as fragile.
General tips for moving cables and electronics
The biggest concern when moving cables and electronics is their safety. So that's what you'll want to focus on.
Use reinforced boxes and line them with cushioning material; wrap your devices and make sure they can't move around inside the box.
Clearly mark the box as fragile on multiple sides and mark which side should be up (if applicable).
Coil your cables and tie them to prevent them from unwrapping and getting damaged as they move around.
Don't use newspapers for wrapping – they can permanently stain and damage screens.
If you can, keep small and portable devices (like phones, tablets, laptops, battery packs, and the like) and chargers on you.
Finally, handle all boxes with care and tell your movers to do the same. This will maximize your chances of successfully moving your electronics without damage.
Let our team put together a comprehensive moving plan for you. Complete our simple free quote form or contact us at 1-888-300-7222.