Hansen Bros. Moving & Storage recognizes the important role that pets play in the lives of our customers, however we cannot transport pets or anything living. If you plan to move with your pets, you can choose to transport them yourself or we can recommend several high quality services that specialize in moving pets.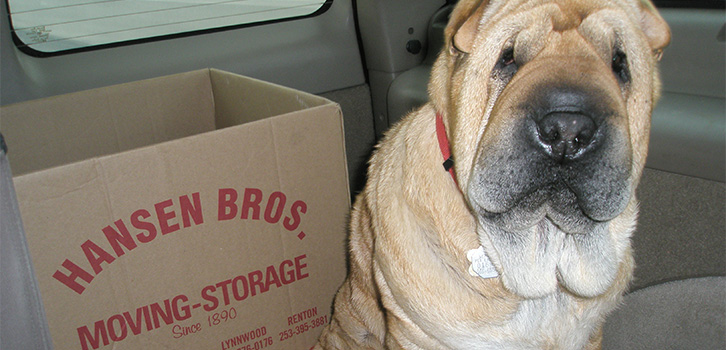 Unless you are traveling long distance, it is recommended that your pets accompany you in your vehicle as it provides more sense of security for yourself and your beloved pet. The following information is for informational purposes only. For professional advice on moving your pet, please seek the counsel of a qualified veterinarian.
If your pet, especially your cat, isn't used to car travel, take it on short rides around the block several weeks beforehand and then gradually increase the distance. This will help condition your cat to the space in your car and more importantly, to the motion of the car. Train your pet to sit still and not move around as roaming around the vehicle may cause injury to your pet and can create an unsafe driving condition. In the event that your pet cannot safely settle in your vehicle, it is recommended that you consult with your veterinarian about an appropriate medication that can reduce motion sickness and agitation.
Make sure each of your pets has their proper collar with ID and rabies tag. Also have all of their health documents in one convenient place. You'll need to pack a "suitcase" for your pet. If you're planning to stop at a hotel/motel along the way, call ahead to find out which ones permit pets. Make reservations as opposed to stumbling upon one on the road. Have leashes on hand to move your pet from the car.
Planning For Your Pet
Having lived with your beloved pets for as long as you've had them, you probably know exactly when they're happy or cranky. There's never a better time for you to utilize this important skill than during a move. Take the time to plan for making your pets comfortable during each stage of the move: before, during and after. Relocating isn't just stressful for people. It'll be equally stressful for your pets. As with humans, pets are very sensitive to changes in their surroundings.
Every state has specific laws regarding animal entry. Your pets must comply with the health regulations. Before making moving arrangements, take your pet to its regular veterinarian for a health checkup, vaccinations, and to inquire about entry permits and sedation. Ask for a referral in your new area and obtain important documents, such as your pets' health records and rabies tags.
Animal entry laws are typically very strict internationally. Depending on the country, your pet may be quarantined for up to six months for health inspection. If you are planning an international move, you may have to consider leaving your pet with a relative or a friend.
General Traveling Tips
Avoid feeding or giving your pets water for several hours before your drive. It is important that you are attentive to your pets' well-being. If they are uncomfortable in any way, make a stop. Remember to leash them before letting them out of the car.
Plan on making frequent stops for feeding and resting. Plan on feeding your pets either once daily or a couple of small meals during rest stops.
Never leave your pets in the car alone. It is against the law. However, if you must, remember to open the windows halfway and to lock the doors. Do not leave it alone for too long.
Moving Your Pet Cat
Moving with cats can be especially challenging. Cats often become more attached to their environment than to their owner. When relocating with a cat, it is necessary to prepare in advance. Show your cat plenty of attention and constantly reassure it with familiar items and scents to lessen the shock of the move.
Cats may not be as familiar traveling in cars as dogs are. Several weeks prior to the move, it is recommended that you take your cat on short trips in the car around the neighborhood and then slowly increase the distance. On moving day, confine your cat in its favorite room along with its favorite bed and toys. This is to make sure that it won't run away. Seeing everything packed and empty may make the cat feel unstable. Pack a travel case for your cat and count on numerous rest stops.
As you settle into your new home, spend extra time with your cat and ensure that its new living space is as comfortable and familiar as possible. Keep your cat in and around the house for as long as it takes them to become acclimated. Limit the cats' explorations to just the new home and then gradually accompany it on tours outside.
Confining the cat may seem a bit cruel, but cats often attempt to return to the previous home, no matter the distance. The acclimation process could last up to a month before the cat becomes completely familiar with the new house, the scents, and noises it makes on the new carpet and floors. If you are moving to an area with a drastically different climate, for example, from Washington to Arizona, it is advisable for you to consult with your veterinarian.
The initial walk through with Brad and getting the estimate was great. I had a couple of questions after signing that in my opinion took too long for a response. Abi was very responsive and helpful. Peter and Dawn (driver team) were fantastic and I would give them a 10 out of 5 if possible. They were communicative, on time, friendly, professional, and very particular with our belongings. Follow-up from the office to ensure things were going well was great. _x000D_Overall a good experience, with and exceptional experience from Peter and Dawn.
-Arne H., October 6, 2016
See What 4219 Customers are Saying
Moving Your Pet Dog
Dogs are easier to move with than cats because dogs become more attached to their owners than to their environment. In fact, unlike cats who prefer the routine, dogs may welcome a change in the environment, even thrive in it.
Like cats, dogs may become agitated or upset on moving day when they see all of the unusual activity. You should confine the dog in its favorite room along with its favorite blanket and toys.
When you arrive at your new home, take your dog for a walk immediately. Familiarize your dog with the new neighborhood. Let it sniff around and mark its territory. Because dogs develop strong relationships with their owners, they're less likely than cats to run away. You know best how to comfort your dog and provide an environment that will set them at ease.  Following are a few specific tips on acclimating your dog;
Provide a comfortable sleeping area for the dog.
Try to keep a familiar routine as far as daily walks and meals are concerned.
Dogs must go outside every day. Teach them their limits as far as streets and traffic are concerned.
Be prepared for a transition in housebreaking, especially if you are moving from the suburbs to the city. Your dog will have to get used to relieving itself on the pavement and near fire hydrants and poles.
Packing For Your Pet
The contact information of your regular veterinarian and a referral vet at your new residence.
Your pets Medical records.
Any regular or trip-related medications.
Spare collars with ID tags and leashes.
Plenty of bottled water for your pet. Your pets' stomachs can be upset by a sudden change in the water.
Enough pet food and treats for the entire trip.
Can openers.
Several water and food dishes.
Plastic spoons for mixing and dishing out the food.
Your pets' favorite toys and blankets.
Combs, brushes, and flea powder.
Plastic bags for picking up waste.
Paper towels and sponges.
Cotton balls and q-tips to clean eyes and ears.
Let our team put together a comprehensive moving plan for you. Complete our simple free quote form or contact us at 1-888-300-7222.