"I've worked with various logistics companies, but Hansen Bros outshines them all. They handled my international shipping needs with great professionalism and efficiency. The tracking system they provide is top-notch!"
Aaron B.
"Hansen Bros managed the logistics for my art exhibition. Each piece arrived in pristine condition, and their team showed true respect for the artwork. The service was prompt, and everyone involved in the process showed a great understanding of the value of the cargo."
Nora K.
Efficient distribution forms the backbone of successful businesses across industries. Seamlessly moving products, equipment, and supplies from one point to another is essential for maintaining operations and meeting customer demands. At Hansen Bros. Moving & Storage, we understand the pivotal role that these processes play, and we are dedicated to providing reliable and cost-effective distribution and logistics solutions that ensure your deliveries reach their destinations with precision and timeliness. Get in touch, and let's start collaborating!
Why Choose Us
History
Hansen Bros. Moving & Storage is locally owned and operated by the same family for four generations, since 1890. We have a well-established reputation for service quality and reliability with a high percentage of repeat household and commercial clients.

Professionalism
We're a certified ProMover by the American Moving and Storage Association with A+ rating with the Better Business Bureau, voted "Best in Western Washington" in 2009 and from 2011 to 2016 by KING5. Our company is fully licensed and insured and member of WMC and AMSA.

Value
Hansen Bros. Moving & Storage provide free, no-obligation in-home estimate and competitive rates, including low minimum rates for shipments moving under 300 miles. We've set a refund policy for unused packing materials and three Puget Sound locations to help clients save on travel fee costs.
The Scope of Hansen Bros. Distribution Services
Hansen Bros. can provide you with a wide range of distribution and logistics services. We focus on delivering reliable solutions to help businesses move and manage their goods effectively. These are our key offerings:
Packing and Crating: Safeguard your valuables with our specialized packing and crating, designed for optimal protection during transport.
Hospitality Distribution: Catering to the hospitality sector, we ensure timely and accurate distribution of supplies, furnishings, and more.
Office and Industrial Relocations: Transport your workspace or facility smoothly with our expert relocation services tailored for businesses.
Trade Shows and Exhibit Transportation: Present your brand at its best. We handle the logistics of transporting exhibits, ensuring they arrive in pristine condition.
White-glove Home Delivery: Experience premium home deliveries. We handle your items with the utmost care, right to your doorstep.
Medical Equipment Shipping: Trust in our specialized shipping methods, ensuring medical equipment reaches its destination safely and efficiently.
Computers, Mainframes, Racks, and Servers Delivery: Tech equipment demands special care. We ensure secure and timely deliveries for your IT assets.
Telecommunications Equipment Delivery: From routers to other essential devices, we handle the logistics, ensuring your communication equipment is delivered efficiently and on time.
Copier Delivery, Installation, and Lease Returns: We handle not just delivery but also installation. When your lease ends, we'll handle the returns seamlessly.
Choose Hansen Bros., and you're partnering with a trusted leader in distribution and logistics. Request a free quote and discover how we can help you streamline your processes for optimal results.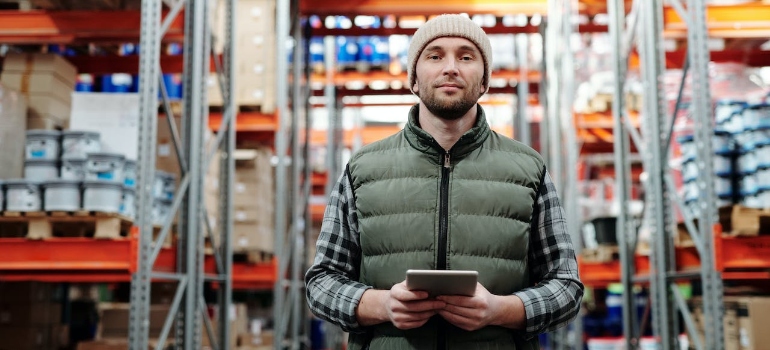 Read More
Integrated Logistics Solutions by Hansen Bros. Moving & Storage
At Hansen Bros. Moving & Storage, we've consolidated a suite of logistics services, each tailored to your distinct needs, ensuring seamless, efficient, and timely solutions. We answer your logistics requirements with our trustworthy services:
Cross-dock Solutions
Cross-docking is a logistics strategy where your products are received and shipped out almost immediately, without long-term storage. This process minimizes storage costs and speeds up delivery times. Here's what the Hansen Bros. team specializes in:
Direct transfer from incoming to outgoing transport
Short-term storage (if required)
Efficient order consolidation
Palletizing (Pick & Pack)
Palletizing involves packing products on pallets for easier shipment, storage, and inventory control. It helps you improve efficiency in the warehouse and during transport. Take a look at our expertise areas:
On-site Packing for Distribution and Logistics
Pick and Pack Services
Shrink Wrapping, Crating, and Palletizing
Inbound/Outbound Handling
Managing products entering and leaving our warehouse is crucial for stock and inventory control and efficient order fulfillment. Check out Hansen Bros.' comprehensive services:
Warehouse Receiving
Loading/Unloading Material
Inventory Control
Order Verification
Dedicated Fleet Management for Transport Needs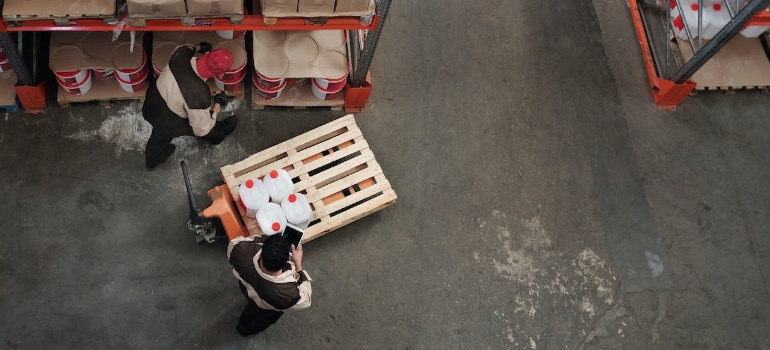 FTL/LTL Freight
FTL (Full Truckload) and LTL (Less-than-Truckload) are shipping modes tailored to the size of your shipment. Whether a full truckload or a smaller shipment, we handle all aspects of freight receiving and delivery. Highlighted below are our core offerings:
Dry Van
Flat Bed
Box Van
Liftgate
Curtain side flatbeds
Piggyback flatbeds with forklift services available
Last Mile Delivery (LMD)
Last-mile delivery refers to the final step of the delivery process. It's the moment your product is transported from our local warehouse to the end customer. Explore what Hansen Bros. brings to the table:
Pick-up from origin
Receiving in our warehouse
Short or Long-Term Storage solutions
Timely and efficient delivery to the final destination
We're Optimizing Your Distribution and Logistics Processes
If you seek a partner dedicated to excellence in every step of the distribution process, we're here for you. At Hansen Bros. Moving & Storage, we're committed to delivering efficiency, precision, and reliability, ensuring that every logistical need is met with utmost professionalism. Don't hesitate to reach out to our team and explore how we can collaborate to improve your distribution and logistics operations.
Read Less
Let our team put together a comprehensive moving plan for you. Complete our simple free quote form or contact us at 1-888-300-7222.