"Great team of guys. Professional and gave the extra effort needed to protect our furniture from damage. I have used Hansen Bros. 3 times in 12 years for local moves and all were great experiences. Save your back and let them do the heavy lifting!"
Frank F./ Seattle, WA
"Everybody at the company was very professional and gave great service. Price was competitive and the moving crew was on time and very efficient."
Clive B. / Mercer Island, WA
Hansen Bros. Moving & Storage leads the way as a commercial and residential moving provider in Kirkland. As one of the top movers in Kirkland, Hansen Bros. helps families and businesses relocate affordably and quickly. It doesn't matter which approach you use during your relocation – it is never going to be as simple as you imagine it to be. With 130 years of on-field experience, Hansen Bros. Moving & Storage will provide you with a seamless transition to your new home or office. Give us a call today and make sure our cost-effective and reliable solutions are within your reach.
The possibility of moving injuries, delays, and mistakes is always lurking in the corner. It is for that reason that people always realize that professional help is not only an option – it is a necessity. The job of our movers Kirkland WA will be to eliminate potential problems as well as to work on solving the ones that do arise.
Why Choose Us
History
Hansen Bros. Moving & Storage is locally owned and operated by the same family for four generations, since 1890. We have a well-established reputation for service quality and reliability with a high percentage of repeat household and commercial clients.

Professionalism
We're a certified ProMover by the American Moving and Storage Association with A+ rating with the Better Business Bureau, voted "Best in Western Washington" in 2009 and from 2011 to 2016 by KING5. Our company is fully licensed and insured and member of WMC and AMSA.

Value
Hansen Bros. Moving & Storage provide free, no-obligation in-home estimate and competitive rates, including low minimum rates for shipments moving under 300 miles. We've set a refund policy for unused packing materials and three Puget Sound locations to help clients save on travel fee costs.
Why is choosing Hansen Bros. Moving & Storage a good decision?
Since 1890, Hansen Bros. Moving & Storage has served as a dedicated provider of reliable moving and storage services. In fact, we are the oldest operating moving company in Seattle that has successfully completed thousands of moving projects. With extensive knowledge about all the components of different relocation types, we are proud to vouch for the complete safety of your items while in our possession.
We understand you might be confused while browsing through the different moving companies Kirkland WA has to offer. Moreover, we can see how you might be worried about our pricing, considering the pristine reputation we have. To rid yourself of any doubts and worries, all you have to do is request an obligation-free moving quote from our team. You will realize that our competitive prices are only a demonstration of the level of care we have for you. We believe every person deserves reliable and affordable moving services – so we made sure that happens.
Movers Kirkland WA that can cater to your versatile moving needs
A crucial mistake people make is underestimating the complexity of local relocation. Just because you are moving a few miles from your home doesn't mean that you will need to put in less effort than if you were moving to another city. This is something most people realize at one point or another. However, by the time some people realize it, it might be too late to do anything about it. For that reason, you shouldn't hesitate to give us a call as soon as the decision about your move becomes finalized. Together with you, we will work on achieving our common goal – providing you with a smooth and delay-free transition.
In our effort to cater to all of your moving needs (both simple and complex), we have created a rich range of moving assistance options. Some of our most demanded moving services include:
Whether relocating your home or office, all of our moving assistance options are at your complete disposal. As one of the best moving, storage, and shipping companies Seattle has to offer, our calendar is usually jam-packed. But nothing will stop our Kirkland movers from showing our utter dedication and attention to your relocation.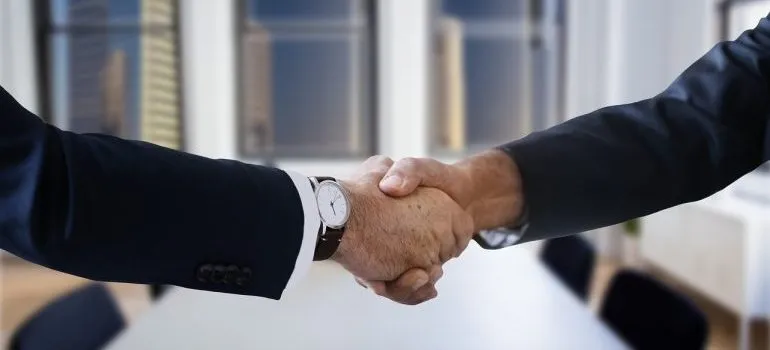 Our reliable storage units are a perfect solution for a lot of your problems
Hansen Bros. Moving & Storage has warehouses in Seattle, Lynnwood, and Newcastle. With these three carefully chosen locations, we are able to provide our customers with moving and storage services that are located only minutes away from their humble abode. With our portable storage solutions in Kirkland, you will never again be forced to live in a messy home.
Most importantly, you will be provided with a tailored storage plan that you can adjust to your needs at any point in the future. With unparalleled safety and resistant containers, our units will be the perfect place for keeping your belongings all year round.
Hansen Bros. Moving & Storage is fully equipped for a move of any kind
For your Kirkland relocation to go smoothly, it goes without saying that you need professional movers. But those movers need to operate modern moving equipment if they are to be successful. With a fleet of well-maintained moving trucks, moving pads and blankets, furniture sliders and dollies, and a plethora of different tools, Hansen Bros. Moving & Storage is ready to respond to your demand. We constantly invest plenty of resources into all of our equipment, as well as our moving teams. Rest assured that we provide nothing but the best – after all, that's how we came to be a top-rated moving specialist in Washington.
We have extensive knowledge of the Kirkland area
After years of providing reliable services in the area, our Kirkland moving team has become familiarized with all the nooks and crannies of this city. The knowledge our experts have enables us to move effortlessly from one point in the city to another. There were many instances when our customers chose to move on busy dates and ended up in awe of the quick relocation they received. Our movers in Kirkland waste no time after arriving at your property.
Kirkland, Washington might be the sixth biggest city in King County – but its size won't be an obstacle for us. Contact us today and watch our professionals remove any chance of delays, damage, or unpleasantries.
Top-rated movers Kirkland WA are only a phone call away
The residents of Washington already know who to turn to when in need of premier moving and storage services! Hansen Bros. Moving & Storage is second-to-none in the experience department and all of our local moving teams always showcase the best of what we have to offer. It is for that reason that we know our movers Kirkland WA can turn your relocation into a smooth and stress-free process. Contact us today and put your worries to rest.
Let our team put together a comprehensive moving plan for you. Complete our simple free quote form or contact us at 1-888-300-7222.