History

Over A Century of Service
Hansen Bros. Moving & Storage is one of the oldest moving and storage companies in Washington State. In 1890, Peter Hansen founded his company in Seattle's Pioneer Square to haul freight and baggage. Since then our goal has been the same: Provide the most trusted moving and storage services to families and businesses in the Puget Sound area.
Locally Owned and Managed
For four generations, Peter Hansen's family has developed and improved our company. We have grown from a single office dispatching horse-drawn wagons to today's multiple facilities with a fleet of trucks, modern storage, and exclusive moving-related services.
Hansen Bros. – Part of Seattle History
We are proud to share our historical photos of where Hansen Bros. Moving & Storage began. Hansen Bros. was established in 1890 by Peter Hansen and his wife Metta. They had 2 sons, Henry and Jim, and 2 daughters, Johanna and Bessie. As it turned out all of them had a hand in how Hansen Bros. has existed for over 130 years.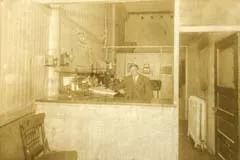 The company started as P. Hansen Transfer. It was also known as Pete Hansen Express. Peter Hansen is pictured here in the small original office at 211 Occidental Ave in Seattle. The slanted bookkeeper's desk on the left is still with the company.
I want to give a special shout-out to my awesome moving crew Jordan B., Simeon W., and Shakur S. – so very careful, diligent, polite, professional ALL DAY LONG. Thanks so much, guys!! 👍☺️
-Dianne B., May 27, 2020
See What 4287 Customers are Saying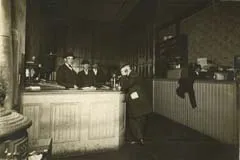 It didn't take long before the original office was outgrown so they moved to the expanded office at 311 Occidental Ave. Moving furniture was part of the business but the majority of work was hauling freight and baggage from the train station and loose freight from the ships. Back then there were no large shipping containers so items were packed into wood crates and loaded into the holds of the ships. Much of the work was hauling baggage and trunks from the train station for the students attending the University of Washington which at that time was just uptown at 5th & Union where the Olympic Hotel stands today.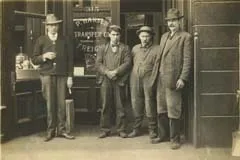 This is Peter Hansen, on the left, in front of the new office at 315 Occidental Ave office in the Pioneer Square area. He is standing with some crew members. The drivers wore chaps as you can see because they used hay type hooks to grab the crates which they would roll up onto their thighs to help hoist them up into the wagons.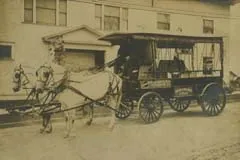 Around 1906 Hansen Bros. opened an office in what is now the University District. This was during the time of the Alaska-Yukon-Pacific Exposition which was held on the grounds that later after closing the University of Washington moved from downtown Seattle to the area and formed the campus. Hansen Bros continued to move trunks and baggage to the campus as well as freight to the merchants that started sprouting up around the university. This photo was a crew showing off their team and wagon in front of the stables just off what is now Roosevelt Way NE.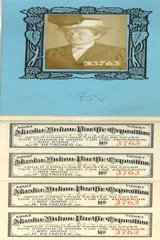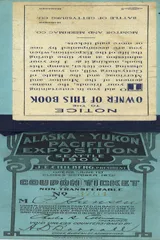 The Alaska-Yukon-Pacific Exposition issued picture ticket books. Companies could purchase the books so they could give tickets to their clients for admission to be their guests.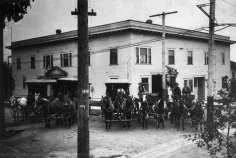 Hansen Bros had an office in various locations on 14th NE which is now University Way NE and a stable just off 43rd & Roosevelt Way NE. The horse teams were stabled on the first floor and some of the drivers lived in apartments above. The family-owned a house around the corner on Roosevelt Way. Years later Hansen Bros built one of the first all-concrete warehouses in the city on the corner of 43rd and Roosevelt Way just east of this photo. They advertised "fireproof" storage which was quite appealing in those days of all wood warehouses. The building is still there today but was converted into an office building in the early 70's.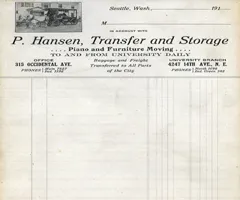 This is a tablet used to write up a manifest of the freight being picked up at the terminals and delivered to the merchants. At this time there were 2 offices, one in downtown Seattle and the other out by the University of Washington. The address was on 14th Ave N.E. which had not yet been renamed University Way N.E. From these locations the freight could be secured at the train stations and the waterfront piers for delivery to uptown Seattle and the growing communities of Fremont, Ballard, Capitol Hill and the University District.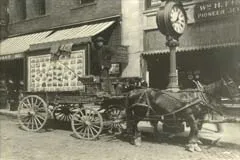 This large picture was being transported in a wagon for a celebration. These horses standing on the cobblestone street look a little lean. All of the horses had names which carried over when mechanical chain drive trucks were purchased. That tradition still holds true today since all of the current local trucks also have names.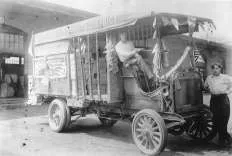 This is Jim and Henry Hansen the two brothers working for their father. They are posing with one of the first mechanical trucks around 1910 picking up freight at one of the freight terminals. Freight was shipped loose so had to be sorted in freight sheds after being unloaded off of the ships or trains depending what company was going to make the delivery. Notice the right hand drive, new modern dual rubber tires and chain drive to the rear axle.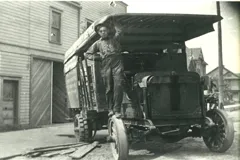 This truck with Henry Hansen is much like the one above but has lug tires on the chain drive back axle. The poles on each side of the body could be lifted up and removed for easy access to the freight In 1915 two events happened that would have an impact on the company for years. Bessie Hansen, the youngest daughter who had married Frank Nelsen years earlier, had a son James R. Nelsen. Later that year Peter Hansen suddenly died. The older daughter Johanna who had been working as a bookkeeper for her father started running the company with her mother Metta. A few months later Bill Johnson, Johanna's husband joined the company.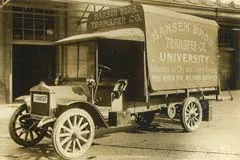 This is a Federal chain drive truck about 1920 with a more enclosed cab in front of the freight terminal in downtown Seattle. Hansen Bros had Federal, Fageol and Garford trucks at the time. The trucks were purchased as just a cab and chassis which the body was then built and installed.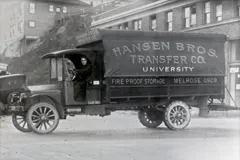 You can see the difference a few years make in the development and type of trucks used at that time. This truck is still chain drive but the body is much larger and the cab starts to be a bit more enclosed to give a little more protection to the driver from the elements.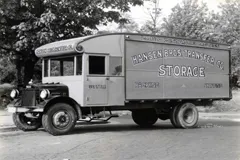 In the late 1920's the cabs became fully enclosed like this Fageol. The trucks were still purchased as a cab and chassis. The bodies were custom-built for whatever someone was going to haul which in this case was to move furniture. Also around this time Jim Nelsen the oldest son of daughter Bessie started working for his aunt and uncle after school and on weekends.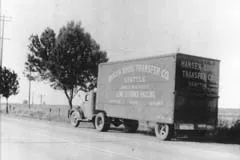 This trailer was built by Jim Hansen, one of Peter Hansen's two sons. The trailer was purchased as a flatbed and converted into a furniture van in one of the warehouses. This photo was taken on its way down to California on Highway 99. The trailer was hitched to a 1938 Chevrolet tractor. This replaced a large 1928 Kenworth solo which traveled up and down the coast at an impressive average speed of 25 miles per hour. By building a trailer and using a 10 year newer tractor to pull it, both capacity and speed was increased.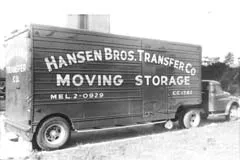 This is a photo of a 28 foot trailer being pulled by a Dodge tractor from the early 1950s. Trailers continued to get larger which required larger tractors for power.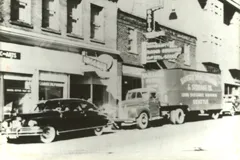 Hansen Bros had a presence in the University District history for over 50 years with at least 4 different locations on University Way during that time. 4347, 4203, 4217 and 4211 were all listed as an office during those years at one time or another. This photo is in front of the office at 4211 University Way.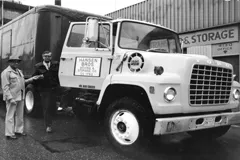 After working for his aunt Johanna for 40 years or Mrs. J as she was known to the crews, Jim Nelsen took over ownership of the company when she retired marking the 3rd generation of family ownership. Jim Nelsen moved the operation over to 41st and Roosevelt Way into a small warehouse in the late 60's. This is Jim Nelsen known as JR or Big Jim receiving the keys to a tractor purchased in the early 70's.
Let our team put together a comprehensive moving plan for you. Complete our simple free quote form or contact us at 1-888-300-7222.