Relocation Services in Seattle
"Great team of guys. Professional and gave the extra effort needed to protect our furniture from damage. I have used Hansen Bros. 3 times in 12 years for local moves and all were great experiences. Save your back and let them do the heavy lifting!"
Frank F./ Seattle, WA
"Everybody at the company was very professional and gave great service. Price was competitive and the moving crew was on time and very efficient."
Clive B. / Mercer Island, WA
It's no secret that relocation can be an exciting and yet stressful experience. Luckily, our team has the perfect solution for you! You can trust Hansen Bros. Moving & Storage and the thousands of positive moving reviews our company has from past customers. No matter the type or size of the move that you are looking at, we are more than confident that our moving services Seattle recommends will fit your needs and exceed your expectations. Contact us today to request a complimentary, no-obligation moving estimate in a matter of minutes through our website!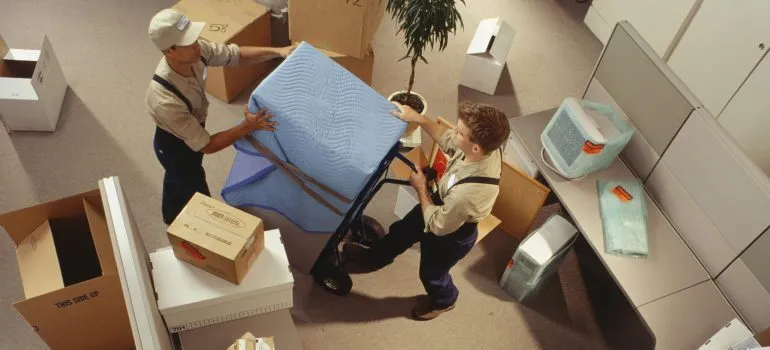 Having a team of experienced moving professionals to help you deal with that endeavor can be quite a relief. Our combination of modern equipment and specialized moving techniques with knowledgeable and trustworthy movers is why Hansen Bros. is one of the finest moving companies in Washington state.
Why Choose Us
History
Hansen Bros. Moving & Storage is locally owned and operated by the same family for four generations, since 1890. We have a well-established reputation for service quality and reliability with a high percentage of repeat household and commercial clients.

Professionalism
We're a certified ProMover by the American Moving and Storage Association with A+ rating with the Better Business Bureau, voted "Best in Western Washington" in 2009 and from 2011 to 2016 by KING5. Our company is fully licensed and insured and member of WMC and AMSA.

Value
Hansen Bros. Moving & Storage provide free, no-obligation in-home estimate and competitive rates, including low minimum rates for shipments moving under 300 miles. We've set a refund policy for unused packing materials and three Puget Sound locations to help clients save on travel fee costs.
Why opt for the expertise that Hansen Bros. Moving & Storage offers?
Our team offers professional packing and specialized handling of artwork, pianos, antiques, etc. Regardless of whether you move down the street or across the country, we use all our resources to ensure you have a smooth transition without stress. As a BBB-accredited company, we provide well-established and top-rated Seattle moving services. 
As an industry leader in the Puget Sound area with well over a century of experience (founded in 1890), Hansen Bros. Moving & Storage is a certified and leading agent for Allied Van Lines – relocating more people than any other van line and enjoying the highest performance ratings among major movers. Our Seattle moving team also boasts an A+ rating with the Better Business Bureau, and our company is a Certified ProMover by the American Moving and Storage Association (AMSA).
We bring you some of the best moving services Seattle has to offer
If you ask people what moving companies do, in most cases, their answer will be quite simple: "They transport my stuff." Although this is true, of course, professional moving companies offer much more than just transporting household goods. Here are five useful services that Hansen Bros. Moving & Storage offers.
Relocation services you can always count on
As you know, the leading service we offer is the physical transportation of items from one place to another. Simply put, our Seattle movers move things from point A to point B! More specifically, however, we offer other helpful relocation services that include:
Residential moving

– the relocation of household belongings and furniture from one home to the other

Commercial moving

– the relocation of office contents, equipment, supplies, documents, and other corporate property

Specialty moving services – for moving fragile and valuable items such as antiques, sculptures, pianos, artwork, pool tables, etc.
Residential moving in a manner most convenient for you
When buying or selling a new home, so much is at stake. During this challenging transition period, the Hansen Bros. Moving & Storage team recognizes the importance of keeping our word and offering the top-quality moving expertise Seattle residents expect without fail. Some highlights of our residential relocation work include:
Expertise in moving discerning customers with significant investments in their furnishings and belongings as well as their residences.

Timely, accurate, and competitive cost estimates without hidden fees or unnecessary up-front deposits

Professional teams of local movers Seattle customers trust that sincerely care about the possessions and property of our customers.
Commercial moving services more Seattle business count on than any other moving company
The requirements for moving an office or production facility often differ from moving a household. Our commercial relocation specialists are used to working in partnership with project managers, purchasing departments, financial directors, staff, company managers, and other involved parties – all to ensure a smooth relocation with minimal business disruption.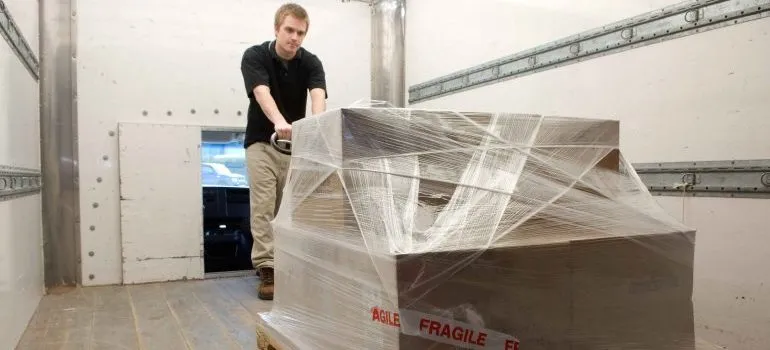 Our teams have worked with business owners, academic institutions, and non-profits on projects of all sizes. Some of Seattle's most prestigious institutions including the Museum of History and Industry trust Hansen Bros. to ensure that every job is completed on time and within budget limits.
Apartment moving for a smooth and fast relocation
Living in Seattle and surrounding urban areas is extremely convenient. However, when the time comes to move, those who reside in an apartment and/or condominium highrise building have a number of unique factors to address when planning a successful move.
Hansen Bros. Moving & Storage is a company with over a hundred years' worth of experience in terms of anticipating challenges before they complete moving day. We are preferred apartment movers in downtown Seattle and throughout the greater Puget Sound region. The trust we've earned allows us to work closely with most building management companies to make your move a lot easier and worry-free. By choosing our moving services Seattle counts on for your upcoming move, you can expect the following:
An experienced and responsive relocation consultant who will provide a realistic cost estimate and also take the time to work with you to plan out your entire relocation.

Proper preparation for moving day – parking permits, barricades, and liability coverage for the highrise building.

The appropriate equipment and materials necessary to accelerate the moving process involving elevators and long walking distances.

Professional lifting equipment, cranes, and resources in case you need to hoist a piece of furniture through a window or deck.

Certificate of Insurance. An assurance of liability coverage for any property damage or injuries during relocation.
Packing services at your disposal
There's no question that the moving process is riddled with tedious activities involving packing and moving objects. And then unpacking these same objects as soon as they reach their final destination. We provide packing and unpacking services in addition to top-quality packing supplies, all to save you as much time and effort as possible while ensuring that all your items arrive at their destination safely.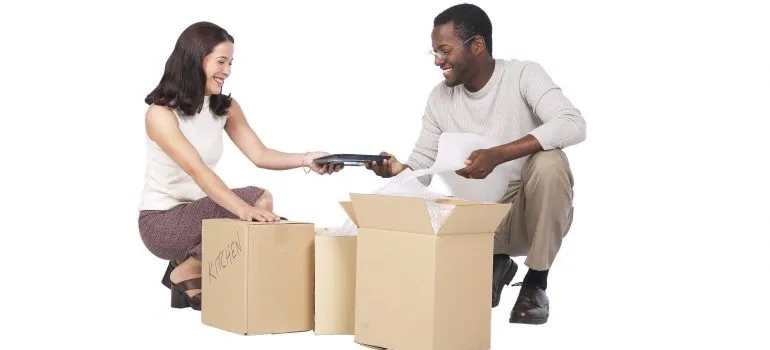 Undoubtedly, the benefits of saving time and reducing stress by using full or partial packing expertise are significant. If you are interested in learning the full benefits of hiring our professional packers, please contact us. In the event  you decide to take advantage of our packing services, you can expect us to do the following:
Appoint an experienced relocation consultant who will be your contact throughout the estimating, planning, and preparation process. Once the packing and moving starts, one of our skilled Operations managers will serve as the point of contact through to the completion of the move.

Provide an accurate and preliminary assessment detailing all material and labor costs.

Tailor the packing services to your budget and deadlines.

Provide a detailed explanation of the packing process and set realistic expectations.

Inform you of all options for covering your liability with respect to your belongings being moved.

Provide the appropriate number of crew members and complete the project within a reasonable time frame.
Storage services to fit your needs
Suppose you plan to move soon, but you need a safe place to store some or all your belongings until you get fully settled. If this is the case, professional storage services may be the best possible solution. Full-service moving companies such as Hansen Bros. also offer secure storage of your belongings.
We make storage easy. From just a single room to entire households, offices, or entire buildings – you can trust our moving company to solve your storage needs.

We will talk about the advantages and limitations of our various storage solutions. And will always work to help you find the best solution.

All the belongings we store for customers are kept in our secure, temperature-controlled warehouses.

Our full-time office staff and managers will respond in a timely manner to any questions or concerns.
Moving services in Seattle done right – the Hansen Bros. Moving & Storage way!
We can provide you with the best relocation services in Seattle and more. We don't just offer packing, delivery, and storage solutions. Hansen Bros. Moving & Storage also provides customers with many resources and solutions to help you overcome challenges and ensure that your move is as seamless as it can be. When you are ready, fill out our form to receive a free, no-obligation quote. You can also contact us for more information, questions, or concerns.
Let our team put together a comprehensive moving plan for you. Complete our simple free quote form or contact us at 1-888-300-7222.