"I've worked with various logistics companies, but Hansen Bros outshines them all. They handled my international shipping needs with great professionalism and efficiency. The tracking system they provide is top-notch!"
Aaron B.
"Hansen Bros managed the logistics for my art exhibition. Each piece arrived in pristine condition, and their team showed true respect for the artwork. The service was prompt, and everyone involved in the process showed a great understanding of the value of the cargo."
Nora K.
The concept of cross-docking and cross-dock solutions has emerged as a pivotal solution within logistics and supply chain management. In contrast to the delays and complexities of standard warehousing, cross-docking offers an efficient and streamlined process to optimize the movement of goods. If you're looking to move beyond traditional warehousing and distribution methods with a dynamic approach, reach out to Hansen Bros. Moving & Storage and trust in our expertise.
Why Choose Us
History
Hansen Bros. Moving & Storage is locally owned and operated by the same family for four generations, since 1890. We have a well-established reputation for service quality and reliability with a high percentage of repeat household and commercial clients.

Professionalism
We're a certified ProMover by the American Moving and Storage Association with A+ rating with the Better Business Bureau, voted "Best in Western Washington" in 2009 and from 2011 to 2016 by KING5. Our company is fully licensed and insured and member of WMC and AMSA.

Value
Hansen Bros. Moving & Storage provide free, no-obligation in-home estimate and competitive rates, including low minimum rates for shipments moving under 300 miles. We've set a refund policy for unused packing materials and three Puget Sound locations to help clients save on travel fee costs.
Defining Cross-docking and Our Primary Goal
As a supply chain strategy, cross-docking is designed to minimize the time products spend in storage by facilitating a seamless transition from inbound to outbound shipping. Our direct objective is to expedite the distribution process by reducing handling and storage costs, ultimately leading to faster delivery times.
In essence, our team at Hansen Bros. aims to eliminate the need for long-term warehousing with cross-docking and maximize the efficiency of product flow from suppliers to customers.
The Process Behind Hansen Bros. Cross-docking Solutions
Efficiency drives the cross-docking approach at Hansen Bros. Moving & Storage, reshaping how goods traverse from suppliers to customers. Here's what this important process in distribution and logistics involves:
Receiving: Swiftly Gathering Incoming Goods from Suppliers
Our cross-dock facility rapidly receives shipments from suppliers.
We promptly unload products and subject them to meticulous quality and accuracy checks.
Sorting: Efficiently Categorizing Products for Immediate Outbound Shipments
Our team swiftly categorizes products based on criteria such as destination, type, or customer orders.
During this rapid sorting process, we organize items into groups intended for immediate outbound shipments.
Temporary Storage: Briefly Storing Goods Before Outbound Transfer
Certain items undergo a short storage phase to align with outbound schedules or consolidate shipments.
This brief storage period enhances synchronization in the distribution process.
Outbound Shipping: Loading Products onto Outgoing Trucks with Precision
We promptly load products earmarked for specific outbound shipments onto pre-scheduled trucks.
This loading phase ensures uninterrupted product flow, preserving cross-docking's time-efficient edge.
Through meticulous coordination and minimized storage, our cross-docking process optimizes the supply chain, effectively trimming costs and reducing transit times, ultimately amplifying the efficiency of your product distribution. Are you ready to discover the efficiency of our method but are curious about costs? Reach out and get your no-obligation estimate today!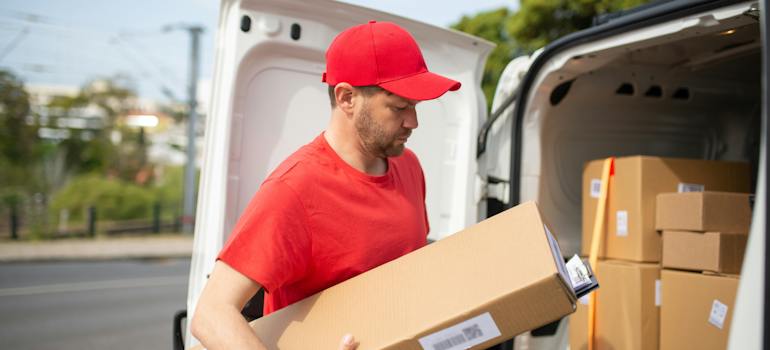 Read More
Experience the Benefits of Cross-Docking with Hansen Bros.
Our trustworthy cross-dock solutions provide you with a range of advantages that can revolutionize your supply chain operations:
Minimized Inventory Costs: Cross-docking can help you cut prolonged storage needs, which translates to lower warehousing expenses. This strategy ensures you maintain just the right inventory, avoiding the pitfalls of excess stock.
Quicker Transit Times: With a direct transfer from inbound to outbound shipments, your products move faster. This means quicker deliveries, especially if you're in a time-sensitive industry.
Boosted Operational Efficiency: Cross-docking allows you to reduce storage-related tasks and equipment use. You'll find your operations streamlined and make your workforce more productive.
Significant Cost Savings: Embrace cross-docking, and you'll see a noticeable reduction in the overhead costs tied to warehousing since charges are based on volume. No need to pay for a large fixed amount of space when it's only required in your busiest season. Additionally, with more efficient handling, you'll likely spend less on labor since it too is based on volume and is adjusted as needed.
Harnessing Efficiency with Hansen Bros. Cross-Docking
Our cross-dock solutions are bridging the gap between supplier and consumer with minimal delay. Once you embrace this system, you can streamline operations, reduce storage costs, and ensure rapid product delivery. At Hansen Bros. Moving & Storage, our commitment to precision and timeliness positions us as the ideal partner for your cross-docking needs. Get in touch, let us help you optimize your supply chain, and witness the difference in speed and efficiency.
Read Less
Let our team put together a comprehensive moving plan for you. Complete our simple free quote form or contact us at 1-888-300-7222.