"Great team of guys. Professional and gave the extra effort needed to protect our furniture from damage. I have used Hansen Bros. 3 times in 12 years for local moves and all were great experiences. Save your back and let them do the heavy lifting!"
Frank F./ Seattle, WA
"Everybody at the company was very professional and gave great service. Price was competitive and the moving crew was on time and very efficient."
Clive B. / Mercer Island, WA
Relocation should be a step forward in life – a positive transition that will bring new memories and experiences. As such, you should start that next phase in the best manner possible – with the professional assistance of reputable movers in Bainbridge Island, WA. With over 250 years of combined experience, Hansen Bros. Moving & Storage is a team that provides highly competitive relocation pricing rates for top-quality moving and storage services in Bainbridge Island and all over the Puget Sound area. With our company by your side, you can save energy, time, and money on your upcoming move. Give us a call today to secure the resources of the oldest and most reputable moving company in Washington.
Our Bainbridge Island moving crews operate on the notion of punctuality and professionalism at all times. Time is money, and we completely understand that – it's how our business has grown over the past century and continues to do so even now.
Why Choose Us
History
Hansen Bros. Moving & Storage is locally owned and operated by the same family for four generations, since 1890. We have a well-established reputation for service quality and reliability with a high percentage of repeat household and commercial clients.

Professionalism
We're a certified ProMover by the American Moving and Storage Association with A+ rating with the Better Business Bureau, voted "Best in Western Washington" in 2009 and from 2011 to 2016 by KING5. Our company is fully licensed and insured and member of WMC and AMSA.

Value
Hansen Bros. Moving & Storage provide free, no-obligation in-home estimate and competitive rates, including low minimum rates for shipments moving under 300 miles. We've set a refund policy for unused packing materials and three Puget Sound locations to help clients save on travel fee costs.
130 years worth of history and experience as movers in Bainbridge Island
As the relocation industry developed in the past century, our company grew with it every step of the way. Established back in 1890, Hansen Bros. Moving & Storage has been here long enough to understand the relocation needs of individuals and businesses. We've conducted all types of moves and crossed distances both short and long in our efforts to offer the perfect moving experience. And as our portfolio grew, so did the scope of the relocation services in Seattle that our team offers. Today, we are counted among the most reliable and professional moving & shipping companies in the State of Washington.
With years, we have extended our reach both in terms of services and the areas we service. We have become completely familiarized with the small yet charming city that is Bainbridge Island. Our long-term relationships with the locals and our knowledge of the area help us in providing a quick and seamless moving experience. And this has always been the primary objective of our company – the complete satisfaction and positive experience of our customers!
Hansen Bros. Moving & Storage offers a plethora of relocation services
Whether you are relocating a couple of boxes filled with personal belongings or an entire household, it can be a very sensitive and time-consuming task. And to avoid any unwanted damages or unplanned expenses, you will want a team of professionals to handle this task for you. With the modern equipment & resistant packing materials which our Bainbridge Island movers offer, your relocation can be simpler and time-efficient.
The projects we handled over the years required handling various types of items. From household goods, furniture, and appliances – to office supplies, file cabinets, and IT equipment. We've packed and transported artwork, sculptures, furniture, pianos, pool tables, safes, etc. From production lines to commercial warehouses and retail stores, Hansen Bros. Moving & Storage coordinated the relocation of it all at one point or another. And our shipping & transport services in Seattle are one of the most commonly recommended in Washington because of it all.
Our dedication to your relocation is so deep that we have even ensured you have a safe place for storing your belongings before, during, and after your relocation. With our Bainbridge Island full-service storage, you will have a place that will be 100% suitable for your needs.
Time-sensitive services are a staple with our movers in Bainbridge Island
One of the main reasons for people being skeptical when it comes to hiring moving companies is the potential delays throughout the entire process. With Hansen Bros. Moving & Storage, this is not something you need to concern yourself about. Our moving coordinators are assigned to each move to ensure that each step is planned and timed to perfection.
Not only will we respect the pick-up and delivery dates you provide us with, but we will always strive to keep you posted throughout the relocation process. Once we arrive at your household or business property, we will do a quick estimate and proceed with the plan of action that covers your entire move.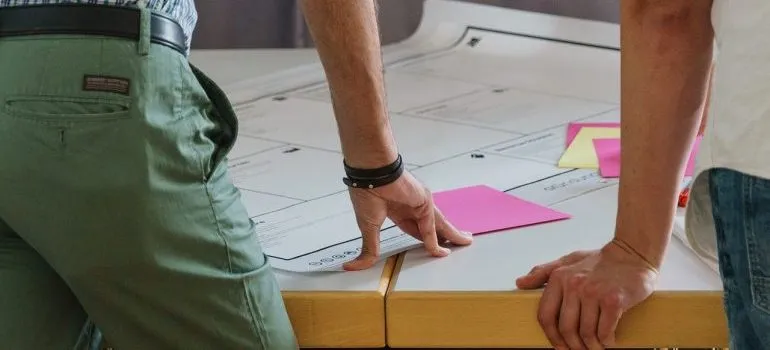 Taking the stress out of the moving equation is what our team excels at
Moving is never a simple thing. The amount of planning, packing, and attention that is needed cannot be underestimated. What not a lot of people are aware of is that moving can also be a stress-free occasion. At least it will be with our movers Bainbridge Island at your side. Our team is dedicated to making your residential or commercial relocation as easy as possible. The way we achieve that is by taking care of the most complicated moving tasks.
Consult with our HB Move Management department at any time
There are often moving-related tasks that most professional companies don't handle nor offer advice on. That can leave a lot of customers frustrated and without answers to specific questions, requiring them to waste time and resources on finding the answers. Our HB Move Management program ensures that you have all your relocation bases covered, including:
Property decluttering methods;
Home-staging guidelines and ideas;
Household/office cleaning services;
Disassembly and reassembly of furniture;
Concierge services.
No matter the type of move you are looking for, our HB move management department is completely focused on answering your questions and helping you out with seemingly small tasks. We know that it's the details that make all the difference. So don't let yourself worry about any part of your relocation during your upcoming relocation to/from Bainbridge Island.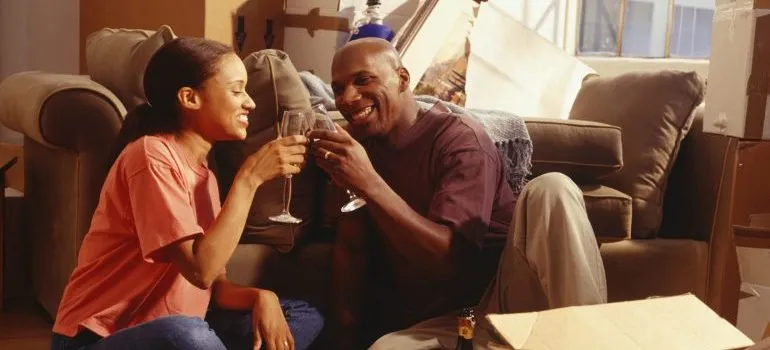 Request a commitment-free moving quote and learn all about our prices
Reputable and elite moving companies in Bainbridge Island or anywhere else usually come at steep prices. Hansen Bros. Moving & Storage offers a perfectly balanced combination of quality and affordability. To get a first-hand experience of our pricing, all you have to do is request a moving quote. By doing so, you will get a commitment-free estimate of your relocation cost. What we can tell you beforehand is that you will find that our prices are quite competitive!
Get the Bainbridge Island relocation services you deserve
Our movers Bainbridge Island are completely committed to securing your complete satisfaction when the moving day comes. After all, that's the most important thing for Hansen Bros. Moving & Storage. There is no need for you to experience stereotypical relocation out of nightmares. To ensure you have a positive moving experience, all you have to do is contact us. Simply by dialing 1.888.300.7222, you will get on-time and cost-effective moving services.
Let our team put together a comprehensive moving plan for you. Complete our simple free quote form or contact us at 1-888-300-7222.