SINCE 1890
Reputable & Respected Movers Washington Proudly Recommends
"Hansen moved mom and dad 32 years ago, and they moved us last week."
Free Moving
Estimate
We are honored to be named Best Seattle Movers in the King5 Best of Western Washington competition for 7 years!
"Hansen moved mom and dad 32 years ago,and they moved us last week."
"Thank you for working so hard to get us moved. It was a long day and your folks never stopped. Quite impressive."
"Your guys were very helpful and gracious and took excellent care of our things."
Our Story
Founded in 1890, Hansen Bros. Moving & Storage has earned a reputation as the Best Seattle Moving Company. We have advanced a bit since our horse-drawn carts dispatched from Pioneer Square in downtown Seattle, but our mission remains exactly the same—To be the most trusted provider of moving and storage services, whether down the street, across the country, or around the world.
As well-established Seattle movers with three convenient locations (Seattle, Lynnwood, and Newcastle) and competitive rates, we offer professional packing & unpacking, storage solutions, and Move Management services to better meet the needs of our residential moving, commercial moving, and corporate relocation customers. Our experienced team looks forward to providing first-class service to you while handling your belongings with care and consideration — just as we have done for well over a century.
Get to Know Us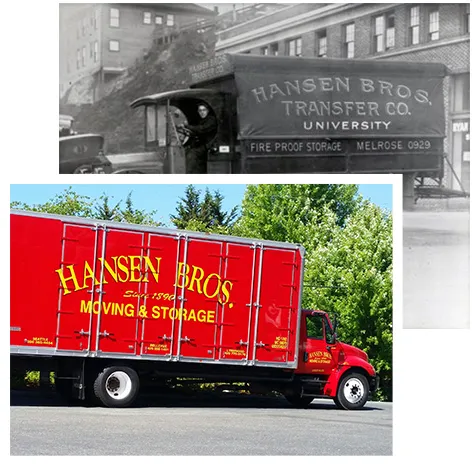 Seattle's Most
Trusted Mover
Are you Stressed About Your Upcoming Move?
Our specialized division, HB Move Management, can help make the relocation process seamless for you and your family.
Get Your Free Quote
Plan Your Move
Ensure a trouble-free move with the help of our free resources from one of the oldest moving companies Seattle.
Latest News
Moving to a new country during the holiday season is a significant undertaking, especially for US citizens accustomed to the…
Read More