"Great team of guys. Professional and gave the extra effort needed to protect our furniture from damage. I have used Hansen Bros. 3 times in 12 years for local moves and all were great experiences. Save your back and let them do the heavy lifting!"
Frank F./ Seattle, WA
"Everybody at the company was very professional and gave great service. Price was competitive and the moving crew was on time and very efficient."
Clive B. / Mercer Island, WA
Moving just down the block always seems like an easy and straightforward process. It isn't until you are deeply immersed in all the moving tasks that you realize a lot of help is needed. Whenever you find yourself in need of moving and storage assistance, you can feel free to contact Hansen Bros. Moving & Storage. We are proud to be named Best Seattle Movers in the King5 Best of Western Washington competition for 7 years – and counting. We have local movers Shoreline WA based who will handle many of the most complicated moving tasks. From relocating your heavy equipment to helping you plan the decluttering process, nothing presents a challenge for our experienced team. Reach out now for a personalized moving quote tailored to your needs.
Our professionals won't have any problem choosing the best and safest route for transporting your belongings. After all, when moving with the help of an experienced company, safety is a guarantee. And there aren't many companies in the Seattle area that have over a century of experience in the moving industry as we do. So, get in touch today and enjoy a hassle-free moving experience!
Why Choose Us
History
Hansen Bros. Moving & Storage is locally owned and operated by the same family for four generations, since 1890. We have a well-established reputation for service quality and reliability with a high percentage of repeat household and commercial clients.

Professionalism
We're a certified ProMover by the American Moving and Storage Association with A+ rating with the Better Business Bureau, voted "Best in Western Washington" in 2009 and from 2011 to 2016 by KING5. Our company is fully licensed and insured and member of WMC and AMSA.

Value
Hansen Bros. Moving & Storage provide free, no-obligation in-home estimate and competitive rates, including low minimum rates for shipments moving under 300 miles. We've set a refund policy for unused packing materials and three Puget Sound locations to help clients save on travel fee costs.
Enjoy a Stress-Free Move with Our Shoreline WA Movers
Moving is known to be a very stressful process. It's the number of tasks that need to be done that will weigh heavily on your shoulders. At Hansen Bros. Moving & Storage, we don't like to put you through unpleasantries of any kind. It is for that reason that we have created a range of moving services that can cater to all of your needs. A part of our complete offer includes:
And the distance we will go to ensure you remain stress-free is a good indicator of the level of care we put into every move. That's why people contact us when they need international commercial shipping companies, long-distance residential movers, as well as local moving teams. We provide complete moving assistance – no matter the location.
Rely on Hansen Bros. Moving & Storage for Premier Storage Solutions
As moving and storage professionals, we know that there are many reasons for renting a storage unit. Some use the space during relocation or remodeling. Others use it to declutter their homes permanently. Then, there are those who use it as a temporary solution until freight companies Seattle take over their shipment. No matter the need for storage, rest assured that we have all the means to provide safe storage for your belongings. 
Whether you are storing residential or commercial items in Shoreline, our units will provide safe shelter – from both theft and natural elements. We have created special storage plans with all of your needs in mind. What we offer are yearly plans, as well as 6-month, 3-month, and month-to-month packages. If you decide to use our storage services for your upcoming move to Shoreline, just give us a call. It will be our pleasure to help you pick the best plan for your needs.
Trust Hansen Bros. and Our Expert HB Move Management Team
When thinking about moving, you will automatically think about tasks such as packing and shopping for moving supplies. But there is a lot more that goes on and that people aren't initially aware of. As a person with a nine-to-five job, you don't have enough time to dedicate to decluttering and resettling your belongings. That sounds like a perfect job for our Shoreline WA moving team. Hansen Bros. Moving & Storage has created an HB move management department. Think of us as your one-stop moving solution for even the smallest tasks.
Within this department, we help our customers by offering decluttering seminars, concierge services, resettling of their belongings, as well as packing and unpacking services. We will coordinate your move according to your needs in an effort to create a completely seamless experience. The best part about our services is that they can be used by anyone – from families and businesses to seniors, we are here to give a helping hand.
Unlock Local Expertise With Our Shoreline Movers
Hansen Bros. Moving & Storage has been catering to the needs of Washington's residents since 1890. With 130 years of experience at the back of our pocket, it's safe to say we have become well-versed in all moving tasks. Most importantly, our local moving teams have used the chance to get the know (and serve) many different locations. Today, our Shoreline moving team is not only familiar with the area – we are experts in its streets.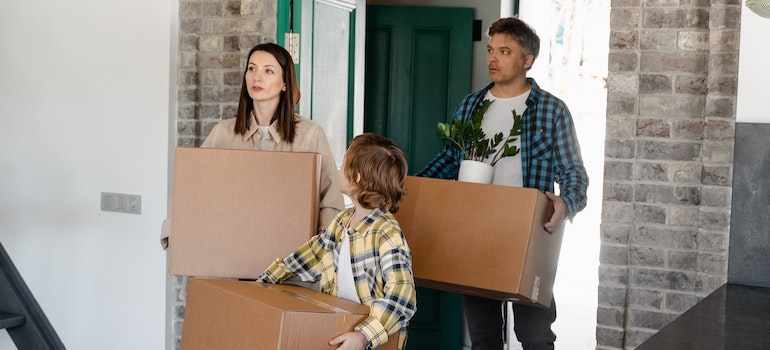 Get Your Free Moving Quote Today and Secure Your Moving Date with Ease
One of the biggest myths many people have about moving refers to the pricing of different moving companies. We are an experienced and competent relocation professional – but our prices are still down to earth. Once you request an obligation-free moving quote from our team, you will realize that we have remained humble throughout the years. Hansen Bros. Moving & Storage has an impressive quality-to-affordability ratio and we offer a unique chance for you to have a cost-effective yet safe move. 
The most important thing is the fact that we offer precise and accurate moving quotes. When moving in and out of Shoreline, Washington, it's very important to have an idea of your upcoming expenses. With Hansen Bros. Moving & Storage A+ BBB-rated team, you will have more than just an idea – you will have an accurate estimate.
Say Goodbye to Moving Worries – Contact Hansen Bros. Moving & Storage Today
With premier moving assistance just around the corner, there is no reason for you to have anything less than a worry-free relocation. Helping you move to your new home or office isn't just a job for our movers Shoreline WA – it's also our pleasure. Contact us today, and our seasoned professionals will be happy to make a difference during your upcoming move.
Let our team put together a comprehensive moving plan for you. Complete our simple free quote form or contact us at 1-888-300-7222.