Are you on the verge of having to organize a relocation to/from Newcastle, WA – but you simply don't have the energy or time to handle it on your own? Rather than spending your days worrying about the entire process, why not get in touch with an experienced professional working side by side with you. Hansen Bros. Moving & Storage is regarded as one of the oldest and most reputable moving companies in Newcastle. For our business, the customers always come first, and our movers Newcastle WA always go the extra mile to ensure that your moving endeavors are handled to perfection. Give us a call today and request a free, no-obligation moving estimate.
Hansen Bros. Moving & Storage has 130 years of experience
What initially started as a local company with limited equipment and a carriage back in 1890 has since developed into modern, highly-functional relocation business. Today, our team has acquired a fleet of moving trucks, as well as cutting-edge relocation equipment and top-quality packing materials. At the moment, we are among the first choices of people who are looking for both moving crews and international shipping companies – a sheer example of the variety of services our company offers today.
With such a rich history, our company has had over a century to perfect our moving skills, as well as to broaden our area of expertise. When compared to all the different moving companies in Newcastle and their moving services, Hansen Bros. Moving & Storage stands out.  Our team of relocation specialists is capable of meeting all of your moving and storage demands such as:
There are many aspects of your move that might simply be too unmanageable for you! That's what our Newcastle WA movers are here for – to alleviate the stress of residential or commercial relocation and help you make pleasant memories.
Our residential moving expertise puts our company ahead of all others in Newcastle
Moving to a new home can be stressful, with a long list of items to pack and tasks to check off. Hansen Bros. offers a full suite of residential moving services to take the burden off you and simplify your moving experience — wherever you're going. Our Newcastle branch relocation services include:
Request a free, no-obligation quote to start planning your Newcastle move with Hansen Bros. Moving and Storage.
A perfect fit for your commercial relocation needs in Newcastle, WA
Hansen Bros. offers quick, thorough, and cost-effective commercial moving services for businesses of all types. As one of the leading Newcastle moving companies, we take pride in our streamlined commercial relocations, which are designed to minimize downtime and maximize your productivity.
We offer two types of commercial relocation services in the Newcastle area:
Full-service storage in Newcastle
Whether you are waiting for one of the freight forwarding companies Seattle to pick-up your shipment or you are renovating your home, a reliable storage solution can usually take care of the problem in its entirety. As a moving and storage provider, Hansen Bros. Moving & Storage cannot only meet all of your moving demands. We can also help you find the perfect unit for the safekeeping of your items in Newcastle.
You can combine our premier storage solutions with equally useful moving services. But once you hire our movers in Newcastle WA, you can stop worrying about the success of your impending relocation. We know the formula for success and we use it every time!
We offer several storage options that cater to the needs of our Newcastle customers, including:
A detailed plan for success made by our movers Newcastle WA
How successful your residential or commercial relocation in Newcastle will be, depends mostly on two things – the Newcastle moving team you choose and the moving plan they make. With Hansen Bros. Moving & Storage, you can be sure that you are getting the best examples of both. Our detail-oriented moving team will draw knowledge and experience from all of our past relocations in order to ensure we create the best plan for the relocation of your belongings.
Clearly, the entire moving plan will be made in accordance with your relocation. By taking into account all the intricate details (such as narrow hallways) and preparing for them in advance, we will minimize the chances of any unforeseen circumstances. That's a trait of the best moving companies Newcastle has – we always strive to provide you with complete moving safety.
Newcastle movers that have detailed knowledge of the city and its streets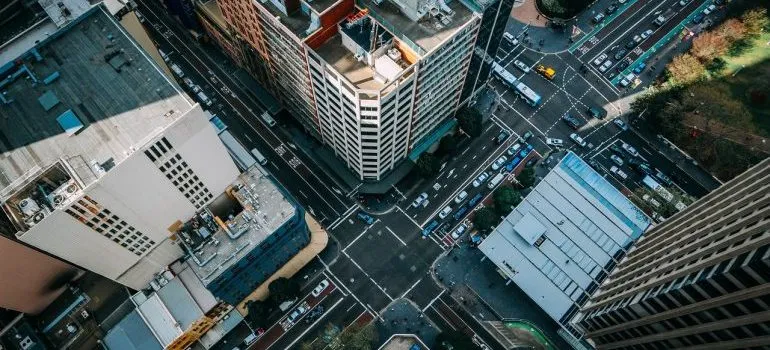 It doesn't matter whether you are relocating to a house down the street, moving your office around the block, or moving all the way across the city – our Newcastle moving team will be able to relocate you quickly and effortlessly. The seasoned professionals we employ have a deep understanding of Newcastle's streets simply because we have been servicing the area for so long. That knowledge paired with our readiness and optimal solutions will always lead to a seamless relocation. And our reviews with the Better Business Bureau list us as one of the top-quality moving professionals in the State of Washington.
Why you will love Newcastle
Welcome to the City of Newcastle – a suburb of Seattle with a population of 11,823 according to the 2018 census. This city has been named time and time again as one of the best places to live in Washington. As a suburb of a large city, it offers a unique blend of peace and convenience. This is truly a great place for families, as well as young professionals.
Families love the fact that Newcastle has schools that are highly rated, and young professionals love being so close to Seattle. Do you see yourself living here? If you do, there's only one thing you should do – give us a call and book your move today!
Your source of relocation expertise in Newcastle
With decades of moving and storage experience around Newcastle, Hansen Bros. has the knowledge and expertise to tackle any relocation you have coming up. Whether it's to the house next door or a new international office, we'll keep your move on time, on budget, and under control. Get in touch with our company to learn more about the professional assistance our movers Newcastle WA can provide!
Let our team put together a comprehensive moving plan for you. Complete our simple free quote form or contact us at 1-888-300-7222.