Medical Equipment and Lab Relocation
"Great team of guys. Professional and gave the extra effort needed to protect our furniture from damage. I have used Hansen Bros. 3 times in 12 years for local moves and all were great experiences. Save your back and let them do the heavy lifting!"
Frank F./ Seattle, WA
"Everybody at the company was very professional and gave great service. Price was competitive and the moving crew was on time and very efficient."
Clive B. / Mercer Island, WA
Laboratories undergo relocation for a variety of reasons, including program expansion, shifts in funding, or the need to renovate the existing building housing the laboratory. Whatever the reason for the relocation, the realization can be demanding and expensive. The basis of a successful medical equipment and lab relocation is meticulous planning and precise execution, and Hansen Bros. Moving & Storage is an expert in navigating these challenges. With specially trained staff for these delicate moves and superior relocation equipment, the safety of your property is in safe hands. So don't hesitate to contact our moving planners and present your wishes and expectations!
Why Choose Us
History
Hansen Bros. Moving & Storage is locally owned and operated by the same family for four generations, since 1890. We have a well-established reputation for service quality and reliability with a high percentage of repeat household and commercial clients.

Professionalism
We're a certified ProMover by the American Moving and Storage Association with A+ rating with the Better Business Bureau, voted "Best in Western Washington" in 2009 and from 2011 to 2016 by KING5. Our company is fully licensed and insured and member of WMC and AMSA.

Value
Hansen Bros. Moving & Storage provide free, no-obligation in-home estimate and competitive rates, including low minimum rates for shipments moving under 300 miles. We've set a refund policy for unused packing materials and three Puget Sound locations to help clients save on travel fee costs.
Challenges of Medical Equipment and Lab Transport
Managing the complexities of medical equipment and lab moves demands a depth of understanding and expertise. At Hansen Bros., we understand all the challenges and are well-equipped to address them by:
Ensuring compliance with stringent regulations to safeguard sensitive equipment.
Managing intricate logistics to minimize downtime.
Protecting the integrity of valuable research samples during transit.
We're happy to provide you with a consultation. Contact our heavy equipment movers today and let them pave the way for a successful relocation experience.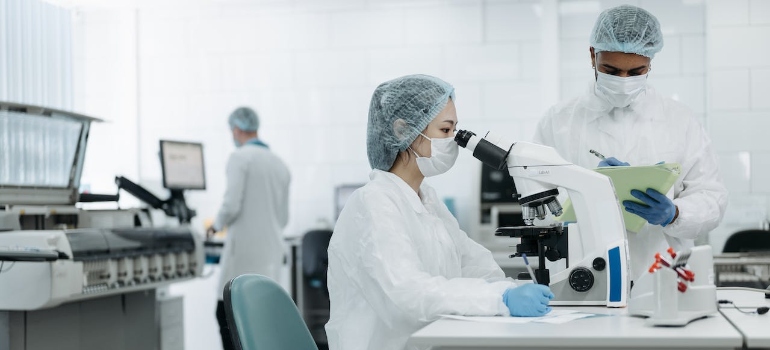 Benefits of Booking Hansen's Medical Equipment and Lab Relocation Services
When you opt for Hansen Bros, you're selecting a service with a proven track record in specialized relocations. Here are the key advantages:
Broad Expertise: We can successfully relocate hospitals, medical offices, laboratories, R&D facilities, schools, and other specialized institutions.
Systematic Planning: We underpin every move with thorough planning to ensure minimal disruption and optimal efficiency.
Proven Execution: Our team is trained to handle medical equipment and lab instruments, guaranteeing their safe transit and setup.
Are you a healthcare institution seeking to relocate critical medical equipment? Or maybe you are a research facility in need of precise laboratory repositioning? Don't worry; engaging with Hansen Bros. ensures that your relocation isn't just another move but a strategic transition tailored for precision. Reach out to us to tell us your requirements and get a free cost estimate from our specialists!
Read More
Hansen Bros. Services Ensuring Seamless Lab Relocations
Successful medical equipment and lab relocation relies on a combination of essential moving services that ensure efficiency and safety. At Hansen Bros., we provide a comprehensive approach:
With a focus on precision and efficiency, we aim to make your relocation process as straightforward as possible. Looking for a trusted partner for your medical equipment and lab move? Contact Hansen Bros. today!
Partner with Experts for Medical Equipment Transport
For over a century, Hansen Bros. Moving & Storage has been a trusted pillar in the Puget Sound community. Our deep-rooted experience in the healthcare sector means we don't just move items—we relocate them with care and precision. Our commitment to maintain the pristine condition of your equipment guides our every step, from planning to execution. If you're ready for a seamless transition, reach out today, partner with Hansen Bros., and experience relocation excellence.
Read Less
Let our team put together a comprehensive moving plan for you. Complete our simple free quote form or contact us at 1-888-300-7222.