Virtual Estimate Appointment
We believe excellent customer service involves offering plenty of options in everything we do. With this in mind, Hansen Bros. Moving & Storage proudly offers an alternative to our professional in-person estimate appointments. By harnessing the wonders of modern technology, our 130-year old company can provide virtual estimate appointments upon request. Please be sure to ask your relocation consultant if you're interested in a virtual estimate appointment.
The virtual estimate appointment is both efficient and effective. You will simply need the following:
A charged smartphone or tablet (either Android or Apple) with a stable internet connection (can be cellular or WiFi)
Access and Passwords to an active Google Play account (for Android) or an App Store Account (for Apple)
What is a "Virtual Estimate Appointment" and how does it compare to an In-Home Estimate Appointment?
In-Home Estimate Appointments involve one of our professional relocation consultants visiting your home or office to document the belongings you plan to relocate and access for our trucks. They can also answer any questions or answer any special requests that you might have.
Virtual Estimate Appointments involve one of our relocation consultants connecting with you virtually over the Internet via a special app, saving you the time and effort of hosting them in-person. You can then simply walk through your residence or office, showing the items you want to relocate and how our trucks will best access your location.
Both options accomplish the same objective of gathering the information necessary to create an accurate moving cost estimate. The difference is that the Virtual Estimate Appointment is more effective and less time-consuming. And, just like an In-Home Estimate, your Virtual Estimate is free and carries no obligation!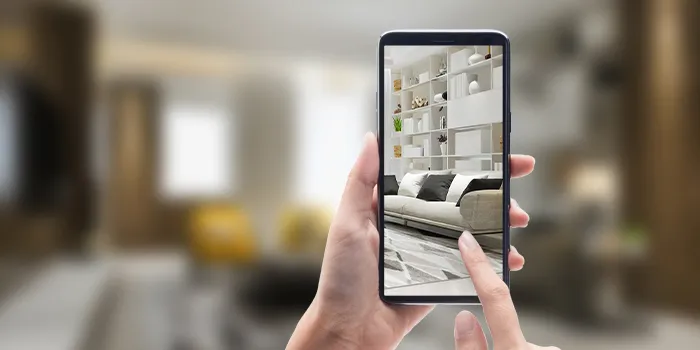 How does it work?
Once you schedule your Virtual Estimate Appointment, you will receive a link to download our app.
Download the Virtual Estimate Appointment app from the App Store/Google Play Store on your phone and you're all set!
On the day of your appointment, you will receive a link through text or email (whichever method you prefer).
Click the link and you will be connected with your Hansen Bros. relocation estimator through the app.
Once you connect with the estimator, you will do a virtual walkthrough so that he/she can inventory all the items in your home/office.
After the Virtual Estimate Appointment is done, the estimator will provide you with a free moving quote via email.
It's that simple! You don't have to worry about answering your door or physically walking someone through your home. The Virtual Estimate Appointment option is all done remotely, using your smartphone or tablet. It can be an easier and faster way to get your moving quote.
Hansen Bros. is always prepared to meet your specific needs
Our Virtual Estimate Appointment allows you to connect with one of our moving estimators via your phone or tablet and do a walkthrough of your home/office. This Virtual Estimate Appointment allows us to:
Provide an accurate estimate to you for your move  

See

 the layout of your spaces before moving day

Make note of how many large items you have to be moved

Check the entry/access options into your home and note any issues the crews might encounter on moving day.
During the Virtual Estimate Appointment, your consultant can also snapshot the various spaces while you do the walkthrough with notes so that, on moving day, our crew is prepared to meet your specific needs.
Benefits of our Virtual Estimate Appointment
Convenience. You can schedule a Virtual Estimate Appointment at a time convenient for you during our regular working hours.
Speed. Once you finish the walkthrough, you will receive a moving estimate from our relocation consultant via email in a timely manner.
Quality. You get the same accuracy and service as an in-person appointment but through the simple option of a video call.
Simple to Use. Everything from scheduling your appointment to using the app is super simple and easy by design.
Schedule your Virtual Estimate Appointment with Hansen Bros. today!
Hansen Bros. Moving & Storage offers you the ease of scheduling your Virtual Estimate Appointment on a date and time that is convenient for you. This is just another way in which our company makes your moving experience simple and hassle-free!
Let our team put together a comprehensive moving plan for you. Complete our simple free quote form or contact us at 1-888-300-7222.