"Great team of guys. Professional and gave the extra effort needed to protect our furniture from damage. I have used Hansen Bros. 3 times in 12 years for local moves and all were great experiences. Save your back and let them do the heavy lifting!"
Frank F./ Seattle, WA
"Everybody at the company was very professional and gave great service. Price was competitive and the moving crew was on time and very efficient."
Clive B. / Mercer Island, WA
Handling various types of machinery and heavy equipment is challenging enough without having to pack and relocate it from one location to the other. Hansen Bros. Moving & Storage has over 130 years' worth of experience when it comes to securing the smooth relocation of a variety of heavy equipment, mechanical parts, and various types of metals. Contact our company today and book the services of our professional heavy equipment movers!

With the combined skills and experience of our industrial moving and shipping coordinators, we are able to guarantee a cost-effective and perfectly executed relocation of any equipment you have.
Why Choose Us
History
Hansen Bros. Moving & Storage is locally owned and operated by the same family for four generations, since 1890. We have a well-established reputation for service quality and reliability with a high percentage of repeat household and commercial clients.

Professionalism
We're a certified ProMover by the American Moving and Storage Association with A+ rating with the Better Business Bureau, voted "Best in Western Washington" in 2009 and from 2011 to 2016 by KING5. Our company is fully licensed and insured and member of WMC and AMSA.

Value
Hansen Bros. Moving & Storage provide free, no-obligation in-home estimate and competitive rates, including low minimum rates for shipments moving under 300 miles. We've set a refund policy for unused packing materials and three Puget Sound locations to help clients save on travel fee costs.
Our services extend beyond the definition of moving
Hansen Bros. is a company that has a firm belief in self-growth and development. That is why we always grasp to take on more challenges, master new skills, and expand our services when it comes to relocation. And that is also how our services came to extend beyond the simplest notion of transporting equipment from point A to point B.
Furniture disassembly & reassembly
One of the most difficult times for any business is when they are forced to relocate their warehouse and production facilities. A well-laid-out plan and timeline, well-executed, can mitigate any disruption that may occur. Your relocation consultant, along with his/her Hansen Bros. management team, can develop a plan that will minimize your downtime and ensure that your transition is as smooth as possible.
Full-service storage solutions that ensure the protection of your equipment
One of the fundamental services that our heavy equipment movers at Hansen Bros. offer is secured storage warehouses across Seattle. Our storage services include:
Your heavy equipment will be stored in a temperature-controlled and security-monitored warehouse with fire alarm systems, motion sensors, and perimeter video surveillance. And, of course, our warehouse storage staff is always happy to provide you with the necessary assistance. Warehouse access is strictly limited to customers – there is no public access to our facilities.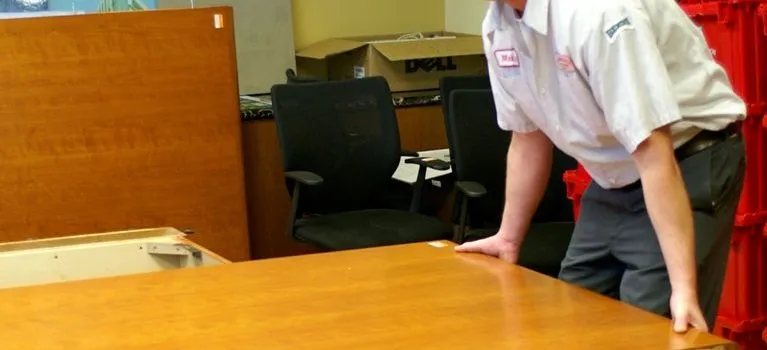 We recognize that storage can be an unplanned expense for many customers. And we plan it all accordingly, ensuring that customers don't have to pay for storage space they don't need. To achieve this, we offer 6-month, 3-month, and month-to-month plans designed to fit just about any situation. For those requiring storage for a long duration, we offer attractively priced long-term options as well.
Industrial, heavy equipment movers at your service
Whether you require several pieces of equipment to be moved internally or an entire production line reconfigured, we are here to help. We will work with your company to efficiently complete the project on time and within budget. Additionally, Hansen Bros. Moving & Storage can assist with the planning and coordination of relocating heavy equipment from one facility to the other. After all, having a well-planned relocation project is half the work.
With the help of Hansen Bros. Moving & Storage, you should be certain that your industrial move will be accurate and productive. With our skilled heavy equipment movers by your side, you can be sure that there will be no disruption in your everyday operations as we conduct the relocation.
Equipment disassembly & reassembly services
Hansen Bros., along with our professional vendor partners, can assist with all of your equipment and machinery needs, such as:
Disassembly and reassembly of equipment during the renovation of your facilities, relocation of your business, warehouse relocation, etc.
Reconfiguration of equipment during an internal reorganization of your business space.
Installation of several different types of heavy equipment.
Packing & unpacking services
Hansen Bros. Moving & Storage can provide packing and unpacking services Seattle business need for IT centers, music studios, production lines, car parts, etc. Also, to ensure the organized transfer of your heavy equipment, Hansen Bros. has developed a labeling system to ensure that all items are appropriately placed at the new location.
Hansen Bros. will provide specialized equipment, including inventory carts to ensure the safe transport of materials. Stretch wrap is used on the carts during the move to ensure materials and equipment are not lost or damaged. So, if you are looking for reliable and safe help for packing and unpacking, call us.
By hiring Hansen Bros. Moving & Storage, you will receive much more than just the most respected and trusted heavy equipment movers. We will offer you a cost-effective and holistic solution that ensures your office relocation is:
on time,
on budget,
and with no unwelcome surprises.
Call us now and schedule your relocation on your own terms. Experience firsthand what makes Hansen Bros. the preferred choice when it comes to moving and storage solutions.
Why should you choose Hansen Bros. Moving and Storage?
Here at Hansen Bros. Moving & Storage, we understand the importance of maintaining the functionality of different types of equipment. Careful preparation is of the essence when it comes to moving heavy equipment and machinery. And our team of professional relocation specialists is always ready to devote themselves to providing customers with the best relocation services in Seattle. We pledge to do our part in making sure that your move occurs quickly and efficiently, eliminating even the slightest possibility of damaging your equipment during transport.
Hansen Bros. Moving & Storage is a trustworthy company with deep roots in the moving industry in Washington State. In fact, our moving business is the oldest operating moving company in Seattle. And our extensive knowledge of the inner workings of the relocation process and the thousands of satisfied customers speak volumes to confirm that. We would welcome the opportunity to speak with you about your industrial moving needs.  Please feel free to use our convenient free quote form or call us at 1-888-300-7222
Our People
Management team with over 250 years of combined experience
All employees drug tested and have passed a rigorous background check
Experienced and trained on all types of equipment and movement of products
Flexible hours to be there when it is best for your schedule
Planning done by Hansen Bros.
Meet with the head of all departments involved
Determine all requirements
Prioritize all requirements
Develop a comprehensive plan for easy communication with everyone involved
Establish timelines for each phase
Coordinate with building and property managers at all locations for special requirements
Present a plan with various options and suggestions
Pre-move meetings with everyone involved to review plans, timelines and answer questions
Equipment our heavy equipment movers use
100's of dollies, rolling machine carts, pallet jacks, product carts, bins, safe jacks
High cube air ride solo moving vans with rail gates
Air ride trailers from 28 foot to 53 foot
Forklift-equipped flatbed solos and tractor-trailers for locations without a forklift available
Curtain side solos and trailers for faster load & unload times while still protecting items from the weather
Low-height air ride solo moving vans which facilitate access to most underground loading areas
A fleet of enclosed vans for temporary storage during projects
Fully equipped with pads, logistic tracks, and straps for protection and safe transport
Large capacity – Over 100 trucks, tractors, trailers, and forklifts of all shapes and sizes
Capabilities of our heavy equipment movers
Since Hansen Bros. has over 130 years of experience, we have been handling almost any type of project or product imaginable.
Move phases according to plan to minimize downtime and disruptions
Systematically loading and unloading of inventory or products to keep in the correct order
Disassembling and reassembling all types of racking and material handling systems
Palletizing or packing of any type of product or item
Movement and restocking of products
Moving and setup of manufacturing equipment
Breakdown and setup of production areas
Mover assist if you have the capabilities to perform some of the tasks with in-house staffing
Liquidation of surplus or unneeded equipment
Devotion
Whether you are moving your factory to a new space, moving your inventory to a new distribution center, or just moving a single piece of equipment to a different location, Hansen Bros. Moving & Storage has the experience and expertise to get the job done right. With over 130 years of operations, we have moved almost every type of product and equipment you can name. From a single item across town to multiple trailer loads across the country, no job is too big or too small. When your products or equipment need to get moved safely and on time, it is too important for a project to trust it to a mover who can't get the job done right.
You can't afford to choose the wrong mover when the very lifeblood of your business depends on being up and running as soon as possible. If the job isn't planned right and executed correctly, you face idle workers, no production, and unhappy customers. Your job is running your business, not moving it. Hansen Bros. can ensure that your business is up and running at your new location as planned.
Trustworthy heavy equipment movers from day one
Throughout the time we were present on the market, we sought only one: to help our local community relocate with ease. No matter whether they were moving for personal reasons, work purposes or they simply needed help to ship their products or belongings, Hansen Bros. Moving & Storage has always been a company that one can rely on in their time of need.
And we have maintained this supporting role to this very day, 130 years later. As a result, we are currently regarded as one of the most trustworthy heavy equipment movers in Washington State. We constantly invest time and resources in training new movers, starting with extensive background checks and testing physical abilities. The intense training and resources that we invest are the foundation of the top performance that Hansen Bros. can guarantee when it comes to residential, commercial, and industrial moving services in the Puget Sound area.
As you can see, Hansen Bros has the people, equipment, and experience to handle any of your commercial moving requirements. Our team can also assist you with our list of qualified professionals in locating a new facility to lease or purchase, arranging for tenant improvements, electricians, plumbers, and about any other type of service you may require during your move. Please call us at 1-888-300-7222 or use our contact form to schedule a survey of your commercial moving requirements.
Let our team put together a comprehensive moving plan for you. Complete our simple free quote form or contact us at 1-888-300-7222.