Best Long Distance Moving Companies
"Great team of guys. Professional and gave the extra effort needed to protect our furniture from damage. I have used Hansen Bros. 3 times in 12 years for local moves and all were great experiences. Save your back and let them do the heavy lifting!"
Frank F./ Seattle, WA
"Everybody at the company was very professional and gave great service. Price was competitive and the moving crew was on time and very efficient."
Clive B. / Mercer Island, WA
Moving long-distance is a process that requires a lot of attention to detail. However, even more than that, it is necessary to know how to approach it in the most efficient way. Without quality planning and focusing on the crucial aspects of the move, you are hardly going to stand a chance of completing the move in the most desirable manner. To properly prepare for the move, you'll need to invest the required time and energy. Or, as an alternative, you could save yourself some effort by choosing to trust the professional long-distance movers Seattle trusts to help you with your interstate relocation process. Hansen Bros. Moving & Storage is the moving company to get in touch with when you decide to relocate with professional help. Contact our moving company today to secure the best moving experience available!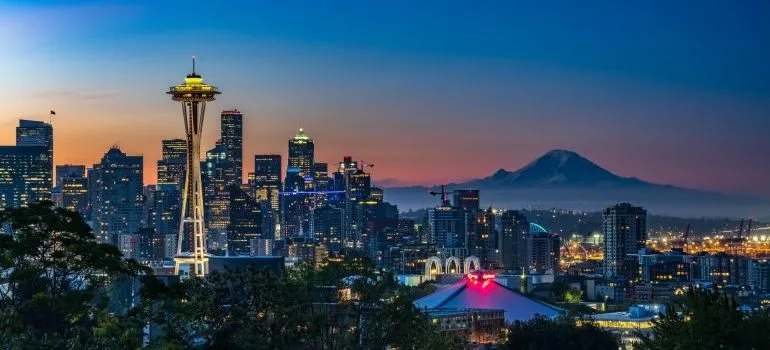 So, if you are looking for reliable long-distance movers in Seattle, you should make sure to get in touch with us as soon as possible. The sooner we start working on your relocation, the fewer difficulties and complications there will be.
Why Choose Us
History
Hansen Bros. Moving & Storage is locally owned and operated by the same family for four generations, since 1890. We have a well-established reputation for service quality and reliability with a high percentage of repeat household and commercial clients.

Professionalism
We're a certified ProMover by the American Moving and Storage Association with A+ rating with the Better Business Bureau, voted "Best in Western Washington" in 2009 and from 2011 to 2016 by KING5. Our company is fully licensed and insured and member of WMC and AMSA.

Value
Hansen Bros. Moving & Storage provide free, no-obligation in-home estimate and competitive rates, including low minimum rates for shipments moving under 300 miles. We've set a refund policy for unused packing materials and three Puget Sound locations to help clients save on travel fee costs.
Choose us, the long-distance movers Seattle has relied on for decades!
Choosing a moving company to assist with the process of relocation can be a very time-saving and cost-effective decision. To do this, you should make sure to put in the necessary effort to research the leading providers in the market. Once you have collected the data, go ahead and compare the characteristics of the companies you have interviewed, the moving services you need, and consider the benefits of hiring professional movers.
Then, assuming Hansen Bros. Moving & Storage was included in your research, we are confident that you will quickly discover our reputation and services are among the best in the business. From there, it's an easy decision to make, simply hire our team as your long distance movers Seattle families and businesses have counted on for generations.
Soliciting estimates from several moving and storage companies is always recommended and we will always strive to help you make the right decision.
Hansen Bros. Moving & Storage is a trustworthy moving company with a proven track record of tens of thousands of properly prepared and executed moving projects behind us. No matter what kind of moving help you are looking for, you can be confident we are going to do our part in making sure your moving day proceeds simply and easily.
Our moving crews
The quality of every move is determined by the team members working on the project and we could not be more proud of our employees and their commitment to meet or exceed your expectations. This is primarily thanks to their dedication to the details. And also their commitment to ensuring all of the moving tasks they handle are completed with care and professionalism. 
In addition to their enthusiasm and talent, we are committed to high-quality training and recognition for outstanding work ethic, project results, and customer satisfaction. Here at Hansen Bros. Moving & Storage, we know the value of ongoing investment in our employees. After all, it is thanks to them our company has been held in high regard both by the competition and our customers for well over a century.
What are the services offered by Hansen Bros. Moving & Storage?
Based on our experience and reputation, the decision to hire us as the long-distance movers Seattle trusts is self-evident. Now, would you like to learn more about the other moving services we have to offer? Our expertise extends to the following:
Local relocation plans

Residential moving solutions
We offer a variety of local relocation plans covering different areas
Local relocation represents one of the easier forms of moving with regard to planning and organization. In fact, many customers initially assume they can handle a local move themselves. And then, after understanding the time and effort required, they often call in for help only when they realize they are not up to the task due to other life responsibilities, including work, family, travel, and the process of buying or selling real estate. As you can probably presume, this usually happens just before the actual moving date.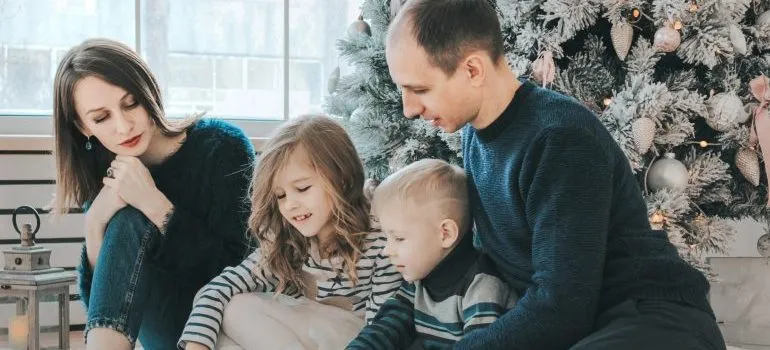 If you want to go about your move in the most responsible and recommended way, you should get in touch with local movers Seattle trusts at least two months before your moving day comes. This is the only way to ensure you will be able to hire the movers of your choice as professional movers are in high demand and typically require scheduling in advance.
Hansen Bros. is the moving company to get in touch with when you need help with your local move. Local moves are the way we started the moving business. Through local moves, we were able to perfect our knowledge of the moving industry and identify the best approaches. Today, we pass that experience down to our employees and young movers, training them to become the best in the industry – meeting long-established Hansen Bros. company standards.
So, if you are looking to get quality help for your Seattle, WA relocation, make sure to give us a call. We will make sure that you are satisfied with your choice.
Long-distance residential moves come as second nature to our moving crews
The next thing we need to talk about is interstate residential moving. Moving belongings from a home in one state to a home in another state can be highly disruptive and overwhelming. For families, this is further magnified when children are involved. The longer the relocation process takes, the greater the toll on the quality of life.
Therefore, it is important to ensure the moving process has well-laid plans that allow the relocation to be completed as quickly as possible. Hiring quality interstate residential movers Seattle trusts is the only way to be certain that you will complete your move as efficiently as possible.
Given that the happiness and well-being of you and your family are at stake, you must choose the best moving company for the job. Hire Hansen Bros. Moving & Storage today, and let's start working together to make your relocation project as hassle-free and quick as possible.
Our team of long distance movers Seattle excels in commercial relocations
Lastly, please be aware that Hansen Bros. helps companies move as well – whether within Washington State or across the country. No matter if you are moving offices or business equipment and supplies. 
Moving a company can be a daunting process and it's critical that it be as smooth as possible to minimize downtime and employee disruption. Employees, generally don't like change and moving is one of the biggest changes an employee can face. To be back in business without your performance suffering, get in touch with Hansen Bros. Moving & Storage today. We will make sure your company relocation proceeds efficiently and with ease.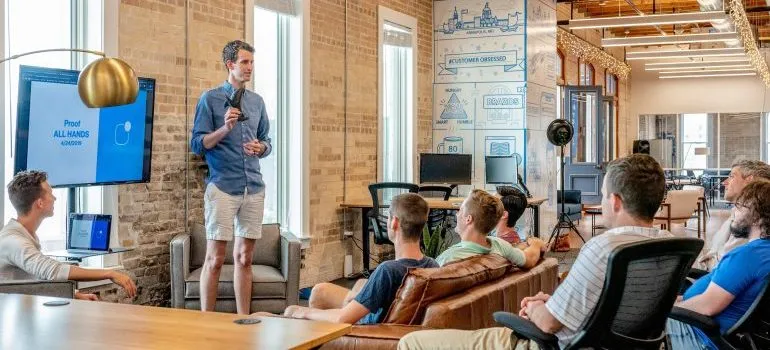 Additional services we offer to help your relocation process
Moving by itself is difficult enough. But long-distance moving can be especially challenging. When you decide to hire movers, you want peace of mind, knowing that an experienced, professional team will arrive prepared on a moving day.
But with every company claiming they're top-notch, how can you be sure you're picking the right movers? Here are a few services that only the best long-distance moving companies will provide:
Packing services

– Most moving-day stress comes from packing. Not to mention, the cost of packing supplies (boxes, tape, paper) can quickly add up. Instead of handling it all by yourself, our long-distance movers can come in and take care of packing responsibilities for you.

Full packing involves professionals packing your entire home, while partial packing takes care of specific household items. That means you get packing services that are carefully tailored to suit your needs.

Storage services

– Moving can be unpredictable. Anything from weather to last-minute real estate matters can delay move-in plans. If you choose a moving company that doesn't provide storage, you're responsible for finding somewhere to keep your belongings in the event your move timing must change. However, Hansen Bros. offers full-service storage facilities. In the event your moving day is delayed for some reason, your belongings can be stored in one of our safe and secure warehouses.

Shipping solutions

– Not all items can be successfully packed and loaded onto a moving van.

Heavy furniture

, fragile antiques, and cars need a way to get to your new home. In addition to air-ride trailer services, we can help you with

shipping furniture, motorcycles, cars, and other belongings that can't make the journey in the truck

.
Call our long distance movers Seattle today!
Are you ready to hire Hansen Bros. Moving & Storage as your long distance movers Seattle has trusted for decades? Our mission is simple. We want to provide you with the best moving experience possible. We work with you from the get-go to tailor a moving plan revolving around your unique needs. Don't want to bother with packing? We can handle all your packing needs. Need to place your belongings in storage for the long or short-term? We have both storage warehouses and portable storage solutions available.
When you choose Hansen Bros. Moving & Storage, you're choosing the leading provider of reliable, top-quality moving and storage services. Call us today and let us know what you need and we will make sure that you get exactly that.
Let our team put together a comprehensive moving plan for you. Complete our simple free quote form or contact us at 1-888-300-7222.