"Great team of guys. Professional and gave the extra effort needed to protect our furniture from damage. I have used Hansen Bros. 3 times in 12 years for local moves and all were great experiences. Save your back and let them do the heavy lifting!"
Frank F./ Seattle, WA
"Everybody at the company was very professional and gave great service. Price was competitive and the moving crew was on time and very efficient."
Clive B. / Mercer Island, WA
After being in the moving and storage business since 1890, Hansen Bros. Moving & Storage has had the opportunity to service some truly unique moving projects. Thanks to years of experience, well trained crews, and a dedication to customer service, we have had some remarkable success stories with unique projects. These are just a few of the projects but we will post more in the future. We hope that you enjoy some of our photos and encourage you to contact us if you have a unique moving project!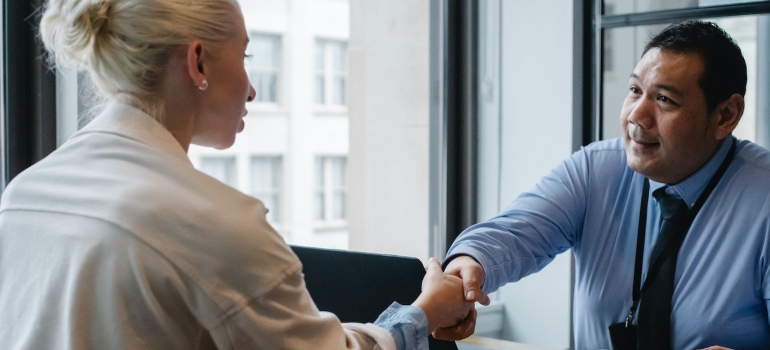 Here you will find an intriguing collection of our relocations that go beyond the standard. From moving airplanes to relocating a telegraph, these exceptional stories highlight the limitless possibilities within the world of Hansen Bros. professional moving services. Each case is a testament to our dedication and the fascinating challenges that come with thinking outside the box — or the moving van, in this case. Get ready to be amazed by our list of unusual moves!
Why Choose Us
History
Hansen Bros. Moving & Storage is locally owned and operated by the same family for four generations, since 1890. We have a well-established reputation for service quality and reliability with a high percentage of repeat household and commercial clients.

Professionalism
We're a certified ProMover by the American Moving and Storage Association with A+ rating with the Better Business Bureau, voted "Best in Western Washington" in 2009 and from 2011 to 2016 by KING5. Our company is fully licensed and insured and member of WMC and AMSA.

Value
Hansen Bros. Moving & Storage provide free, no-obligation in-home estimate and competitive rates, including low minimum rates for shipments moving under 300 miles. We've set a refund policy for unused packing materials and three Puget Sound locations to help clients save on travel fee costs.
Hansen Bros. Moves Museum of History and Industry
Hansen Bros. Moving & Storage is proud to be the exclusive Seattle mover for the relocation of the Museum of History and Industry (MOHAI) to their new location at the Armory Building in South Lake Union. For information about this project and exciting updates, please click here.
Hansen Bros. Transports "Son of Heaven" Exhibit
Hansen Bros. was selected to handle the Son of Heaven exhibit when it arrived for a tour in the United States. Because of the political climate at the time and being the first rare artifacts of this nature to be sent to the United States from China high security was required. The exhibit was split up into multiple planes to insure if something was to happen during the flight the entire exhibit would not be lost. Hansen Bros met each plane load to delicately handle the 1,000's year old items. Accompanied by security the exhibit was transported to the exhibition hall where Hansen Bros. assisted the Chinese and local curators removing and placing the items for display.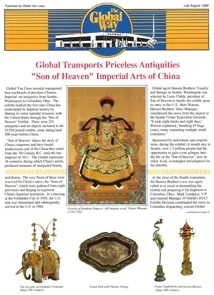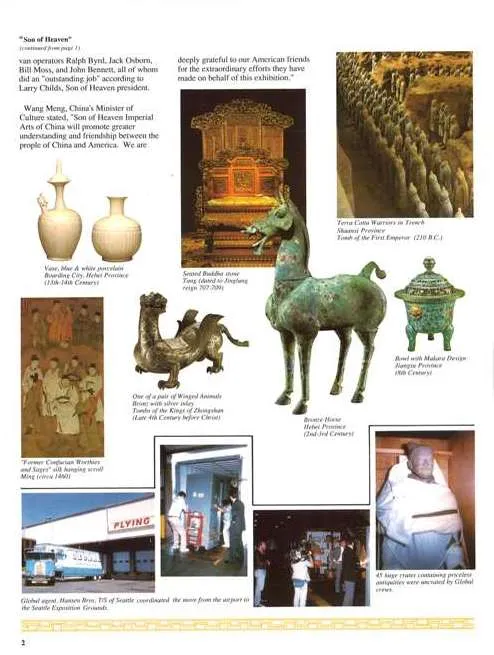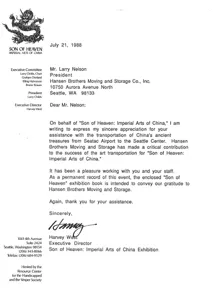 Hansen Bros. Moves Piano By Crane
Sometimes oversize items do not fit where customers would like them. In this case the piano needed to be placed in the top floor room of the residence. Unfortunately the stairwell would not accommodate the size of the piano so we used a crane. We have also used a crane to shoot a piano out onto the top floor of a houseboat.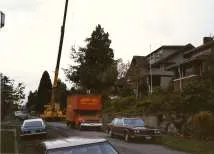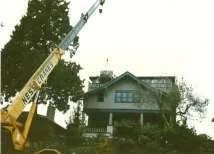 Hansen Bros. Moves Airplane
One of our customers called upon us to ship a Cessna 288 airplane from New York to Tukwila, WA. We have also shipped float plane pontoons from Florida to Kenmore WA.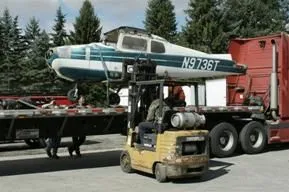 Hansen Bros. Hoists Oversize Appliances
Builders and remodelers run into access issues during installation of new large appliances. In this case, during a remodel of a kitchen, the old refrigerator is lifted down over the railing and the new sub-zero oversize refrigerator is lifted back up over the railing facilitating the placement in the new kitchen.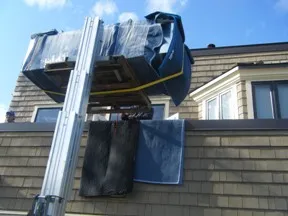 Hansen Bros. Moves Laundry Equipment
Hansen Bros. received large laundry machines to hold until the location was prepared in a large hotel. The access was through an underground loading area necessitating a low height van with a lift gate and a forklift. Walls had to be removed so the old equipment could be removed and the new machine could be put in place.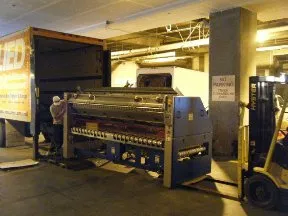 Hansen Bros. Hoisting Sofa
Many residential locations have tight access so long or bulky sofas will not fit through the halls, stairs and doorways. This is an example of a sofa being put through a second floor window. The sofa is prepared by pad wrapping then stretch wrapping it in plastic to ensure its safety.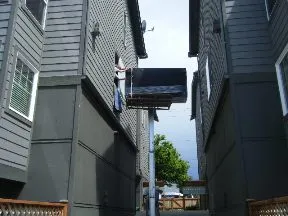 Hansen Bros. Delivers Store Fixtures
Many retail commercial buildings require early morning or late evening deliveries so as not to interfere with the shoppers. This was an early delivery of new store displays and fixtures at a local mall.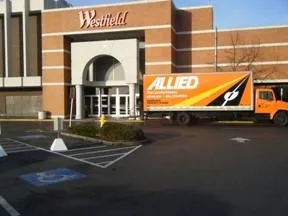 Hansen Bros. Crates and Delivers Telegraph
This telegraph was from a WWII Naval Liberty Ship and was purchased in 1972 from Cutty Sark in Seattle. The owner of the telegraph hired Hansen Bros. to crate and ship the telegraph to his brother living in another state.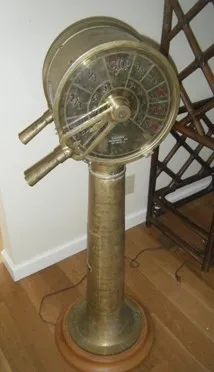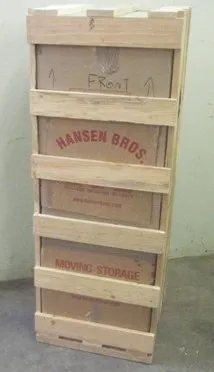 Hansen Bros. Moves Iconic Husky Helmet Car
According to UW, the origin of the helmet car is believed to be traced back to the 1977 season, when the Huskies won the Pac-8 championship and earned a trip to the Rose Bowl. Several supporters hoped to drive the helmet car down to Pasadena, Calif., and into the Rose Bowl Parade, but the car never made the trip that year. It is believed that in the following season, the helmet car started circling the track after every UW score, with members of the UW band and cheer squad riding in celebration.
The Husky Helmet Car was displaced from Husky stadium due to the $261 million renovation project in 2013 and it was donated to the Museum of History and Industry. The helmet is all fiberglass and mounted to an early 60's VW chassis. It is approx. 10′ tall 8′ wide and 13 feet long. It weighs about 2,000 lbs. Hansen Bros. carefully relocated the Husky Helmet Car from South Lake Union to Georgetown.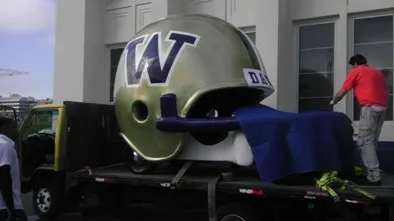 Let our team put together a comprehensive moving plan for you. Complete our simple free quote form or contact us at 1-888-300-7222.