Best places to find packing supplies in WA
When you think of moving, odds are that some of your first thoughts are about packing. It's one of the most quintessential moving images for people: a house empty of everything but huge cardboard boxes. But in order for cardboard boxes to be the only thing your Seattle movers find in your home, you must first have cardboard boxes. And they are not even the only type of supplies you're going to need. So today, let's talk about where to find packing supplies in WA, what exactly you need, how much of it you should get, and why it's important not to take this part of your relocation process lightly.
Different kinds of packing supplies in WA that you can use
You already know you're going to need boxes. But boxes are hardly the only type of supplies you're going to need if you're planning on packing your entire household. Instead, you're going to need to gather several different types of things to make packing easier.
Boxes and alternative containers
Probably the most important thing for you to get enough of are boxes. They are, after all, the main thing you're going to use for packing. They come in a variety of sizes. From small boxes that you can use for books or fragile items to extra-large boxes that can fit your pillows and winter coats, boxes in all sizes are essential to every relocation. However, many international commercial shipping companies also offer alternatives you may be interested in. Wooden crates, for example, are better at protecting your belongings from damage. And plastic containers are good for all weather conditions. So explore your options!
Wrapping and cushioning material
Simply putting all your belongings in a box is just not going to cut it. These boxes often have to travel large distances. The things inside them can shift around and move. This can in turn cause damage. To prevent that, you'll want to wrap your belongings in some kind of protective wrapping. This can be anything from fabric to paper to bubble pack, depending on what exactly you're packing and how valuable it is. And then, you should also fill any gaps left in the boxes with cushioning material in order to prevent the contents from moving around too much. For this, you can again use fabric or paper or you can get some packing peanuts.
Tape
Every box that you pack needs to be properly sealed. Otherwise, the contents of it will just go spilling everywhere. So get some high-quality tape to close your boxes. If you're moving heavy things in certain boxes, you may also want to reinforce those boxes with tape. Simply put one or two layers of tape at the bottom and on the corners to let the box carry a larger weight without falling apart.
Labeling tools
While packing, you should always keep in mind that unpacking awaits you on the other side. Unpacking may not be as stressful as packing, but it can still take quite a bit of time if you don't get organized and plan it properly. One way to make that easier on yourself is to label all your boxes properly.
There are different methods to do this from simply writing down the room the box should go into to color-coding to putting entire inventory lists on the box. Whatever method you choose, make sure you have the supplies for it. This usually includes markers, some form of labels or papers, post-its, and tape.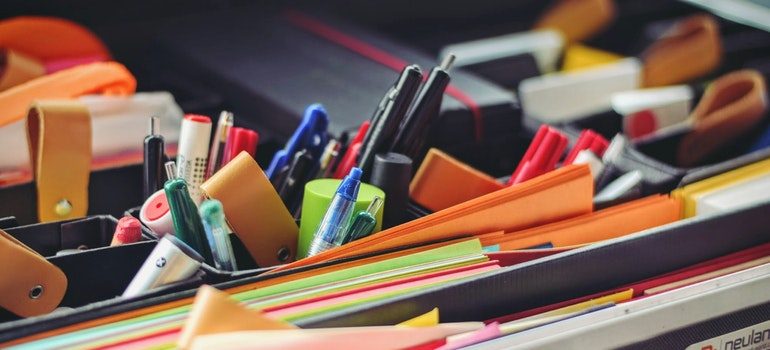 Where to find packing supplies in WA?
Now that you know what you need, the question becomes where to get it. The obvious answer is – freight companies Seattle. But there are also other methods of gathering packing supplies.
Search your home for free supplies
The first place you should look is your own home. You probably have at least some boxes, containers, plastic bags, old newspapers, markers, and tape that you can use for packing. You may not have thought of them as packing supplies before and they may not be up to par in terms of quality for everything. But they're there and they're free. You can surely cover at least some of your needs with the things you already own.
A moving and storage company
A good and obvious choice is to get packing materials from a moving and storage company. Most movers offer both packing services for their clients and packing supplies so you can pack by yourself. A great benefit of buying from a moving company is that you know the supplies will be of very high quality. If professionals use them, then they're surely good enough for you! A potential downside can be price – sometimes high quality supplies can be more expensive but many professional movers offer highly competitive pricing on their cartons and moving supplies.
Find packing supplies in WA online
In this day and age, you can find just about anything online. This definitely includes all sorts of packing and moving supplies. So, check out the Facebook marketplace, Twitter hashtags, and local groups. Most of the time, there will be at least someone there who moved recently and is now getting rid of their supplies. Often, these will be very cheap or even free.
Local stores
Finally, you can always turn to local stores for your packing supplies. Plenty of shops sell boxes, tape, and other things you can use for packing. But that's not the only way to get packing supplies from your corner store! Get creative – ask the shop owners if they have any boxes or crates they can spare. That way you can get them for free.
Why is it important to always look for the best packing supplies in WA?
When you're looking for packing supplies in WA, you should always look for high-quality things. Even if you're on a budget, packing supplies are worth spending a bit on. This is because packing materials are the first line of defense for your belongings. If something happens and your stuff isn't packed well, odds are that it'll get damaged. But if you invested in good supplies and packed carefully, your belonging will be much safer during transport.
Let our team put together a comprehensive moving plan for you. Complete our simple free quote form or contact us at 1-888-300-7222.