Gift Certificates
If a family member, friend, or client you know is buying or selling a home, moving to a retirement community, transferring to a new job, storing belongings, a Hansen Bros. Moving & Storage Gift Certificate makes a terrific gift!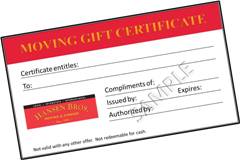 A Moving Gift Certificate can be applied to the following Hansen Bros. Moving and Storage services at any of our three convenient locations:
Packing Materials

Packing, Loading and Delivery
Local, National & International Moving
Premium Protection Plans
Short-term or Long-term Storage
Specialized Crating
For more information on how to purchase a Hansen Bros. Moving Gift Certificate or have one purchased for you, please call 1-888-300-7222.
I want you to know how EXCEPTIONAL Sam , Junior and Ota (sp) were yesterday. Not only were they pleasant, efficient, so-so Hard Working, motivated, and really wanting to make our move a comfortable and POSITIVE EXPERIENCE. Our job went over (sales person estimated time), but we totally saw how hard they worked, and yet how carefully they took care of our belongings.

I can not say enough positive things about these guys, they were pleasant to have around, and even with some difficult loading issues they just took it in stride and did their jobs. These three guys deserve a raise!! Moving can be a thing a person has to do, and you are just trying to survive it, the 3 men walked in the door and you could tell everything is was going to be alright. It was a joy to have them in our house. You had better figure out how to give them more money and responsibility, to keep them on your team. If you speak to them thank them again for a smooth uneventful move. Bill E.
-Bill E., April 29, 2021
See What 3822 Customers are Saying
Let our team put together a comprehensive moving plan for you. Complete our simple free quote form or contact us at 1-888-300-7222.