Storage Units Newcastle WA
Storage unit rental has become one of the best ways to secure additional space for your belongings, decluttering your household or business in the process. The truth is that not all homes or businesses have the space required to accommodate the possessions we acquire as the years pass by. Hansen Bros. Moving & Storage is a well-established relocation business that also provides affordable Newcastle storage solutions that can easily accommodate your belongings and protect them on a short-term or long-term basis. Whether you are moving to a new home, renovating the old one, or simply doing some spring cleaning – we can make it easier on you. Give our company a call today and secure your portable storage container(s).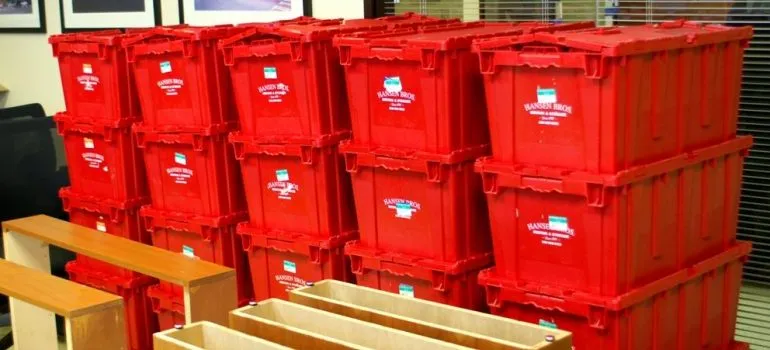 Hansen Bros. Moving & Storage offers top-quality Newcastle storage options
Establishing a trustworthy relationship with a company you hire to keep your belongings safe is half the battle. That is what most people find difficult to find – a reliable Newcastle storage business that can easily meet their expectations. As a respective and top-rated Newcastle moving and storage service provider, Hansen Bros. Moving & Storage can understand this completely. We have been operating in the relocation industry for over 130 years – we know what customers expect when they look for storage solutions.
Our company offers portable and grounded Redmond self-storage containers that are resistant and easy-to-use. You want a company that you can put your long-trust in? Hansen Bros. is a storage company that Newcastle residents have been relying on for generations. Our team can always be counted on:
Providing a plethora of portable self-storage containers,
Loading and transportation of your storage boxes,
Offering top-quality packing materials,
Safeguarding your valuables in our modern Newcastle storage warehouse.
The 250 years of combined knowledge that our executive team has enables us to firmly grasp a deep understanding of the needs of our customers. Today, we are able to cater to Newcastle and other surrounding areas with the extensive storage services that our company offers. Share with us what type of storage solutions you are after – we will make sure that you receive the top moving and storage service available on the market.
Our services cover the entire Puget Sound area
Whether you are looking for a Seattle, Newcastle, Lynnwood, Bellevue, or Kirkland moving company – Hansen Bros. is all of that and more. With each passing year, our business expands to different parts of Washington, and our reputation grows nationwide. And in the very core of that is our professional and skilled staff – the machinery behind it all.
We have storage warehouses in Seattle, Lynnwood, and Newcastle that are ready to store your belongings when you need it. Actually, our storage units have been used, upgraded, and occupied for more than a century as well. Of course, they changed quite a lot since then. We dedicate significant time and expense to the maintenance of our warehouses to ensure that you can expect only the best storage solutions from us.
Whether you have a last-minute relocation to deal with or are looking for a place to put away belongings while remodeling or rebuilding – we have the Newcastle storage solutions you want. Our warehouses are temperature-controlled and monitored. And our business is licensed and insured to safeguard your possession with the utmost care.
You can put your trust in our well-maintained and modern warehouses
Hansen Bros. offers contemporary concrete tilt-up storage warehouses with strictly limited access, all to assure the safety of items you entrust us with. However, you are the one who chooses the features of your storage unit. Do you need special accommodations or a temperature-controlled unit for storing antiques and pieces of art? Are you interested in our portable self-storage options? All you have to do is get in touch with us and tell us the type of storage you are seeking. Our warehouses are:
Temperature-controlled
Top-notch security
Equipped with fire alarms
Well-maintained
Modern and easily accessible
We will make sure that your belongings receive the care they deserve. Your satisfaction is our primary concern. And we will do everything in our power to make sure that all your needs are met.
With Hansen Bros. Moving & Storage, you don't have to settle for just any storage size available
People often end up overspending their budget on storage and the reason for this is usually the same – storage size. When you choose a storage unit that is too small, you end up renting another one, which costs extra. In cases of overly-sized storage units, you are overpaying for a unit that you are not using fully. Our Newcastle storage solutions can be tailored to your specific residential or commercial needs.
We offer diverse portable self-storage containers to choose from. So, please let us assist you during your residential or office relocation by giving you valuable tips and advice along with the best storage solutions available in our market. You can trust us to help you choose the best unit that will be just the right size and offer the features you need.
Spacious, clean, and dependable Newcastle storage solution – order yours now!
Don't waste your time wondering whether a storage unit with us will be a worthy investment. No matter what kind of storage unit you need, you should contact us. Hansen Bros. Moving & Storage is the top Newcastle storage provider out there. We are confident you will not only realize it is worth your time and money, but you will also discover how renting storage improves your overall quality of life. Let us know whether this is the only service that you desire or you may perhaps need moving services too.
Let our team put together a comprehensive moving plan for you. Complete our simple free quote form or contact us at 1-888-300-7222.