"Great team of guys. Professional and gave the extra effort needed to protect our furniture from damage. I have used Hansen Bros. 3 times in 12 years for local moves and all were great experiences. Save your back and let them do the heavy lifting!"
Frank F./ Seattle, WA
"Everybody at the company was very professional and gave great service. Price was competitive and the moving crew was on time and very efficient."
Clive B. / Mercer Island, WA
Moving ranks as one of life's most overwhelming events usually topped only by a health crisis or divorce. Hansen Bros. Moving & Storage can successfully reduce the stress of relocation with the combined use of our professional staff, proper equipment & facilities, and effective communications. However, the process of moving is still highly time-consuming and filled with details that require carefully thought-out management. As a regular person with a nine-to-five job, you don't have the time or sufficient knowledge to plan and coordinate a move completely – but we do. Our HB move management team helps you not only with organizing your relocation but also with executing it to perfection. Give us a call and secure a seamless relocation for yourself and your loved ones.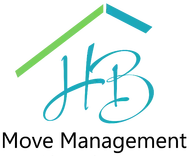 Our goal is to be a complete, one-stop moving solution for our customers. With this in mind, we offer a special division dedicated to addressing the "everything else" that is ignored by most moving companies. This division, named HB Move Management, has been designed to help our valued customers manage the many details related to their move. We also offer seminars on how to downsize your home, where our team of experts equips attendees with downsizing tips and support.
Why Choose Us
History
Hansen Bros. Moving & Storage is locally owned and operated by the same family for four generations, since 1890. We have a well-established reputation for service quality and reliability with a high percentage of repeat household and commercial clients.

Professionalism
We're a certified ProMover by the American Moving and Storage Association with A+ rating with the Better Business Bureau, voted "Best in Western Washington" in 2009 and from 2011 to 2016 by KING5. Our company is fully licensed and insured and member of WMC and AMSA.

Value
Hansen Bros. Moving & Storage provide free, no-obligation in-home estimate and competitive rates, including low minimum rates for shipments moving under 300 miles. We've set a refund policy for unused packing materials and three Puget Sound locations to help clients save on travel fee costs.
We comprehend all the common issues which accompany relocation
Moving is widely known as this stressful, complicated, and expensive undertaking. As moving professionals, we can't deny that relocation does come with a lot of challenges. Hansen Bros. Moving and Storage is here to rid you of all the stress associated with relocation and make it a memorable experience. Having been accommodating the moving and storage needs of customers in Seattle for well over a century, we recognize the significance that professional assistance can make. Many moving customers can benefit from some extra assistance with both the move itself and the coordination of ancillary services related to the move.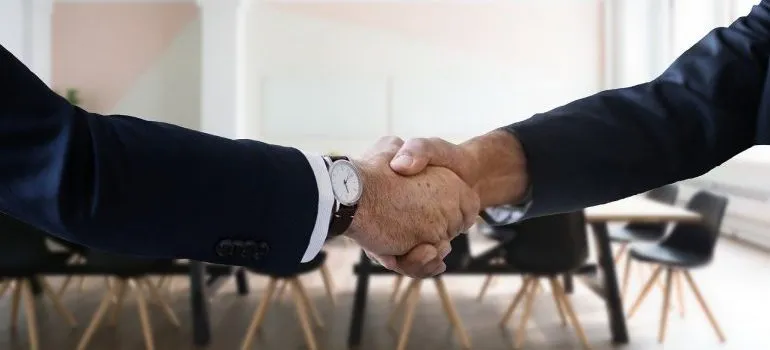 Our HB move management team guarantees a hassle-free relocation process
Are you are feeling overwhelmed by the process of getting ready to move – downsizing, packing, disposing of rubbish, making home repairs, selling your home, etc.? Hansen Bros. understands how stressful all of it can be, and how overwhelming it is for a single person to handle. Our professional move management services are geared towards every person going through relocation. Whether you are going through a residential or office relocation in Seattle, putting it all together will lighten you, both physically and mentally.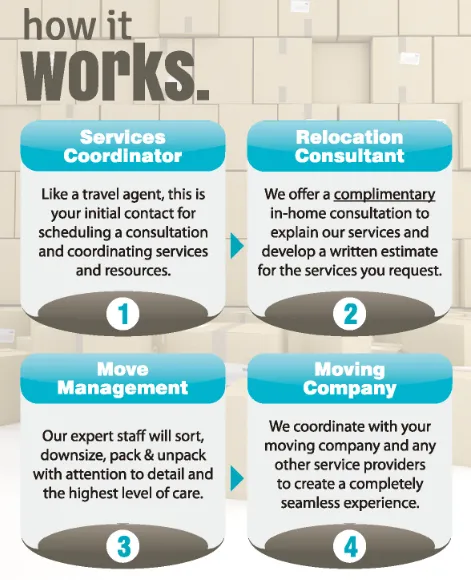 Many people use our services: busy professionals, families, senior citizens, etc.
We specialize in a variety of relocation projects and we are an accredited member of the National Association of Senior Move Managers (NASMM). The services we provide include:
Pre-Move Services: assistance sorting & disbursing belongings, creating floorplans, and developing a moving plan.
Concierge Services: referrals to screened services such as estate sales, trash hauling, house cleaning, and much more.
Packing & Unpacking: specialized "pack for unpacking" approach, fragile-item packing techniques, room-by-room unpacking, removal of leftover packing materials, etc.
Resettling: belongings put away (i.e. dishes in cupboards, books placed on shelves), pictures hung, clean-up, etc. We can even make your bed if you need us to!
Pre-move services make all the difference
The weeks leading up to the moving day can often be hectic and stressful, with dozens of tasks such as downsizing, sorting, packing, and planning. This is the breaking point where the success or failure of your relocation is determined. Therefore, it's important to pay special attention here, especially if you lack organizational skills. Hansen Bros. Moving & Storage has a holistic approach when it comes to planning and organizing commercial or residential relocation in Seattle and beyond.
If you would like to participate more actively in the entire process, we can offer valuable professional insights and tips. From downsizing your household to packing specific rooms and items, we have all the knowledge you need. Our team will also provide you with a tailored moving plan that will cover all the details of your move. That way, you can have a relaxing and successful relocation by simply following through the schedule we provide.
Your needs always come first, which is why our relocation planning & management team will be at your complete disposal, ready to answer all of your questions.
Think of our HB move management team as an in-home concierge
Do you want to hire a reliable cleaning service before the big day? Or would you like to find a reliable junk removal company at affordable rates? Why waste time researching various options when you can just ask Hansen Bros. We have a relationship with all major businesses in Seattle and can mediate between you and them.
Just give us a call, and we will put you on the right path. The referrals we give are 100% trustworthy, have a great quality-to-affordability ratio, and have proven their worth time and time again. Every relocation can be easy and enjoyable so long as you have the right team by your side.
Packing & unpacking of your residential or commercial property is our pleasure
Packing and unpacking your belongings is the most physically exhausting part of any relocation. This is a task of potentially massive proportions as it involves all of the items you possess and have acquired over the years. Our HB move management team has extensive knowledge on this topic and tailored measures to handle it with utmost precision and care. We offer packing and unpacking assistance for your local, long-distance, and even interstate moving requirements. 
Our team uses professional packing techniques and top-quality packing materials to ensure the safety of your items. With our packers by your side, your items will enjoy a damage-free transportation process. With Hansen Bros. Moving & Storage – your needs and the security of your property matter most. We work based on your wishes and instructions – not the other way around.
Let us put away your belongings
The range of our HB relocation planning and management services is all the more impressive with the fact that we help customers settle into their new homes. We can even help you put away your belongings. Our team understands the exhaustion that moving day brings with each passing moment – that's why we're here to help. From hanging your picture frames to making your bed, we don't mind doing the labor. That's the reason why people appreciate us and have been using our services for the past 130+ years.
Our relocation planning and management services are only a phone call away
Only you can know what you need – we are here to be of service. Our Hansen Bros. relocation management team can help you with those tasks you struggle with. We offer competitive rates, useful tips, and special assistance. All of that with one goal – to debunk the myth that relocation has to be a nightmare. With us by your side, there is no reason for your move to be anything else than joy. We are at your disposal all year round, ready to be of use with our extensive moving experience. You have the easy part – to give us a call. We will handle everything else.
There is no need for you to tackle any areas of your relocation you find problematic. When it comes to premier relocation assistance in all shapes and forms, all you have to do is give us a call. With the experience that Hansen Bros. Moving & Storage has, all of your needs would be catered to by a team of top-rated professionals.
Our HB move management services aim to remove any troubles you might have, as well as to help you plan and organize. Don't hesitate to contact us even if all you need are a few tips and pieces of advice. For more information about HB Move Management, please call us at (206) 257-4314 or visit us online at www.hbmovemanagement.com.
Let our team put together a comprehensive moving plan for you. Complete our simple free quote form or contact us at 1-888-300-7222.