Your commercial storage, distribution, and installation requirements are met by the many years of experience of our management team, our well-trained warehouse staff, and our modern facilities.
Whether you have office furniture, store fixtures, displays, trade show exhibits, hotel furnishings, new products, machinery, or electronics, Hansen Bros. Moving & Storage can design a complete program to fit your storage, distribution, and installation needs. Your equipment or products are carefully inventoried, placed on racks, or containerized for safekeeping until called for.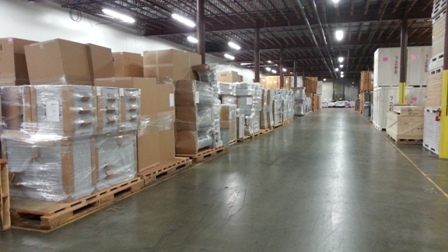 Our People
Management team with over 250 years of combined experience
All employees drug tested and have passed a rigorous background check
Experienced and trained on all types of equipment and movement of products
Facilities
3 locations totaling over 160,000 sq. ft.
Convenient locations for expedited service and reduced drive time
Modern concrete tilt-up construction
Fully sprinkled with 24 hours per day electronic monitoring
Monitored alarm systems with contact and motion detectors
Steel racking systems and fully enclosed vault storage
Computerized tracking & monitoring of products
Delivery Capabilities
Hansen Bros. provides a diversified array of delivery capabilities to efficiently handle your items.
High cube air ride solo moving vans with rail gates
Air ride trailers from 28 foot to 53 foot
Forklift equipped flatbed solos and tractor-trailers for deliveries with no forklift available on site
Curtain side solos and trailers for faster load & unload times but still protecting from the weather
Low height air ride solo moving vans which facilitate access to most underground loading areas
A fleet of enclosed vans for temporary storage during projects
Fully equipped with pads, logistic tracks, and straps for protection and safe transport
Large capacity – Over 100 trucks, tractors, trailers, and forklifts of all shapes and sizes
Projects & Products
Since Hansen Bros. has over 130 years of experience we have been handling almost any type of project or product imaginable.
| | |
| --- | --- |
| -New store fixtures | -Pallets of products |
| -Copiers | -Medical equipment and supplies |
| -Refrigeration units | -Restaurant equipment and furnishings |
| -Trade show displays | -Brewery equipment |
| -Sales samples | -Safes & gun cabinets |
| -Electronics | -Laundry equipment |
| -Wine Coolers | -Hotel furnishings and fixtures |
| -Hot tubs | -Metal buildings |
| -Bowling lanes & equipment | |
As you can see, Hansen Bros has the people, facilities, equipment, and experience to handle any of your commercial storage requirements. From one pallet to multiple trailer loads we can also arrange for the convenient shipping and transport of almost anything to or from almost anywhere at competitive rates.
Please call us at 1-888-300-7222 or contact us for a rate quote on any storage, shipping and receiving or distribution needs you may have.
Let our team put together a comprehensive moving plan for you. Complete our simple free quote form or contact us at 1-888-300-7222.