From House to Home: How to Personalize Your Seattle Residence
Seattle's diverse architectural styles, from historic Queen Anne Victorians to modern South Lake Union lofts, invite residents to craft spaces that resonate with their personal flair and Pacific Northwest aesthetics. In the heart of the metropolis between Puget Sound's shores and the evergreen Cascades, the challenge lies in transforming a residence into more than just a dwelling. Nevertheless, our team from one of the finest moving companies Seattle trusts is happy to overcome this and many other relocation-related challenges. This time, we offer you actionable insights on how to personalize your Seattle residence and guide our new neighbors through the process of creating homes that are not just addresses.
Understanding the Seattle Aesthetic
Seattle's architectural and interior design landscape is deeply influenced by its unique geographical setting and cultural ethos. Historically, the city's architecture leans towards craftsman bungalows, modernist homes, and sleek, contemporary condos that offer sweeping views of its natural surroundings. The omnipresent influence of nature is mirrored in interiors with a preference for wooden elements, earthy tones, and organic materials.
Sustainability, too, is paramount, with an increasing number of homes integrating reclaimed materials, energy-efficient designs, and green technologies. Moreover, Seattle's riches of indigenous and local cultures have etched an unforgettable mark. Art installations, native motifs, and regional craftsmanship have become central to its design history.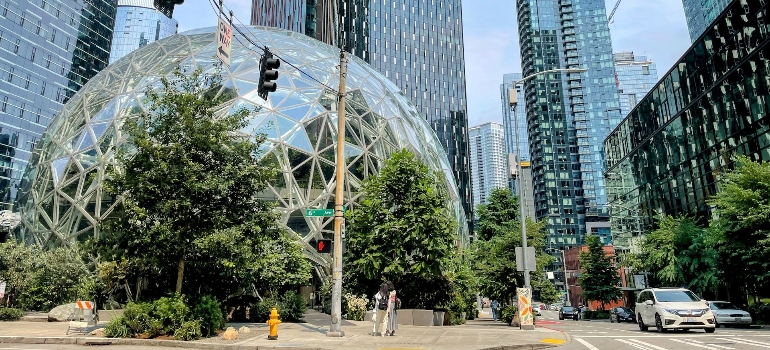 In essence, the Seattle aesthetic is an interplay of nature, sustainability, and a deep-rooted sense of place, seamlessly merging the past with the present. Key areas of focus in achieving this aesthetic include:
Integrating Regional Features
Sustainable and Eco-conscious Choices
Incorporating Sentimental Keepsakes
Tailoring Spaces for Your Way of Life
Using the right Hues and Textures
Understanding Effective Illumination.
Hence, if you truly wish to craft a Seattle-inspired home, adopt these elements for authenticity and resonance. Harmonizing nature, history, and modernity will fully capture the soul of the Emerald City in your living space.
Incorporate Local Elements to Personalize Your Seattle Residence
Seattle's rich forestry legacy offers homeowners a unique advantage when choosing materials for interior design. Natural wood such as Douglas fir and Western red cedar offer both beauty and durability. Douglas fir works well for floors and furniture due to its sturdy grain. In contrast, the moisture-resistant Western red cedar is perfect for both indoor and outdoor settings, capturing the feel of the Pacific Northwest.
Local art and craftsmanship offer a unique touch to any home. You will find numerous artisans in Seattle who craft everything from glassworks to textiles. So, as you unpack those moving boxes in Seattle filled with cherished art pieces, consider incorporating works from local artisans, too, to showcase the city's craftsmanship.
Finally, don't overlook Seattle's iconic views, whether you're gazing at Mount Rainier, Puget Sound, or the city skyline. Do your best to design your space to amplify these views with well-placed windows, balconies, or terraces. In your effort to personalize your Seattle residence, you can also seamlessly blend the indoors with Seattle's captivating outdoors.
Incorporating Local History and Art into Your Seattle Home
Seattle boasts a tapestry of cultural influences, from its deep indigenous roots to its vibrant contemporary art scene. Weaving these elements into your interior design ensures not just a personalized living space but also a home that carries a fragment of the city's rich soul. Here's how you can achieve this:
Indigenous Influence: Infuse your home with patterns, materials, and artworks inspired by Seattle's foundational Native American tribes, such as the Duwamish and the Suquamish. This not only pays respect to the city's deep-rooted stories but also offers a unique depth to your decor.
Literary Legacy: Seattle's literary map is punctuated with notable names, having been the birthplace or residence of esteemed authors and poets such as Sherman Alexie, Octavia Butler, and Raymond Carver. Give your bookshelves a local touch by featuring their works prominently. Furthermore, consider using evocative quotes from these luminaries as art statements on your walls.
Local Art Scene: Try visiting esteemed venues like the Seattle Art Museum or the Frye Art Museum so you can get ideas on spectacular pieces that align with your tastes. However, don't overlook hidden gems like the Pioneer Square art galleries, which can introduce you to emerging artists and styles. Moreover, attending local art walks or even collaborating directly with Seattle-based artists can result in commissioned pieces tailored to your space's aesthetic.
Integrating these facets of Seattle's rich culture doesn't just enhance your home's aesthetic but deeply ingrains the spirit and history of the city in your everyday life.
Sustainable and Eco-Friendly Choices
Seattle takes pride in leading the way for sustainability, and its homes are no exception. As the city embraces green initiatives, homeowners follow suit by incorporating eco-conscious designs and materials. So you can, too, think green and reflect Seattle's commitment to sustainability in your new home while local movers Seattle trusts are transporting your belongings.
Seek out sustainable furniture crafted from reclaimed or responsibly sourced timber. Opt for eco-friendly paints that reduce indoor air pollutants and align with the city's ethos. Also, you should give recycled or upcycled décor a chance; not only does it reduce waste, but it also adds a unique character to your space. Making these environmentally aware choices ensures your home complements Seattle's dedication to a sustainable future!
Embracing Seattle's Outdoor Vibes Indoors
As you can easily see, Seattle offers a mesmerizing palette that many homeowners aspire to integrate within their four walls. Drawing inspiration from the serene surroundings, there are several ways to bring the outdoors inside and cultivate a sense of harmony with nature:
Biophilic Design: At the core of biophilic design is a deep-seated connection with nature. You can effortlessly embody this ethos by introducing indoor water features that replicate the soothing sounds of Seattle's many streams or by using stone accents reminiscent of the rugged Cascades. Wall gardens breathe life into space but also act as a natural air purifier, enhancing the room's ambiance.
Local Flora: Seattle's climate, characterized by its mild temperatures and abundant rainfall, is a haven for various plant species. And while we may associate plants like the Western Sword Fern or the Oregon Grape with outdoor gardens, they flourish indoors, too. Position them in well-lit corners or as centerpiece attractions on coffee tables.
Open Layout Concepts: To ensure this beauty isn't confined merely to the outdoors, consider adopting open layout concepts as you personalize your Seattle residence. Large, panoramic windows can frame iconic sights like the Space Needle or the serene Puget Sound, making them an integral part of your living experience. Sliding doors or terraced areas, on the other hand, can blur the lines between the interior and exterior of a home. So, even on a typical drizzly Seattle day, the verdant outdoors remains within arm's reach.
Incorporating these elements ensures that your residence isn't just in Seattle but truly of Seattle, resonating with the city's natural pulse.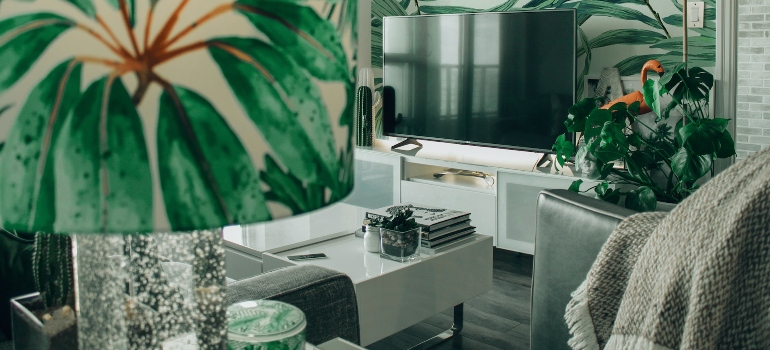 Adapting Functional Spaces to Your Lifestyle
Ensuring your living space suits your lifestyle is key in every home, wherever it is. In Seattle, where the tech boom and vibrant landscapes meet a storied literary tradition, you may find it interesting to incorporate all three elements and personalize your Seattle residence to the fullest.
So, if your home office transition involves the office movers Seattle offers, aim in advance for a design that harmonizes with the city's tech-forward spirit. Consider furnishing with ergonomic, modern designs and integrating smart home features. Simultaneously, take inspiration from famous Seattle literary icons like Sherman Alexie and Octavia Butler and add a dedicated reading corner or adorn your walls with book-themed decor.
For green enthusiasts, Seattle's climate is welcoming to plants such as ferns, peace lilies, and snake plants, which thrive both indoors and on balconies. And, finally, when it's time to entertain or simply relax, design areas that evoke Seattle's rich arts scene. Create a cozy nook with locally sourced art, or establish a lively lounge that hints at the city's renowned coffee culture, perhaps with a vintage espresso machine or a locally-made coffee table book showcasing Seattle's finest cafes.
However, to truly personalize your Seattle abode, it is inevitable to touch upon color schemes and textures, understand the role of lighting, and explore the options for the infusion of personal memories and heirlooms.
Color Schemes and Textures
Before settling in with the help of movers Edmonds WA recommends, it's pivotal to immerse yourself in the local aesthetic through Seattle-inspired palettes and textures. The city's natural beauty and progressive tech scene influence its interior design trends. Opt for colors reminiscent of its landscapes:
misty grays reflective of the city's frequent drizzles,
deep blues evoking the vast Puget Sound, and
forest greens mirroring the lush Pacific Northwest greenery.
In terms of texture, soft flannels can offer a warm, cozy touch reminiscent of Seattle's laid-back style. For a more contemporary look, embrace sleek, tech-inspired finishes relating to the city's status as a technology hub. Together, these colors and textures encapsulate the essence of Seattle, making your space feel truly local.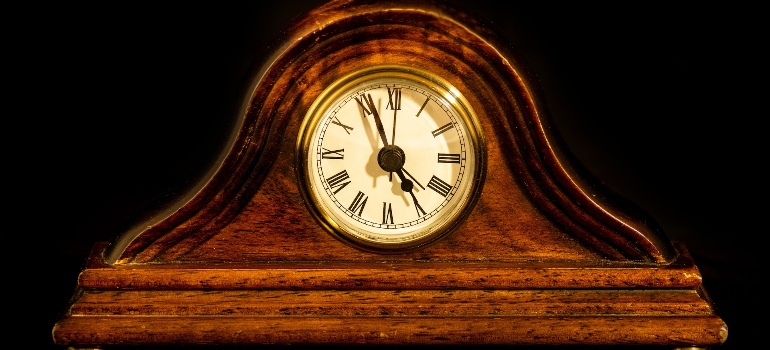 How to Personalize Your Seattle Residence with Lighting
Here in Seattle, where natural light varies greatly with the changing seasons, strategic lighting becomes paramount in interior design. As you settle into your home with the assistance of expert Eastside Seattle movers, consider harnessing Seattle's unique light dynamics. During the city's frequently gray and overcast days, invest in warm, layered lighting solutions. Conversely, on rarer sunny days, ensure your home is equipped to capitalize on this natural brightness, perhaps with adjustable blinds or translucent window treatments.
Moreover, Seattle is renowned for its vibrant glass art community, most famously represented by artists like Dale Chihuly. Incorporating this local craftsmanship into your lighting design can infuse your home with a unique combination of art and functionality. Here's how:
Statement Pendant Lights: Opt for hand-blown glass pendant lights in vibrant colors or intricate designs.
Glass Sconces: Choose sconces with textured or colored glass that play with light, creating dynamic patterns and reflections on your walls.
Artisan Lamp Bases: Seek out local artisans who craft glass lamp bases. Their intricate designs and vibrant colors can complement a more neutral lampshade, allowing the base to shine.
Interactive Installations: For those looking to push the boundaries, consider commissioning a local glass artist to create an interactive lighting installation. This could be a wall feature where light passes through various layers and textures of glass or a floor installation with LED lights underneath.
Reclaimed Glass: Seattle's commitment to sustainability can also be reflected in your lighting choices. Source reclaimed or recycled glass fixtures, merging eco-consciousness with local artistry.
Remember, the key is to blend functionality with art. Each piece should light up a space and tell a story of Seattle's rich history in glassworking.
Infusing Personal Memories and Heirlooms
Once you start personalizing your space after coordinating with west Seattle movers, prioritizing personal memories and heirlooms can be the key to crafting an intimate space. Personal items, whether they're a cherished grandfather's watch or old family photos, carry invaluable sentimental weight. Display these treasures prominently: Use shadow boxes to protect and display a family relic, consider creating a centerpiece with an heirloom, or curate a gallery wall that combines photographs, memorabilia, and art.
Otherwise, frame old family photographs in repurposed wood from Seattle timber, combining personal memories with regional touchstones. You can also display cherished family heirlooms on floating shelves, use vintage trinkets or keepsakes as unique table centerpieces, or showcase inherited jewelry or accessories on decorative stands or wall hooks. And lastly, to add a personal touch to your Seattle dining space, use old family recipes, handwritten and passed down, as kitchen decor — a testament to your family's culinary traditions!
Crafting Your Seattle Sanctuary
In the heart of Seattle, there lies an unmatched joy in molding a space that mirrors your essence. While the city offers its architectural and design inspirations, your individual touch is what turns a living place into a refuge. So, do explore the myriad suggestions presented, but remember that the canvas is solely yours. Mix, match, tweak, and transform these ideas to personalize your Seattle residence in ways that resonate with your personal tastes and preferences. Soon enough, you will be creating not just a house but a true Seattle sanctuary that you're proud to call home.
Let our team put together a comprehensive moving plan for you. Complete our simple free quote form or contact us at 1-888-300-7222.