Guide to moving from Seattle to Atlanta
Are you thinking about moving from Seattle to Atlanta but cannot decide whether you should move or not? Wonder what about the differences between these two cities? Thinking about what are the pros of moving to Atlanta? Don't know how to prepare for the move? Don't worry. Hansen Bros Moving & Storage is here to help you decide. We understand how important and difficult the decision to move is. That's why we've prepared a complete guide for moving from Seattle to Atlanta, from the differences and advantages to the moving preparations. So, stay with us and find out more.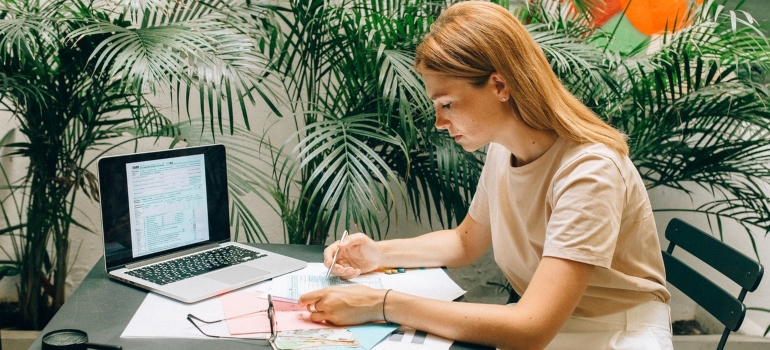 The advantages of moving from Seattle to Atlanta
For Seattleites leaving Emerald City is not an easy decision. There are many reasons to stay but moving to Atlanta is an appealing venture since Atlanta is turning into one of the most diverse and prosperous cities. If you have second thoughts about moving from Seattle to Atlanta, check the following advantages:
Atlanta has a thriving economy: It's the economic center of Georgia
Strong job market: It is home to many large companies, such as CNN
The cost of living is 2% lower than the national average
It offers plenty of cultural attractions
You can enjoy extraordinary dining and shopping
Sports: If you are a sports fan, Atlanta is perfect. It's famous for baseball, NBA, WNBA, Soccer, NFL, and others.
Atlanta has something for everyone. So if these advantages are appealing enough for you to move to Atlanta, you can rely on your cross country movers Seattle to conduct your move. Seize all the opportunities Atlanta offers and move without any stress.
Atlanta is more affordable than Seattle
Affordability is the first thing people consider when moving. Luckily, Atlanta is a pretty affordable place to live. Living in Atlanta is about 38% less expensive than Seattle, and housing costs are about 64% less expensive than those in Seattle. If you want to rent an apartment nearly 900 sq. ft. apartment, you will pay about $1,200 in an average-priced area. If you want to buy a house, Atlanta is perfect since you'll pay for a house around $260,000, while the median home cost in Seattle is $715,400. You can expect to pay about $130 for one person when it comes to utilities. Food and groceries are also more affordable in Atlanta than in Seattle.
Atlanta has a thriving job market
If you are searching for a job, Atlanta is a perfect choice. Atlanta has seen a huge influx of jobs in many industries in the last ten years. It offers a range of job opportunities since it is home to many well-known companies, such as Delta Airlines, United Parcel Service, and Home Depot. Besides, the Coca-Cola Company, although global, still employs many people in its birthplace. Also, if you are searching for a job in the entertainment industry, city of Atlanta will definitely be very appealing to you. The industry is booming due to production incentives. Some of the most famous studios include EUE/Screen Gems Studios, Trilith Studios (perfectly located near Atlanta's national airport), and Tyler Perry Studios, and all of them welcome new artists. Atlanta also has a booming music scene, especially when it comes to the rap and hip hop genres.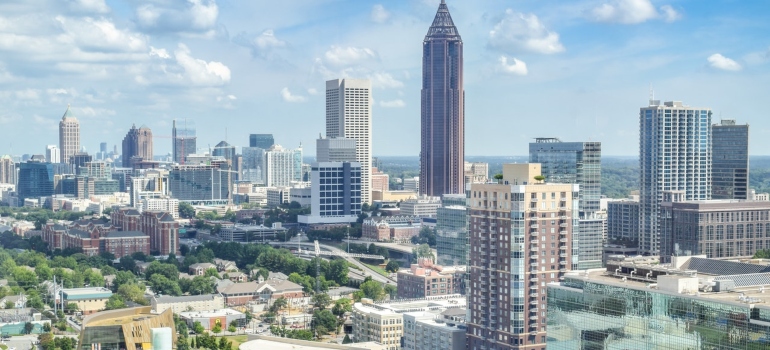 Moving from Seattle to Atlanta: Relocation timeline
When it comes to relocating from one state to another, things can be very challenging and overwhelming, especially if you are moving for the first time. That's why you should have an efficient moving plan. And we've prepared you with some tips and tricks for a safe, fast, and stress-free move. Here's our checklist for moving from Seattle to Atlanta in weeks:
Eight weeks before the move: The first thing to do is to research the moving and shipping companies and think about the questions to ask your movers. Then, budget your move.
Seven weeks before the move: Get estimates from various moving and shipping companies and decide whom to hire. Hiring shipping companies Seattle is always a safe and affordable choice.
Six weeks before the move: Schedule a moving day and notify
Five weeks before the move: Make a packing plan and obtain necessary packing supplies.
Four weeks before the move: Start packing room by room and declutter as you pack.
Three weeks before the move: Notify your service providers that you are moving, transfer the utilities, and forward your mail.
Two weeks before the move: Transfer medical records and take your pet to the vet.
One week before the move: This is the time when you should finish your last errands. Also, inspect your old home to make sure you've packed everything.
A day before the moving day: Pack your essentials and kitchenware you haven't packed yet and clean your old home. Also, make sure to rest well for the moving day.
Moving day: Do a final walk of your home and use the inventory list to make sure what is already loaded into the moving truck, and let the movers finish the rest.
Hire moving professionals to conduct the relocation tasks
When moving from Seattle to Atlanta, you should consider the distance between them, which is 2,648 miles. So, you should definitely consider hiring moving professionals to handle your relocation. Luckily, you don't have to spend time searching for movers – moving services Seattle are at your disposal and ready to meet your requirements. With the right movers by your side, you won't have to worry about anything. They'll know exactly how to perform the move based on your requirements thus making a personalized moving plan for you.
Contact your preferred movers on time and schedule your move
Moving from Seattle to Atlanta has never been easier. Now you don't have to worry about the tedious moving tasks and whether you'll manage everything on time. Hansen Bros Moving & Storage is here to make your relocation simple, fast, safe, and most importantly, affordable and stress-free. So, get your moving quote on time, opt for moving boxes Seattle recommends and move like a pro. Have an enjoyable relocation experience and enjoy Atlanta. 
Let our team put together a comprehensive moving plan for you. Complete our simple free quote form or contact us at 1-888-300-7222.