How to enjoy winters in Seattle
Seattle is not exactly famous for great weather, and winter is certainly no exception. Chilly, dark, and wet, Seattle might not seem like the winter wonderland that people further down south expect to see. But there are so many ways to enjoy winters in Seattle! From cozy coffee shops to snowy ski slopes, the city has a lot to offer in winter. And even if you're only just negotiating with the best movers in Seattle, you don't have to worry about missing out. The winter season lasts longer up here with the warmer, clearer part of the year not starting until June. So, get your planner out because you'll want to create a pretty extensive to-do list to see everything in Seattle.
Enjoy winters in Seattle with some outdoor fun
Even if you've only just finished up with moving companies Redmond WA and moved into a new home in Seattle, getting out of the house may be just what you need. And although Seattle itself sees a lot of rain in the winter months, the surrounding area offers some great outdoor winter activities.
Go on a hike or jog
If you want to stay active during winter, you'll have plenty of opportunities for hiking and jogging in and around Seattle. The Pacific Northwest offers some beautiful scenery with mountains, forests, and fields abound. So look into some of the best hiking trails in your area and enjoy some nature! Or you can join one of the many winter races and marathons in the city.
Ski at Stevens Pass
You won't get to see much snow in Seattle. But if you drive just a few hours out of the city, you'll find wonderful snowy mountains all around where you can ski, snowboard, have some fun with your family, or just enjoy the views. If you like skiing, Stevens Pass is a must-see. Just two hours east of Seattle, the Stevens Pass Ski Resort and Stevens Pass Nordic Center offer acres upon acres of slopes where you can try out some winter sports.
Spend some time at the Woodland Park Zoo
A great way to spend the day (or night!) outside with your family is by visiting Woodland Park Zoo. Located next to Green Lake Park, the zoo hosts a wide variety of local and exotic wildlife. On rainy days, you can even spend most of your time inside and still see some interesting animals while staying dry! But perhaps the most interesting thing about the zoo is its annual display of over 300.000 holiday lights throughout December. It's about as close as you'll get to a winter wonderland without leaving the city!
Enjoy winters in Seattle while staying inside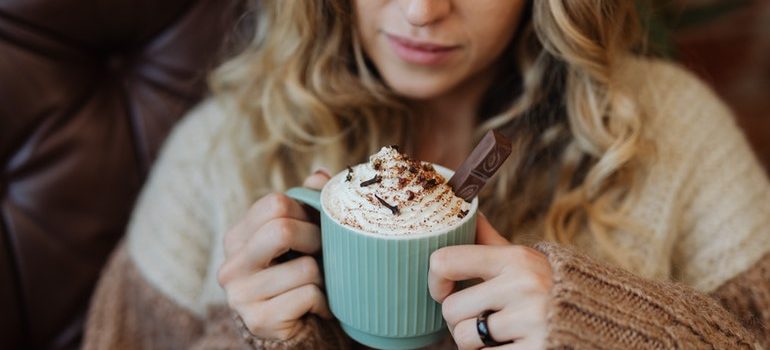 After spending your first few days at home waiting on your belongings to be delivered by shipping companies in Seattle, it may seem strange to aim for winter activities that also take place indoors. But trust us – winter weather in Seattle is best experienced from the comfort of four walls and a roof.
Find your favorite coffee shop
There's nothing cozier than watching the rainfall from inside a warm cafe while nursing a cup of coffee or hot chocolate. Seattle is famous for being a coffeehouse capital so you'll have plenty of opportunity for this here. Just visit some of the cafes in your area and get the lay of the land. From hip and modern to old-school and filled with books, you'll find all sorts of coffee places in Seattle. Why not find your favorite one this winter?
See a museum
As a cultural and scientific center of the North West, Settle has tons of museums. From art to history to science, you can learn about almost anything by spending the day in one. During winter, they're a great way to hide out from the bad weather while also having fun and expanding your horizons. Try the Museum of Pop Culture, the Museum of Flight, the Seattle Art Museum, and the Pacific Science Center for some of the most popular picks.
Enjoy winters in Seattle with some of the biggest tourist attractions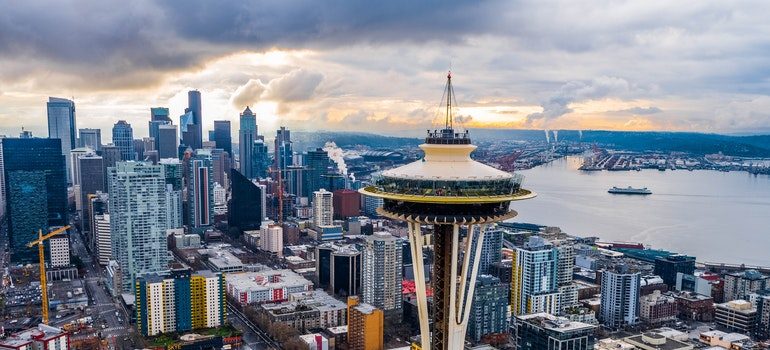 Seattle has a lot of interesting tourist spots that are well worth a visit. But if you had to move during the COVID-19 pandemic, you probably already know that avoiding crowds and unfamiliar people is very important. So you might be concerned about tourists at some of Seattle's most famous attractions. Luckily, winter is not tourism season here so you can enjoy Seattle to your heart's content!
Spend the day at the Seattle Waterfront
From the Seattle Great Wheel to the Seattle Aquarium, the Seattle Waterfront is a must-see. And it adopts the holiday spirit with extra events that you get to enjoy! So, if you go in the winter, you'll get the holiday experience with way fewer people around than in summer.
You can't move to Seattle and not visit the Space Needle
Seattle's most iconic symbol is an attraction year-round. But it's still less crowded in the winter so if you want to truly enjoy the view, now is the perfect time for a visit. Even on rainy and overcast days when the skies conspire against taking the best photo from the top, you'll have other things to enjoy: the Seattle Center, the Chihuly Garden, and Glass and the Bill and Melinda Gates Foundation Discovery Center.
Take a trip to Leavenworth
If you want the true winter wonderland experience, there is no better place to go than Leavenworth. A mere two hours' drive away from Seattle lies a Bavarian-inspired town that goes all out for the winter holidays. Book your weekend getaway in advance though – this is definitely a very popular place to spend time in during winter.
Winter fun this year is different – remember to enjoy winters in Seattle safely!
With the coronavirus pandemic still raging this holiday season, it's more important than ever to take care of your health. So follow the CDC guidelines, avoid unnecessary contact with strangers, and stay home if you're feeling under the weather. You can still enjoy winters in Seattle while keeping yourself and those around you safe!
Let our team put together a comprehensive moving plan for you. Complete our simple free quote form or contact us at 1-888-300-7222.