Guide for moving to Marysville WA
Marysville might just be the perfect destination to move to if you're looking for a place that has all the benefits of a big city while retaining the small-town charm. The city is rapidly growing and can offer you numerous opportunities, whether you're accomplished or still doing some soul-searching. However, before you reap all the benefits that the city offers, first you need to figure out how to move there. And Hansen Bros. Moving & Storage is here to help you in that endeavor and make moving to Marysville WA much easier.
Organize well and make a good plan
It is no secret that moving can get extremely hard. In fact, most people that go through this process will say that it's one of the most difficult and stressful experiences ever. But, in the majority of these cases, it's because they fail to organize well. Or they rush into it head-on, without making a plan. With that being said, it's only safe to say that relocation is hard if you make it hard. So, here are the first steps you should take to make moving to Marysville WA way easier.
Create a moving checklist
The best take on making a plan is to do it in the form of a checklist. Moving is a complex process. It consists of numerous tasks that, if you tackle them in the right order, can make or break your experience. Here's one of the best ways to  make a checklist:
Download an organizer app to your phone or tablet. This will allow you to have your checklist on your person at all times. And, believe us, you'll need it.
Write down everything. Doesn't matter if the task is major or minor. If it has to be done – it goes on the list.
Sort tasks in the order of importance. That way, as you progress through the list, it will become gradually easier. You won't feel overwhelmed and it's a great energy saver.
Take inventory
Yes, it's tedious. Yes, it takes a lot of time. Nevertheless, you should do it. Moving inventory will be of great help when you're moving to Marysville WA. It will make decluttering and packing vastly easier. Not to mention that it can help you save some money in the long run.
Create a moving budget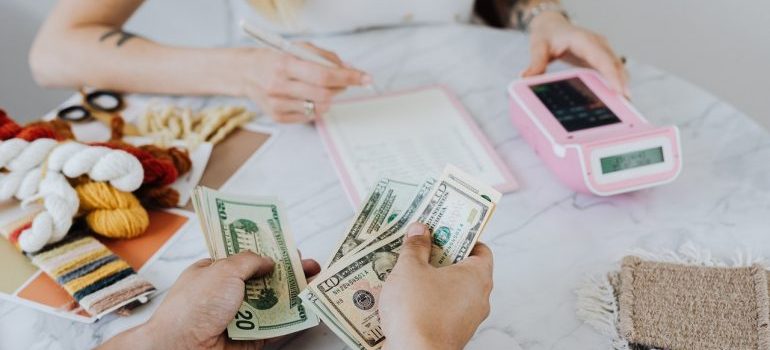 Moving can become pretty expensive. Still, the cost won't be astronomical. Especially if you know it right from the start, and plan around it. To that end, it's best to contact several moving companies Marysville WA accommodates, and get moving quotes from at least three of them. Even better – ask them to swing by and give you an on-site estimate. This is a great way to calculate the cost of your relocation. Simply because you won't do any calculating – movers will do it for you. Convenient, right?
Book movers ahead of time
You should aim to book the moving company as soon as possible. If you took our advice and created the budget the way we told you, you're already a step ahead. Now you have quotes from different movers, and know which one will fit your budget best. However, you should still do some research, just to make sure they also offer the services you require. Especially if you have some difficult items, such as the piano, for example. In this case, you'll need some of the best piano movers Seattle has to offer to take care of your precious instrument. So take your time, and find a balance between price and services.
Declutter to make relocation cheaper
Decluttering is a fantastic way to save some money and cut the cost of the move. Your unused belongings and unnecessary clutter only add weight to your cargo. And movers calculate the price based on, you guessed it – weight. Therefore, grab that inventory list you created, and mark everything that you're bringing with you. As for the rest, you can choose to:
Sell online or through a yard sale.
Give away to family or friends.
Donate to local charities.
Throw away.
Take the time to pack safely
This has to be the biggest time-sink during the relocation. It's also tedious and tiring. But guess what? Inventory list to the rescue, once again! After decluttering, items that remain on your list are the only ones that you have to pack. Therefore, you already know how much packing materials you need. You won't overbuy, or make multiple trips to the store. So, you already saved quite a bit of money, right there.
Here's how you should approach this task:
Separate your belongings into piles. It's best to go room-by-room. That way, you will make unpacking much easier.
Get packing supplies. Finding moving boxes in Seattle, as well as all the other supplies, is extremely easy. There are numerous stores that sell everything you need: boxes, bubble wrap, packing peanuts, packing tape, etc.
Pack safely and systematically. Go room-by-room, pile-by-pile. Be extra attentive when you pack sensitive items, such as breakables, artwork, or electronics.
Label the boxes. It will help a lot when the time comes to stack them into the moving truck. Not to mention that it will save you an enormous amount of time when you start unpacking.
If it fits your budget, be sure to ask for packing services to be included in your moving estimate. It will free up your schedule significantly and you won't have to worry if you packed properly.
Marysville is the city that you'll grow and develop with
Asking someone to describe Marysville will surely leave you baffled. Some will call it a city, others – a small town. Some will say it's suburban, others will swear that it's rural. Half the residents will complain about how busy and loud it is. The other half will go on and on, trying to convince you that it's quiet and peaceful. The truth, however, is that Marysville, WA is all these things.
What started out as a few houses among the strawberry field became one of the fastest-growing cities in The Evergreen State. As such, it offers all the perks of small-town living, yet still benefits from expeditious development. Its dualistic nature makes it suitable for families and singles, young and old, careerists and retirees. This means that moving to Marysville WA will present numerous opportunities for everyone. Because, whatever you're looking for in life, there's a good chance you can find it in this thriving city/town.
Let our team put together a comprehensive moving plan for you. Complete our simple free quote form or contact us at 1-888-300-7222.