How to pack heavy items for shipping
You probably own some pretty heavy items. A piece of furniture in your home, perhaps, or maybe a machine you use at work. So when the time comes to move, you'll most likely have to pack heavy items for shipping regardless of whether you are relocating your home or your business. And if you're not relying on moving companies Marysville WA for packing services, you'll need to learn how to properly do this yourself. Some things may be obvious; others less so. But since packing and shipping heavy items can be tricky and lead to damage, you'll want all the tips you can get.
Why is it important to properly pack heavy items for shipping?
Whenever you're moving, putting things in storage, or sending things somewhere for other reasons, there's a risk that something will be damaged. That risk is significantly higher when your belongings are fragile or when they're heavy because those are harder to move safely. Additionally, heavy items pose a risk for the heavy equipment movers handling them – if they're not prepared for how heavy a box is, they might get injured lifting it. Heavy items may also receive a harsher treatment as it is sometimes impossible to lift them.
Instead, movers and shippers will push them, pull them, and use other techniques to move them. Finally, heavy items may require multiple people to handle them and are more likely to be dropped multiple times. All this increases the chances of them being damaged in the process. You can combat that risk by packing and preparing heavy items properly before shipping.
The right way to pack heavy items for shipping
The exact process of packing something heavy for shipping will depend on what exactly it is. Packing furniture is different from packing industrial equipment; preparing a vehicle for shipping is different from preparing for shipping a piano. But there are certain guidelines that you can apply to just about anything heavy that you need to prepare for transport.
Use the right packing supplies
When you're packing heavy items for shipping, it is vital to use high-quality moving boxes Seattle. Even if you're on a budget, this is something you shouldn't skimp on. Because heavy items typically go through multiple hands, might not be possible to lift, and are more likely to be dropped, you need to pack them using something sturdy and durable that can withstand rough treatment. Enforced moving boxes, containers or crates will provide the kind of protection your heavy items require. Even if they might cost more than regular moving boxes, they are a good investment. Cheap, second-hand, or low-quality packing supplies could lead to damage to your items. It'll be far more expensive to fix that damage than to prevent it.
Do what you can to make the items lighter
Sometimes, what you're shipping is simply heavy and there's nothing you can do about it. But there are cases in which it is possible to make your heavy items at least somewhat lighter. If you're shipping something that has parts, for example, try dismantling it. You might be able to pack and ship individual parts more easily. If you're sending some type of furniture with drawers, cabinets or other types of household storage, make sure to empty it of your belongings so as not to add unnecessary weight. Whatever you can do to make the items easier to move and ship is a good idea.
Don't overload the boxes
A good rule of thumb is to pack heavy things in small boxes. If you fill a large box with heavy items, it's very easy to make it impossible to lift even with the help of professional movers and packers Seattle. Of course, if your heavy items are also big, you'll have to use appropriately sized boxes. But make sure you're not overloading the boxes. Even sturdy boxes have their limits. If you fill them too much, they might not hold during transport. And of course, the fuller the box, the heavier it is and the harder it is to lift. Typically, you'd want to keep boxes under 50lbs. Moving and shipping companies that handle heavy items might allow boxes of up to 150lbs in weight. More than that is generally considered freight shipping.
Pack carefully
Packing is an important step in the shipping process because it is a way to protect and prepare your items for transportation. So here's how you should pack your heavy items:
use sturdy, durable containers and high-quality supplies
prepare your containers by padding them with cushioning material
clean and if possible, dismantle your heavy items before placing them in the container
fill the remaining space with cushioning material and ensure that nothing inside the container can move too much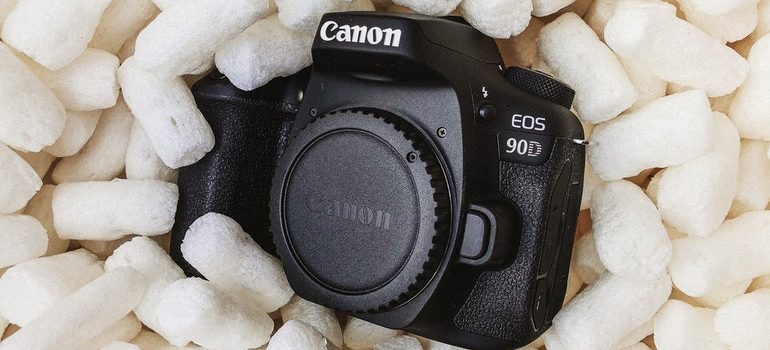 Label everything clearly
You will almost certainly not be the only person handling the heavy items you're shipping. So it's important to let others know that the container you're shipping holds heavy items. You will do this by labeling the box. You can buy pre-made labels, make some yourself, or simply write on the outside of the box. Make sure the letters are big and legible and write on multiple sides of the box. Weight isn't the only thing you should inform people of either: make note if the items inside are fragile, need to be handled with care, or need to be kept in a certain position.
Take care of yourself when you pack heavy items for shipping
It is important to remember that your belongings aren't the only important thing here. You must also think about yourself and the people helping you ship your items, whether they are professionals or friends and family. Your health and well-being are paramount. So, do what you can to prevent injuries as you pack heavy items for shipping: get help from someone with handling your belongings, learn the proper lifting techniques, and warn your moving and shipping company about the weight of the shipment. That way both you and your belongings can come out the other end safe and sound.
Let our team put together a comprehensive moving plan for you. Complete our simple free quote form or contact us at 1-888-300-7222.