How to plan a short-distance move on short notice
No matter whether you are moving to another country or to a new city, moving is a stressful experience. However, moving on short notice is even more overwhelming and nerve-wracking. When you are planning a short-distance move on short notice, you have a lot of things to organize and get done before the actual moving date. Hansen Bros. Moving & Storage recommends starting planning a move months in advance, but if you do not have that extra time, there are still ways to make your relocation smooth and efficient. Here we will give you our expert moving tips on how to plan a short distance move on short notice.
Staying organized while you plan a short distance move
When you have so many things to do and so little time to do them, things can get stressful rather quickly. So, the first thing to do is to get organized, so you can clear your head and start planning. You will have to make a to-do list and timeline. These two are the most valuable tools during relocation. Start with making a list of what has to be done for the move. This includes booking reliable local movers Seattle has to offer, packing the house, organizing important documents, transferring your kids' schools and etc. 
Next, you should make a timeline. This is especially important when you have to plan a short-distance move on short notice. You have limited time to do a lot of things, which can make you feel like you must do everything at once. Therefore, you need to make things simpler. Prioritize your tasks, so you can focus on one thing at a time.
Make moving arrangements
The next thing you should do is to make a moving arrangement as soon as possible. Depending on the time of year, Issaquah moving companies could have busy schedules. Therefore, it is crucial to book a moving company as soon as you can. Nevertheless, if you are planning to move by yourself, rent a moving truck. Also, inform your family and friends who have offered to help you about the moving date. This way they can clear their schedules and give you a helping hand. Do not forget to put in for the time off at work if you plan to move on a weekday. Also, prepare all your personal documents and changes of address on time. 
Declutter
People tend to accumulate stuff in their homes. They keep things they do not use, but never throw them, sell them, or donate them. Therefore, the essential part of every move is decluttering. Before you start packing, you should get rid of the stuff you do not need anymore. Go through every room, sort your belongings, and get rid of the things you do not want to take with you to your new home. This way you will save your time on packing, you will save money, and you will save some space. It might sound to your like you will spend a lot of time decluttering, but do not skip this step. You will feel free after you purge your things and have a fresh new start.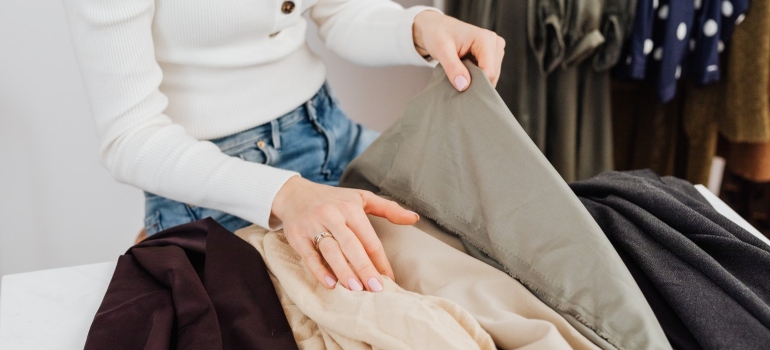 Find the right moving supplies
When you use the right supplies every job is easier. Even though you might be tempted to find free boxes from the store or old newspapers, you will regret it. There is a high chance that the boxes will fall apart or won't fit in the moving truck. The ink from the newspapers can transfer to your items and damage your belonging. Therefore, it is better to consult movers Kirkland WA about the proper moving supplies and seek moving boxes from a professional moving company. This way you will know for sure that you will have quality moving boxes that can hold your belongings. Also,  you can rest assured that you won't run out of anything and won't waste your time on a supply run. 
Do not hesitate to ask for help
Moving is a huge task, especially when you have to do it on short notice. That's why you need to be well organized and prepare a moving checklist, but also do not hesitate to ask for help. Turn to your family and friends for some helping hands, so you can get the job done quickly. In addition to assisting you in getting the job done faster, having another pair of hands will help you stay on track and prioritize. When you have another person by your side, time-consuming tasks like packing up kitchen cabinets or dropping off items for donation will become much simpler. So, do not be afraid to ask for help. However, you should show your appreciation by ordering a meal while they are packing your moving boxes.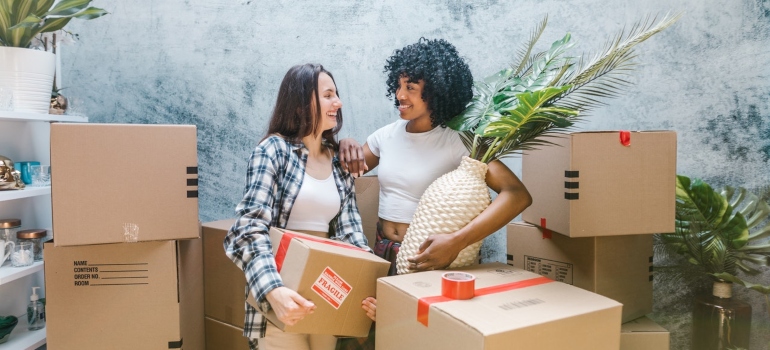 Try to stay focused
When you have to plan a short distance move on short notice, there will be a lot of things going on, and you can easily get overwhelmed. That is why it is important to stay focused. Follow your moving plan, make a timeline, but also stay flexible in case some unexpected situation pops up. Stay focused on the task at hand, and remind yourself about the positive reasons why you are doing it. In case you have to move due to not-so-great circumstances, find a positive thing about it and keep it in mind when things get rough.
Let our team put together a comprehensive moving plan for you. Complete our simple free quote form or contact us at 1-888-300-7222.