How to prepare for international fairs and exhibitions
Attending international fairs and exhibitions is one of the most exciting opportunities for artists and business owners to market and sell their products, as well as develop and grow their businesses. However, if it is your first time you might need some help to figure out how to prepare for international fairs and exhibitions. International shipping may seem like an overwhelming undertaking before you get used. In reality, it isn't a process that is too complicated, and it shouldn't stop you from expanding your business. If you'd like to learn more about international shipping and fair preparations from Hansen Bros. Moving & Storage Washington, keep reading below.
International shipping of fine art
If you're an artist who has an exhibition overseas for the first time, chances are, you are stressing out about shipping your pieces internationally. The thought of transporting your work by boat or plane can seem like a situation where a lot of things about your artwork could go wrong. This can make any first-time shipper nervous. However, with advice from experienced shipping companies Seattle has to offer, you can start to prepare for international fairs and exhibitions stress-free!
Packing fine art
The international shipping process starts right at your gallery. Packing your items properly is probably the most crucial step in the whole procedure. This is how you make sure that no damage occurs during the transfer, and your goods arrive in great condition at the fair or exhibition. The key to ensuring the safety of fine art is packing it as a fragile item. It is vital to not overuse packing materials, making the item appear too bulky. Additionally, if you want professional quality packing you would need to obtain professional quality packing supplies and tools.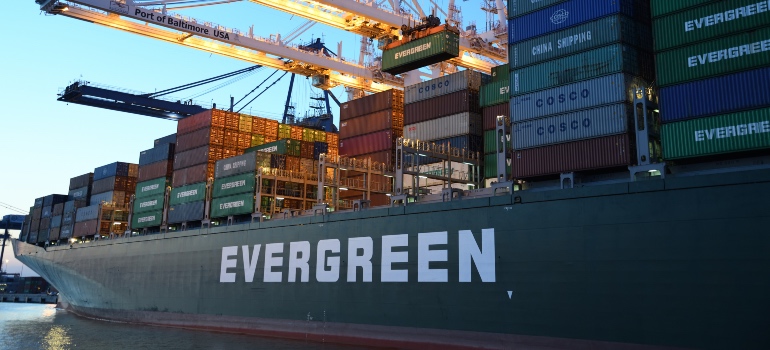 How to pack artwork
The first task to complete before you start packing is to determine the exact measurements of each piece of artwork you need to ship. You have to calculate the size and the weight for two reasons. The first one is to determine which packing supplies to use, and secondly, your shipping or freight company of choice will need this information to prepare for shipping your goods and let you know the price.
After gaining all the measurements it is time to start packing. The key is to focus on protecting the work surface with bubble wrap, foam, and cloth to prevent any scrapes and dents from happening in transport. The two best materials to wrap your art in, are glassine paper and plastic wrap. If you choose glassine paper, this is a top choice for protection against dust and moisture. You just have to cover all the sides, as well as the edges, and hold them together with tape. Another useful material is plastic wrap. Make a layer of around 3.5mm at least to successfully protect your art from damage.
How to pack glass surfaces
If you have any paintings with a frame and a glass surface you will need extra protection to ensure the glass doesn't break and rupture the canvas. This is best done with painter's tape that you tape in an X shape in the middle of the glass. Wrapping items with plastic foil keeps the pieces in place in case any accidents occur and the glass does break. Last but not least, bubble wrap is one of the best materials for packing your artwork, as long as wrap it so that the bubbles stay outside. You can also use it to fill any voids in your containers to avoid friction and movement during transport.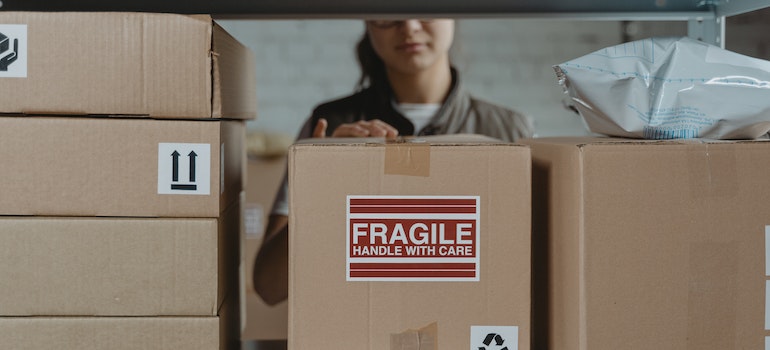 Find the right shipping company
International shipping is a complicated process that involves a lot of steps, from export handling, and ocean or air freight to dealing with export and import customs. This is why you need one of the best professional international commercial shipping companies to help you prepare your work for exhibitions. It is important to choose a licensed and registered shipper that has experience in handling fine art, and valuable items. For smaller items, you can use FedEx or UPS which are both very popular options. The difference in prices and services is very little, while the delivery days vary. FedEx deliveries arrive Tuesday through Saturday, while UPS delivers from Monday to Saturday.
Aside from these two companies, another solution is a professional freight company that can offer you full-service shipping. This is a better option if you have multiple items to ship, or if your artwork is bulkier. Not only is it more cost-effective for larger shipments, but a lot of companies offer to pack your items and transfer them from your address to their warehouse. They will also know how to prepare for international fairs and exhibitions so that your art arrives on time, and without any damage.
Dealing with customs
One of the most complicated aspects of dealing with international exhibitions is customs and required documentation. There are two different customs your shipment needs to clear: export and import. Export customs are needed for your shipment to leave the country, while your shipment needs to clear all import customs requirements to enter the state.
All of the required paperwork to complete this process will depend on the laws and regulations of both country of origin and the destination country. If you hire one of the reputable freight companies Seattle offers, you'll be pleased to know that they have their own customs agents who will help you deal with this task.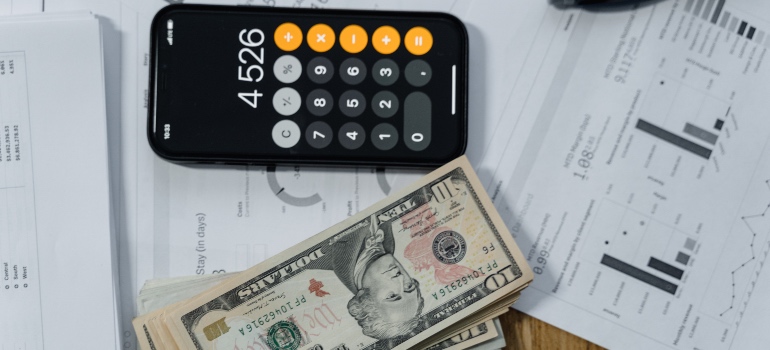 If your shipment is commercial you will need to fill out a customs declaration. There are usually two different types of this declaration, depending on the value of your items. Additionally, you will need an export invoice. If you're planning on selling your art during the exhibition you will need a commercial proforma invoice. Also, an import invoice is required if you intend to return the artwork to the country of origin post-exhibition.
Take care of insurance
Most shipping companies offer insurance at a price that is lower than the value of the artwork you're shipping. Also, a lot of in-home insurances have exclusions that your shipment may fall under. This means that if any damages occur during transport it is much safer to have additional insurance. Especially if you're shipment is bigger, and has a really high value. Therefore, third-party insurance is the safest way to against potential shipping damages and losses. Luckily, a lot of insurance companies offer full coverage, so you won't have anything to worry about.
International shipping for trade fairs
A trade show exhibit is no easy task. It requires a lot of planning and preparations, organizing your booth,  making marketing strategies, etc. If you have a trade fair in a different country it complicates things even more. Depending on which business you run, you might need to ship a lot of items, bulky equipment, or valuables internationally. This is something that takes a lot of time and energy to execute perfectly. Let's take a look at how to prepare for international fairs and exhibitions and grow your business successfully.
Make a plan
Every successful international fair starts by making a great plan early on. If you start planning early you will have enough time to come up with the best shipping solutions. Also, hiring a shipping service as soon as possible will give you more options and better deals to choose from regarding delivery dates, as well as lower shipping rates. Additionally, you should try to inform yourself as much as possible about how international shipping works and what are the best options for your needs. One of the best ways to plan for your fair is by consulting professional move management that has experience in planning these types of shipments.
Take care of important documents
Since a trade fair is a business event you will need a lot of paperwork on hand, both for the fair itself and for completing the international shipping of your items. It is important to do an inventory of all the items in your shipment to ensure that everything arrives or to be able to file an insurance claim in case anything gets lost during transport. Additionally, since you're shipping items internationally there are documents you need to obtain to clear export and import customs and laws and regulations. Even though you're technically shipping cargo to yourself you will still need to have a Bill of Lading.
Use an advanced warehouse
If you're looking to lower the shipping rates sometimes you will need to find a temporary storage solution for your items, such as self storage Seattle provides, or an advanced warehouse in the destination country. This occurs because the cheapest shipping dates of the company you chose don't align with the dates of your fair. In order to get more affordable shipping you will need to transport your cargo to the destination country before the trade fair actually begins. After it is delivered you could use a warehouse to store your belongings for a few days before the start of the event.
How to lower shipping rates
If you have a lot of cargo to ship, the price can quickly add up, especially for valuable or bulky items. Additionally, preparing for a fair or an exhibition is an expensive undertaking even without the shipment costs. This is why sometimes it is vital to try and lower the shipping costs and save some money that way. One of the ways of saving money is by choosing a more affordable type of packaging.
You need your items to arrive in perfect condition and be as presentable as possible. However, booth design companies that offer to provide protective packaging are usually too expensive, while choosing a freight forwarder that offers crating could be more affordable. This way your cargo will be safe for a lower price tag.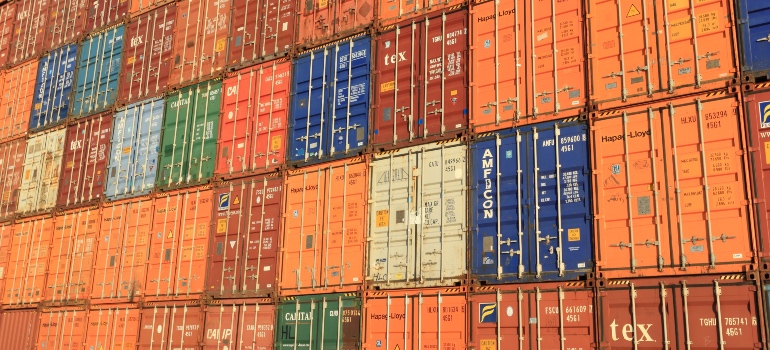 Another option for lower shipping rates is trying to reduce the size and weight of your shipment as much as possible. One of the best options to get cheaper shipping is to schedule it as early as possible. Since expedited shipping is much more expensive, the more time you have the better. You can consult your company of choice about the most affordable rates for delivery and schedule everything accordingly.
Schedule return shipping
After the trade fair is over you need to go through the process again and return everything back to the country of origin. You have the option to go with your original carrier or hire a different company to help you ship your goods back home. Some shipping companies will pick up your goods directly from the trade show location, while with other providers you have to transport them to their warehouse by yourself. The choice you make will determine the price rate and the process of shipping.
Prepare for international exhibitions on time with expert help
If you're looking to prepare for international fairs and exhibitions, the key is to start planning your shipping and packing early enough. Additionally, finding a good shipping company is half the job done. If you choose professionals who have knowledge in handling delicate items and international commercial shipping, your goods will arrive at their destination safely and on time. It is time to start developing your career outside the borders of your state!
Let our team put together a comprehensive moving plan for you. Complete our simple free quote form or contact us at 1-888-300-7222.