Packing musical instruments for a long-distance move in WA
Music is a fundamental part of life. While some people enjoy simply listening to it, others invest themselves in the creation process, buying and playing various instruments. However, musical instruments are valuable and fragile items, and as such, they require the utmost care before being transported. Whether you are moving, renovating, or decluttering your home, packing musical instruments is a process that requires focus. On top of hiring a moving company in Washington that you can trust, you'll also want to prepare your instruments for moving and storage by packing them properly. Now, packing musical instruments for a long-distance move in WA doesn't have to be too difficult. But you do need to know what you're doing.
Packing musical instruments for a long-distance move with the help of professionals
The best thing you can do when you have to prepare for a complicated move is to get help from professionals. The more complicated your relocation, the more important it is to hire a moving company instead of doing everything yourself. This is especially true when it comes to moving fragile and valuable things like musical instruments. The more instruments you have and the farther you're moving, the more help you will need. So if you're moving a whole professional studio overseas, definitely look into international commercial shipping companies instead of risking a DIY move.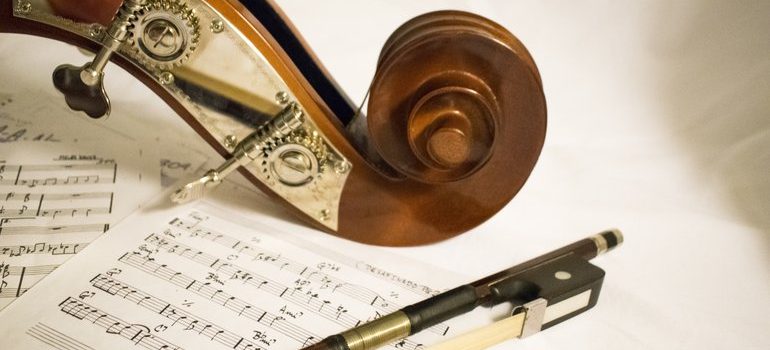 But even if you're just moving your average guitar or drum set, letting professionals pack and relocate your instruments might be for the best. It's a good way to ensure that everything is safe and being handled properly. Plus, it will certainly save you a lot of time and nerves.
Packing musical instruments for a long-distance move by yourself
One of the best and easiest ways to save money on relocation and Seattle storage rental is to do what you can by yourself. So if you want to move your musical instruments and you're on a budget, then you might opt for packing your instruments by yourself or with the help of friends. While this is certainly harder and will require that you do some research and gather some supplies you might not have handy, it's definitely not impossible.
Brass and woodwind instruments
When packing brass and woodwind instruments (like trumpets, tubes, flutes, etc), you'll want to first take them apart as much as possible. All of these instruments have a number of moving parts that you probably remove relatively regularly when transporting or cleaning the instrument. So you should already be familiar with how to disassemble them. These types of instruments also typically come with a hard case designed to hold the parts separate and safe during transport. If you have one, you can use it for relocation as well.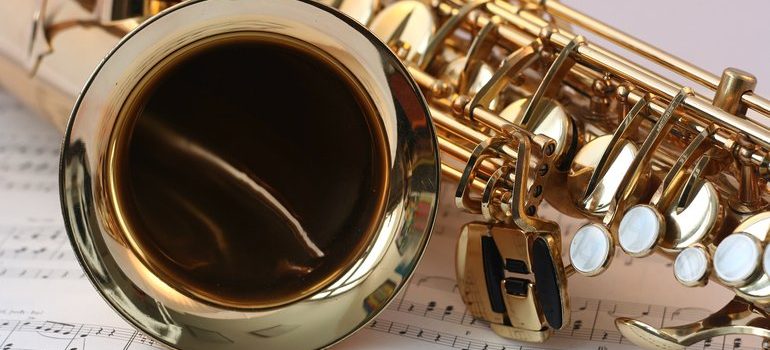 If you do not have a case for your instrument, you can use a regular moving box. Make sure it's big enough to hold all parts but not so big that you have a lot of extra space. Wrap instrument parts in bubble plastic before packing them. Use towels, blankets, sponge or packing peanuts to fill the empty space in the box and keep the instrument parts from bumping and rubbing against each other in transport.
Stringed instruments
Instruments like guitars, basses, violins, and cellos are among the most popular out there. If you like to make music, odds are you have one. Unfortunately, they're not as easy to move as it may seem and require a lot of preparation when packing. First, you need to loosen the strings and turn the tuning keys so they're parallel with the headstock. If you have a hard case for the instrument, you can then pack the instrument in it. Add some crumpled paper or fabric to fill the extra space so the instrument doesn't move during transport (especially around the neck and headstock). But don't use shredded paper or packing peanuts. They might get inside the instrument or damage it.
If you don't have a hard case, you'll need a box approximately the size of the instrument. Check your local music store – they might be able to help you find one. After loosening the strings, wrap the instrument in plastic. Then add a few layers of bubble pack for protection. Finally, put the wrapped instrument in the box and fill the box with paper or packing peanuts to ensure nothing moves too much during transport.
Drums
If you know how to assemble and disassemble drums, they're not too difficult to pack for a move. Get a box that's 2″-4″ bigger than your biggest drum. Then remove the rims and heads so you can nest the drums like Russian dolls. Fill any empty space with cushioning material like packing peanuts or crumpled paper. Pack the rest of the hardware in a separate resealable plastic bag. Remember to wrap any fragile pieces like spurs and legs before packing them.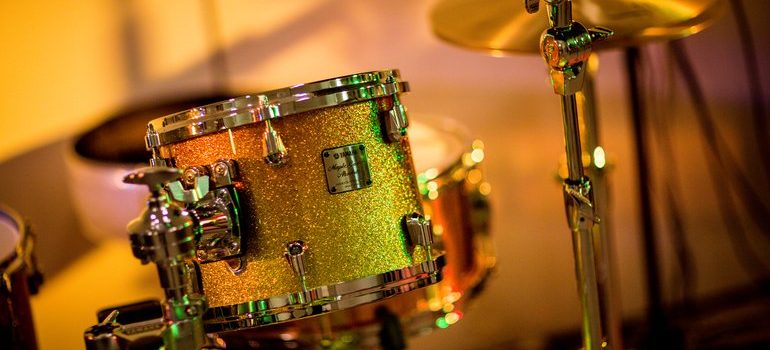 Piano
Pianos are notoriously difficult to move. They're among the most expensive yet most fragile instruments. So it might be best to leave the packing and transportation to professional piano movers WA. They will take good care of your piano during the relocation. But if you want to pack the piano by yourself, then it's important to know what type of piano you're packing. A grand piano can be disassembled to a degree – you can remove the lid, the lyre, and the legs. Other types of pianos are usually moved as a complete unit. Either way, make sure to wrap your piano (especially the fragile parts like the legs) in moving blankets or bubble pack. Secure the wrapping with a lot of tape. Finally, use moving straps for your piano. They will make the piano easier to carry and will help you tie it down so it doesn't move during transport.
Some general tips for packing musical instruments
Here are some things to keep in mind no matter what instrument you're packing:
sensitive instruments like pianos and organs are best left to professionals
large instruments like tubas and basses need a hard case for protection; improvisation just isn't enough
musical instruments do best in room temperature so if you need to store them during a move, use a climate-controlled storage unit
pack removable parts and accessories (picks, straps, reeds, etc) separately
you will need to retune your instruments after the relocation
give stringed, brass and woodwind instruments at least 24 hours after the move before you try playing them again
Finally, don't forget that if you can always ask for help. Packing musical instruments for a long-distance move is not easy. So don't hesitate to talk to your movers or ask for more tips from your local music store.
Let our team put together a comprehensive moving plan for you. Complete our simple free quote form or contact us at 1-888-300-7222.