Tips to cope with moving stress
Everybody knows that moving is no walk in the park. There are many things to think about and plan and the pressure of it can be very overwhelming and stress-inducing. So, it's only normal to feel stressed out and anxious during this time. However, there are always things you can do to make yourself feel better and reduce some of the stress. If you're currently in the whirlwind of it all and you don't know how to handle the pressure, Hansen Bros. Moving & Storage is here to help you out. We'll give you some useful tips to cope with moving stress and stay calm during relocation.
1. Hire professionals to give you a hand
One of the easiest ways of making your relocation go smoothly is by hiring professional help. There are different kinds of professionals, like packers and movers, who could help speed this process along and make it easier for you. If you hire the right pros, you won't have as many things to take care of and you'll reduce the moving stress.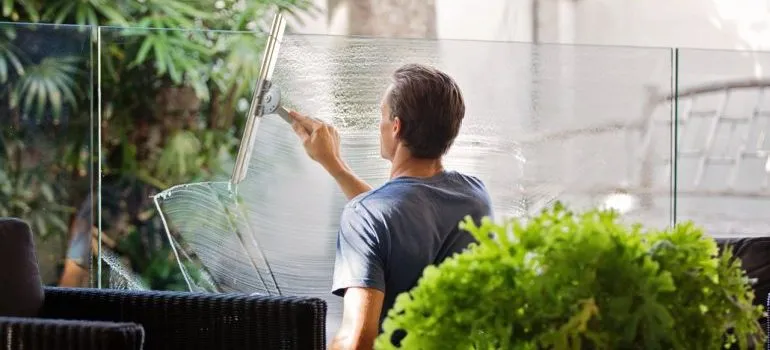 Find professional movers
First of all, hiring professional movers is something that will definitely make your move much, much easier. If you hire the right moving company Seattle offers, you won't have anything to worry about. Movers are there to make sure your relocation goes without any complications and that you can be a bit more carefree. So, their goal is to help you move and cope with moving stress in the process.
The great thing is that there are plenty of different companies you could choose from and pick the right one for you. Base your choice of movers on the price, reliability, and selection of services. Once you find the right movers, you can be sure your relocation will be much less stressful.
Hire professional cleaners
Of course, moving comes with a lot of cleaning. Not only do you have to clean the house you're leaving, but also the one you're moving into. With all the moving mess and all the people passing through your home, it's easy for the house to get pretty dusty and dirty. So, if you're overwhelmed by all the cardboard boxes and packing tape in your home, a good way to cope with the moving stress is to hire professional cleaners. That way you'll know your home will be clean and you'll have less stuff on your to-do list.
Get packing services to reduce moving stress
We all know that packing is a big and important part of any relocation. Because packing can take quite a lot of time, it tends to cause a great deal of stress for many people. Luckily, there are lots of moving companies that offer packing services. So, hiring professional packers is one of the things you can do to handle moving stress better, move faster, and worry less.
2. Don't be afraid to ask for help
What better way to deal with moving stress easier than by asking your friends for help? Don't shy away from asking your friends and family for help when you're undertaking a project like moving. Your loved ones are definitely going to be willing to give you a hand and make your relocation easier.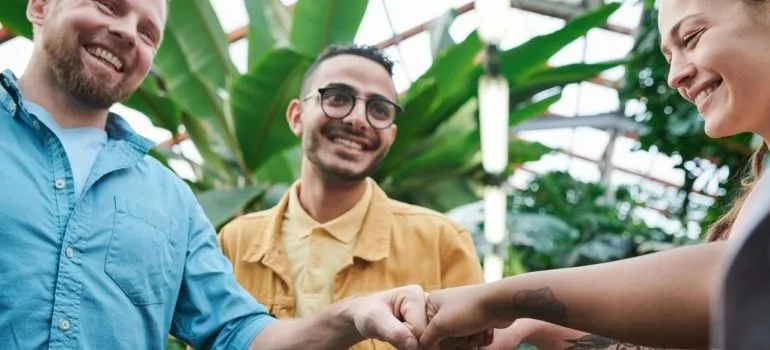 It's important to have a good support system that will make sure you stay focused and as calm as possible. But not only will your friends and family help you stay in a good mood, but they can help with the packing and cleaning as well. If any of them have experience with moving, they will be able to give you some advice and guide you through the relocation. And the best news is, you can all go out and celebrate after doing all the hard work.
3. Start planning and packing on time
There's nothing more stressful than having to do a lot of things in a short time period. It's the same when it comes to moving. That's why it's crucial to start preparing a couple of months in advance if you want to reduce moving stress. Sometimes you will need to start packing 6 months before the moving day! It's important to differentiate between what you need to keep and what to sell or donate. So starting in advance will give you enough time to:
Decide what to keep and bring with you
Organize a yard sale or sell your belongings online
Donate excess possessions to charity
Give what you don't need anymore to friends and family
Pack your belongings for the relocation
Clean everything behind you.
Don't leave important tasks for the last minute. Instead, start packing a few weeks in advance, hire reliable Seattle movers on time, and don't procrastinate. There's no need to add extra pressure on yourself by not leaving enough time for everything and having to rush.
4. Research your new area
One of the most important things that can help with coping with moving stress is mentally preparing for this change. That's why the best thing to do is get online and do some research on your future home and neighborhood. After all, it's important to make sure you're making the right decision. Find out what the standard of living is, what there is to do on days off, and if there are any activities you're interested in. Make sure you're choosing the right neighborhood for you and that you'll feel at home once you move.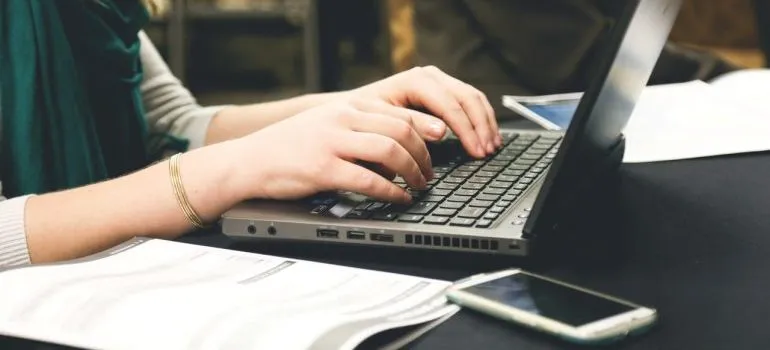 It's also a good idea to pay a visit to your new area before you hire local Seattle movers and wander around for a bit. That's a great way to get a glimpse into your future life. There are a few key things you need to keep an eye out for, so we recommend you research the following before you move to your new home:
The cost of living. This is one of the most important things you need to research. Check out the price of utilities, as well as everyday groceries.
Education. If you have kids or are moving to acquire an education, researching what the best schools are is crucial.
Transportation. If you don't drive, you might want to look into the public transfer system. Knowing which busses, trams, or trains to take will make your life much easier.
Hospitals. Always know where the nearest hospital to you is because you never know when you will need it.
5. Things to relieve stress
We have mentioned some of the more rational ways to calm your nerves down. Now, we want to focus on some specific ways you can temporarily cope with moving stress. Some of these have been proven to directly affect the amount of cortisone (stress hormone) being secreted into the organism. While others show significant benefits from doing these activities, it's not directly because of them that your stress levels are lowered.
Have move managers assist you
It's important to note that these things can temporarily lower your stress levels but to lower your stress levels, you want to calm yourself down by making sure everything goes well. Consulting with HB move management or doing what we previously mentioned is something you should definitely do. However, here are some other ways you can relieve stress.
Be active, eat well, and sleep sufficiently
Exercising is something you can do to take your mind off things, as well as naturally lower the amount of cortisone in your body. Exercising your body is a great way to manage stress. Complement your exercise with a nutritious and wholesome diet. Don't forget to drink plenty of water as dehydration will make you feel tired. Finally, getting enough sleep will help your body and mind regenerate. Well-rested, you will be able to complete all the necessary moving tasks ahead of you.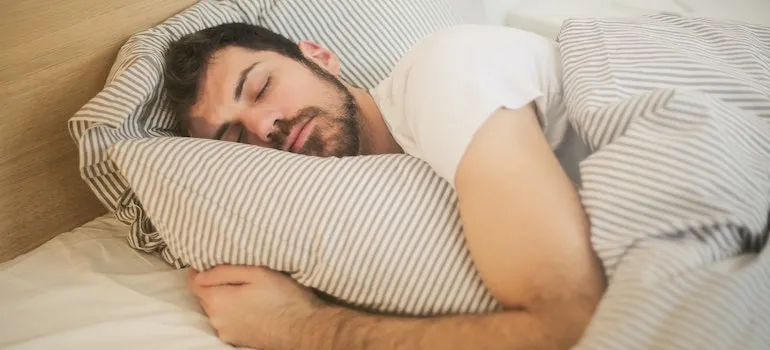 6. Try to stay positive and excited to cope with moving stress
Something that's very important in stressful situations is your outlook on things. That's exactly why you should do your best to keep a positive attitude and get excited about relocating. Replace anxiety with excitement and find things to look forward to. There's good in every situation, so if you want to deal with moving stress, try to find that good.
Good preparation is half the work and zero stress
The best way to cope with moving stress is to avoid the causes. If you prepare well and on time, you can count on a smooth moving experience. Asking for help is ok and most welcome during the challenging process of relocation. And if you think there's no time to handle the moving process timely, the pros are always there to assist you and relieve your burden. In the end, relocation is as simple as you want it to be!
Let our team put together a comprehensive moving plan for you. Complete our simple free quote form or contact us at 1-888-300-7222.