Top Local Seattle Resources for New Residents
Are you a newcomer to Seattle and feeling lost in this city's maze of culture and resources? Fear not, for you have landed on the ultimate guide to top local Seattle resources for new residents. Seattle isn't just about Starbucks and the Seahawks (although we love them too). It's a city rich in cultural history, outdoor adventures, and a thriving tech industry. In this guide, we will take you on a journey to discover the best resources you will need to thrive after moving here with one of the most experienced and trusted moving companies Seattle has! We want to ensure that you not only survive but thrive in this stunning Pacific Northwest city. So buckle up, grab your favorite cup of coffee, and let's explore the Emerald City together!
Welcoming new residents to the Emerald City – what makes Seattle special
Moving to a new city can be both exciting and overwhelming, but Seattle offers a unique experience that makes getting the moving services Seattle recommends to move here worth every penny. As the largest city in the Pacific Northwest, Seattle is a hub of innovation, diversity, and culture. From the iconic Space Needle to the bustling Pike Place Market, Seattle offers plenty of attractions for new residents to explore. So, what makes the Emerald City so unique?
The city's reputation for being a foodie haven with a diverse range of cuisines.
A thriving music scene, as it's the birthplace of grunge music.
Stunning natural beauty and known coffee culture.
Rich cultural history, shaped by its Native American roots and the Klondike Gold Rush.
Thriving arts and culture scene.
Booming tech industry, big companies like Amazon and Microsoft are headquartered here.
The location between Puget Sound and the Cascade Mountains offers a wide range of outdoor activities.
One of the most exciting aspects of moving to Seattle is the city's reputation for being a true haven for all foodies. With a diverse range of cuisines and a strong focus on local, sustainable ingredients, Seattle's culinary scene is sure to delight any food lover.
The city is also home to a thriving music scene, which is no wonder since it's the birthplace of grunge music. Seattle's unique features include its stunning natural beauty. Additionally, Seattle is known for its coffee culture. In fact, it is world-renowned for its pan-roasted coffee. In fact, getting a cup of joe in one of many local coffee shops is probably the first thing you should do after moving here.
Rich Cultural History, Booming Tech Industry, Natural Beauty, and Outdoor Opportunities
The city has a rich cultural history, shaped by its Native American roots and the Klondike Gold Rush. Today, Seattle is a diverse city with a thriving arts and culture scene that celebrates the city's past while embracing its future. The city's booming tech industry has helped fuel Seattle's growth and prosperity.  Big companies such as Amazon and Microsoft call this city home. This has resulted in a high concentration of skilled professionals hiring trustworthy long distance movers Seattle offers, moving for job opportunities in this sector.
Further, this dynamic entrepreneurial ecosystem makes Seattle an ideal place for those interested in tech and innovation. In addition to its cultural and economic vitality, Seattle is also renowned for its natural beauty. The city's location between Puget Sound and the Cascade Mountains offers breathtaking views and a wide range of outdoor activities, including hiking, kayaking, and skiing.
Guide to Utilities and Essential Services for New Seattle Residents
Moving to a new city is, without a doubt, exciting. However, that excitement fades when it comes to setting up utilities and essential services. Be that as it may, with these Seattle resources for new residents navigating utilities will be a piece of cake. We'll walk you through everything you need to know about setting up electricity, natural gas, and internet and cable providers in Seattle.
When it comes to electricity and natural gas services, Seattle City Light and Puget Sound Energy are the two main power providers. Seattle City Light is a publicly owned utility company that offers a range of services to Seattle residents, including outage alerts. Puget Sound Energy, on the other hand, is a private utility company. They provide both electricity and natural gas services to residents in Seattle and the surrounding areas.
In terms of internet and cable providers, Seattle offers several options to choose from. Xfinity, CenturyLink, and Wave Broadband are among the top providers in the area. Xfinity offers the fastest internet speed, up to 6,000 Mbps, but it can also be the most expensive, depending on your plan. However, it is the only company with a data cap at a whopping 1.2 TB with a mandatory contract, unlike other ISPs. Of course, your new zipcode after moving with cross country movers Seattle trusts will, in large, determine the ISP available to you. However, T-Mobile and Xfinity do cover around 95% of the Seattle area, so those two will likely be available to you.
Getting around Seattle – transportation resources for new residents
Getting around Seattle can be a breeze with the city's reliable transportation options. The city's public transit system, King County Metro Transit, offers bus and light rail services that connect various neighborhoods throughout Seattle. The Sound Transit system offers additional light rail and commuter trains connecting Seattle with other cities in the region. The Seattle Streetcar, which has two lines, runs from the South Lake Union neighborhood to Pioneer Square, with stops in between.
Biking is also a popular mode of transportation in Seattle, with numerous bike lanes and trails throughout the city. The Seattle Bike Map is one of many useful resources for new residents to find bike-friendly routes. For those who prefer to avoid the roads altogether, Seattle has several water transportation options, including the Washington State Ferries and the King County Water Taxi used by many local movers Seattle has. These ferries offer a unique perspective of Seattle from the water while also providing efficient transportation to nearby islands and towns.
One of the most important resources for new residents using Seattle's public transit system is the ORCA card. The card functions as a pass that allows riders to access all public transit systems in the region. It can be loaded with funds and used for one-way trips or for unlimited travel during a set period of time. Additionally, the Transit Go app is a helpful tool for navigating public transit options. It is especially useful for tracking the arrival times of buses and trains. If you own a car, be cautious, as Seattle parking is expensive and always crowded.
Healthcare Services and Seattle resources for new residents
Seattle is known for its thriving healthcare industry, with some of the best medical centers and hospitals in the country. The University of Washington Medical Center, Swedish Medical Center, and Virginia Mason Medical Center are just a few of the top healthcare providers in the area. If you're a new resident in Seattle, it's essential to familiarize yourself with the healthcare services and resources available to you. Finding a primary care physician is a crucial step in maintaining your health, and there are numerous options in the area.
You can use online directories or consult your insurance provider to find a physician that meets your needs. In case of urgent medical needs, there are several urgent care and walk-in clinics located throughout Seattle. These clinics offer medical attention for non-life-threatening illnesses and injuries and are a convenient alternative to emergency rooms.
Seattle also offers many resources for new residents for mental health support. The National Alliance on Mental Illness (NAMI) Seattle offers a wealth of information and resources for individuals and families affected by mental illness. The Crisis Clinic is another great resource center that provides mental health support and referrals to other Seattle community resources.
Education opportunities in Seattle
When it comes to education, Seattle is home to many public, private, and higher education institutions, as well as programs and resources to support learners of all ages and backgrounds, especially new residents still finding their way around. Seattle Public Schools is the largest school district in the state of Washington, serving over 50,000 students across 104 schools. The enrollment process is simple.
You can use the school locator tool on their website to find the nearest school to your address. SPS offers a range of programs and services, including special education, language learning, and advanced learning opportunities. In addition to public schools, Seattle is home to many excellent private schools. str.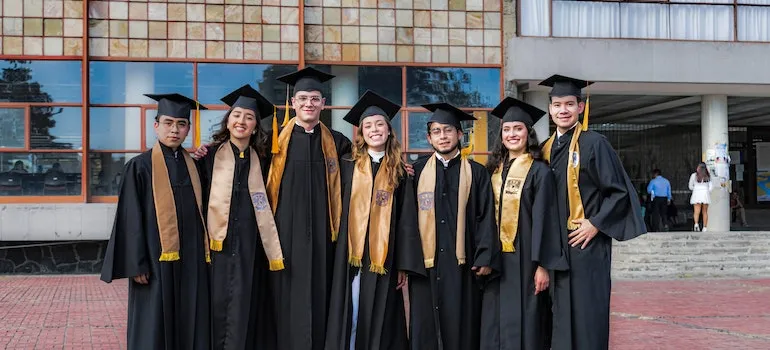 Seattle is also a hub for higher education, with world-renowned universities and colleges such as the University of Washington, Seattle University, and Seattle Pacific University. These institutions offer a range of undergraduate and graduate programs across various fields of study, including business, engineering, and the arts. In fact, the higher education system in Seattle is world-renowned, making international movers in Seattle busy with clients who are moving there for top education from all around the world.
Job Prospects in the Emerald City
For those seeking vocational training or career development opportunities, Seattle has several job training programs and career centers to support residents in finding meaningful employment. One such program is the Seattle Jobs Initiative, which provides job training, placement, and support services to low-income individuals in the Seattle area. Seattle's job market is one of the most thriving in the country, and there is no shortage of opportunities for job seekers. With a growing tech industry, world-class healthcare, and a diverse range of businesses, Seattle is a great place to build a career.
For new residents looking to jump into the job market, Seattle offers a range of resources to help job seekers find the right position. Local job search websites such as Indeed, Glassdoor, and LinkedIn are great places to start. They offer access to job postings, industry trends, and salary information, making it easier to identify suitable opportunities.
Seattle also has a variety of networking events and organizations, including the Seattle Metropolitan Chamber of Commerce, helping job seekers connect with local businesses and professionals. Attend job fairs, industry conferences, and other networking events to expand your reach and learn more about the local job market.
Upskilling in Seattle
For those looking to enhance their skills, Seattle has many career centers and job training programs. These include the Seattle Office of Economic Development, which offers job training programs, and WorkSource Seattle-King County, which provides free job search assistance and workshops.
In addition, the local job market is characterized by demand for workers in healthcare, technology, engineering, and even moving jobs in Seattle. The healthcare sector is one of the largest employers in the city, with leading institutions such as the University of Washington Medical Center, Swedish Medical Center, and Virginia Mason Medical Center offering many opportunities. The tech industry is also booming, with giants like Amazon, Microsoft, and Google all having a presence in Seattle.
Filling your free time in Seattle – shopping, dining, culture, and events
It takes a lifetime to explore everything Seattle has to offer. Luckily, you have all the Seattle resources for new residents right here at your disposal. So, where should you start exploring and enjoying Seattle? Shopping enthusiasts can indulge in some of the city's top shopping centers and districts, including Pacific Place, University Village, and Pike Place Market. Pike Place Market, in particular, offers a unique and authentic Seattle shopping experience with vendors selling everything from fresh seafood to handmade crafts.
Seattle's food scene is also one not to be missed. With its reputation for fresh seafood and coffee, the city boasts numerous restaurants and cafes that offer unique dining experiences. Iconic Seattle restaurants like Canlis, Salumi, and Metropolitan Grill offer delicious dishes that are sure to tantalize your taste buds.
Seattle's arts and cultural scene is also vibrant and varied. The city is home to numerous museums and galleries, including the Seattle Art Museum and the Museum of Pop Culture. The Seattle Symphony and Pacific Northwest Ballet offers world-class performances, while events like the Seattle International Film Festival and Bumbershoot showcase the city's diverse cultural offerings. From the annual Seattle Seafair to the Bumbershoot Music and arts festival, there's always something happening in Seattle. Whether you're into music, food, or culture, you're sure to find something that piques your interest.
Ready to live in one of the best cities in the US?
Firstly, let us congratulate you on your move to Seattle! With all of the amazing resources and opportunities available in this city, you're sure to have a blast exploring and building a new life here. From the top hospitals and medical centers to the best shopping centers, Seattle has everything you need to thrive. So, what are you waiting for? Get out there and start discovering all that Seattle has to offer! Hand over your belongings to one of the most reputable shipping companies in Seattle to relocate you, and then take a ferry ride, visit a museum, go for a hike, try some fresh seafood, and join a community event.
There's no limit to the fun and exciting experiences that await you in this wonderful city. And remember, if you ever need help or advice along the way, Seattle is a friendly and welcoming place with plenty of resources to support you. So, don't be afraid to ask for help, utilize Seattle resources for new residents or reach out to your neighbors and community.
Let our team put together a comprehensive moving plan for you. Complete our simple free quote form or contact us at 1-888-300-7222.