Guide for moving from Lynnwood to Renton
Looking to relocate from Lynnwood to Renton, and are in need of some know-how to make it easier? In this article, we are going to cover all that you may need to know, such as finding the top movers Lynnwood has to offer, how to choose the best neighborhood, and much more. We will show you that moving from Lynnwood to Renton is nothing to fear!
How to go about moving from Lynnwood to Renton
As you will be embarking on a long distance relocation, it is important to plan everything in advance. The first thing you will want to do is ensure that you have one of the quality movers at your side. Normally, you will start with Lynnwood movers but you may want to look into moving companies Renton WA has to offer, as well. They may be able to offer better terms, depending on the situation.
Aside from hiring a good mover, you will need to:
Research the differences between cities
Learn more about Renton
Find an ideal neighborhood
Get ready for the moving process
To make the whole process easier, you may also want to get some friends or family members to help you. There will be a lot to do, after all, and having someone to go through the whole process with you is extremely beneficial. Therefore, pull out your proverbial phonebook and get to calling!
Lynnwood vs Renton
To adapt to your new surroundings in the best possible way, you will want to know what to expect. Knowing about the differences between the two cities will set the grounds on which you can further build upon.
To start with, population-wise, the cities are somewhat similar. Lynnwood has about 39,000 residents while Renton has around 102,000. However, while Lynnwood has an urban-suburban feeling to it, Renton offers a dense urban experience.
When we take a look at the economics of the cities, we can see that Renton is clearly ahead. The median household income in Renton is about $78,000, while it is around $63,750 in Lynnwood. This is a huge difference and is usually one of the prime factors why people choose to hire a moving company Washington and relocate. However, the fact remains that the two places are close-by and that they share some of the job opportunities.
Another thing that is beneficial to the relocation is the fact that home prices in the two cities do not differ much. The median home value in Lynnwood is about $396,000, as opposed to Renton's $402,000. That is definitely not a large difference. You will be able to sell your home and purchase a similar-sized one while enjoying the economic benefits of the relocation.
Pros and cons of living in Renton
Renton has its fair share of advantages and disadvantages. Knowing about them will make it easier to adapt to life in this city.
Pros
First of all, the livability factor in the city is very high, meaning that its residents are happy with their circumstances. The cost of living is also lower than similar dense urban areas, meaning that your money is stretched just a bit further.
While that is true, you may still want to save up a bit of money on the relocation effort. There are numerous ways in which you can do so, such as renting a portable self storage unit instead of renting a fixed one, finding the movers that offer the best prices, etc. But the fact of the matter is that the living costs will provide you with additional leeway.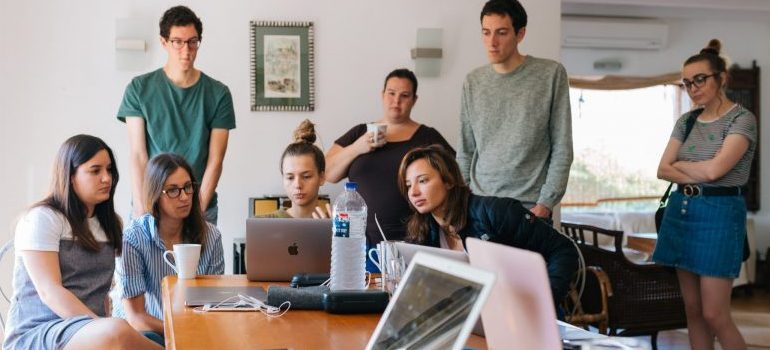 Another benefit of living in Renton is the fact that its educational system is above average. You will have a choice between several quality education institutions, such as Liberty Senior High School, Islander Middle School, and Briarwood Elementary School.
And, of course, there are the social factors that stem from population density. In Renton, you can find many of the amenities that are present in much larger cities. And there's the fact that Renton is in a very centralized location, making entire Seattle your proverbial playground.
But there are some disadvantages, as well.
Cons
The most obvious "problem" of the city of Renton lies in its crime rate. Renton is not a very safe city, judging by the crime statistics. The most prevalent crime is theft (especially motor vehicle theft), which is incidentally the only one that is above the national average. If you leave your vehicle unprotected, there are good chances you will not find it when you return. To put this perspective into numbers, the national average of motor vehicle theft is 284 crimes per 100,000 residents, while in Renton, this number rises to 786, almost tripling it.
Other than the crime rate, there are no glaring issues to speak of in Renton. And if you choose your neighborhood well, you may be able to avoid much of the crime issues, as well.
Finding a perfect neighborhood when moving from Lynnwood to Renton
The crime rate is going to dictate the desirability of the neighborhood, most of the time. However, it is not the only thing that needs to be on your mind. You also need to make sure that the area offers all the amenities that are very important to your lifestyle. For example, if you can't think of a week without going to the gym, you will want an area where there's one close by.
While you will have numerous choices in front of you, here are some of the safest Renton neighborhoods for you to consider:
Lake Desire / Maple Valley Heights
Cedar Mountain
East Renton Highlands
SE Renton Maple Valley Road
These neighborhoods have a much lower crime rate than most of the others, making them ideal for your new home. Once you choose the neighborhood, it is time to think about:
The moving process
There is a lot to be said about the moving process itself. We have covered the topic numerous times already, and you might already be familiar with it. Even so, here's a small list of things that you will want to deal with:
Creating a moving budget
Finding a good mover ahead of time
Creating a moving checklist
Enlisting help from friends/famil
Organizing your efforts
Obtaining packing supplies
Packing
There will be a lot more things to do when moving from Lynnwood to Renton, of course, but the above bullet points will form the crux of your efforts. Start early, though, and you will have an easier time of it.
Let our team put together a comprehensive moving plan for you. Complete our simple free quote form or contact us at 1-888-300-7222.