Guidelines for packing your medicine cabinet
Packing an entire home for moving is a giant task. If you're to handle it right and keep your sanity, you'll have to tackle it with a plan. All experts agree that the best way to go about it is to follow the Golden Rule of packing room-by-room. This enables you to pack systematically and maintain order in the midst of a chaotic move. But as soon as you come to pack your bathroom, you'll surely feel uncertain about how to handle the packing right. Packing your medicine cabinet, in particular, can be a tricky task. Your movers Washington recommend you keep prescription medicine to pack last. But there's a lot more than that in your medicine cupboard to think about. So, the experts at Hansen Bros. Moving & Storage will give you the lead on how to tackle the task with ease.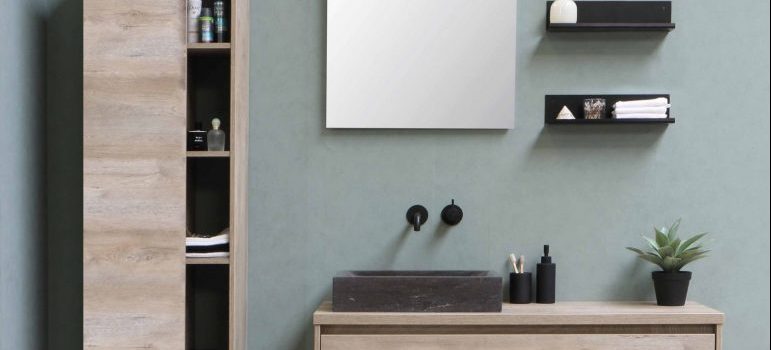 What to consider before starting to pack your bathroom?
The bathroom in each household is usually an oasis of peace in its own way. It is here that we wash the burdens of a busy day, or indulge in relaxing rituals such as a long bath, facial treatment, etc. However, our daily needs can result in cluttering the bathroom with all sorts of things. And so, packing your medicine cabinet before moving is something you need to approach with mindfulness.
Before we proceed with the guidelines on how to accomplish that mission with success, it's worth noting that your movers and packers Seattle will make things a lot easier for you. So, opt to take assistance for the packing part as well, and save your nerves and effort from doing more than you need to. Further, to pack your medicine cupboard for moving in an optimal way, consider the following:
Declutter
Stash packing supplies
Mind the hazardous substances
Rely on pro assistance
Pack an essentials bag
Declutter your bathroom before packing your medicine cabinet
Preparing your medicine chest for transfer isn't something you should do in a lackadaisical fashion. With so many tasks at hand and a bunch of stuff to pack, it's understandable that you'd feel the urge to just throw everything in a box and be over and done with it. However, take the advice of your cross country movers Seattle and ensure your relocation is not just more cost-effective, but ultimately safe as well. We will mention the potential hazards that the contents of your medical cupboard may pose below. But, first thing first, do you really need to move everything that you've accumulated in your medicine cabinet possibly for years?
Your likely answer is no. Therefore, prepare for packing your toiletries cabinet by giving it a thorough cleanout. Consider making an inventory list of the contents. This will give you a clear picture of what you have, and what you really need. So, roll up your sleeve and declutter your bathroom inventory. Is the mat worth transferring all the way to your new home? Do you have medicine and cosmetics that have expired? Eliminate everything that has no real purpose from your medicine cabinet, and then set on the task of packing the contents like a pro.
Gather the right packing supplies for packing your medicine cupboard
No move can go without quality moving boxes. And you are sure to need these for packing your bathroom as well. But, what does your medicine cabinet contains exactly? Apart from everything else, a good deal of liquids as well, right? So, packing your cabinet of bathroom essentials requires some additional packing supplies. Here's the very basic outline of the most essential ones you should have at hand when packing your bathroom cupboard.
Moving boxes
Plastic containers of various sizes
Bubble and plastic wrap
Packing paper
Zip-top and plastic sandwich bags
Packing tape
Most of these are water-resistant and they will provide the right protection for your medicine and toiletries pack in them. But also, for the rest of your items as well, shell they spill due to the bumpy ride.
Besides, make a point to leave the packing of your bathroom for last. When packing your medicine chest, don't forget to set aside any prescription medicine and other aid products you need on daily basis. Also, make sure you have easy access to them at all times, and beware to not misplace them.
What are hazardous substances and will your movers transport them?
This is a great question to discuss with your Seattle movers upon booking your services. There are a number of items that professional moving companies can't and won't load on the moving truck due to the threats to health and safety they pose. Besides, many of these hazardous substances are forbidden by law to be transported without adequate supervision.
Your movers will be able to provide you with a list of items you shouldn't pack. Some of these might be found in your medicine cabinet. For example, your harmless nail polish and nail polish remover are highly flammable, and therefore, unsuitable for transport. So, before packing the contents of your medicine chest, ensure that all items are safe for transport.
Simplify your move with professional assistance
Thus far, you may find our guidelines for how to pack your medicine chest for moving useful and easy to follow. However, if you are a senior contemplating a move, you may benefit from our comprehensive Seattle senior moving services for your ultimate comfort and ease during the transition. You'll get expert guidance and assistance to help you downsize with ease, and transfer your valuable possessions with effectiveness. Therefore, you wouldn't need to worry much about getting the packing of your medicine chest right, as our specialists will take care of it all.
Packing an essential moving box with all you need from your medicine cabinet
Moving tends to be hectic and can cause you a level of discomfort in the days that follow after it's done. But if you take the advice of our seasoned experts and you prepare your thoughtfully designed essential moving box this shouldn't be much of a concern.
Therefore, make it a priority to put together an essential moving box that will contain items necessary for your easy settling in a new home for the first couple of days. This is a very useful part you should include in the guidelines for packing your toiletries cabinet. Among the contents of your essential moving bag make sure to include your necessary medicine and essential hygiene products. As for the rest, it's up to you, and your individual needs to add it in your open-first box.
In summary. follow our effective guidelines for packing your medicine cabinet and you'll handle the mission quickly and with the best results. Good luck.
Let our team put together a comprehensive moving plan for you. Complete our simple free quote form or contact us at 1-888-300-7222.