Guide for moving from Seattle to San Francisco
Long-distance moves carry a sense of fear of the unknown, perhaps even more than other types of relocation. When the difference between the two cities is so huge, the stress can overwhelming. Then again, a good plan and preparation can take care of that. Start by taking matters into your own hands and moving from Seattle to San Francisco. Having reliable allies such as Hansen Bros. Moving and Storage Seattle by your side can ensure a stress-free relocation no matter the size or distance of the relocation. And lastly, it's important to make sure the new city becomes familiar to you as soon as possible. Knowing what to expect is crucial, which is why we are looking at some guidelines for relocating to San Francisco from Seattle in this article.
Distance to cross when moving from Seattle to San Francisco
Relocation from Seattle to San Francisco will definitely be demanding, at least when looking at miles to cover. The distance between hese two cities is 807,7 miles. Getting to San Francisco by driving a car non-stop would take around twelve hours. That seems like a waste of time when there is a much better alternative to getting there by plane. The air route it 679 miles and the estimated flight time is one hour and 43 minutes. As for your stuff, let your cross country movers Seattle take care of the belongings.
Get familiar with life in San Francisco
As already mentioned, preparation is a necessary part of moving to San Francisco. After deciding to leave Seattle for San Francisco, start your search for significant information. Make sure you determine the facts needed for your life there.
costs of living
employment opportunities
weather
entertainment
culture
population
crime rates
Money is always a matter to be discussed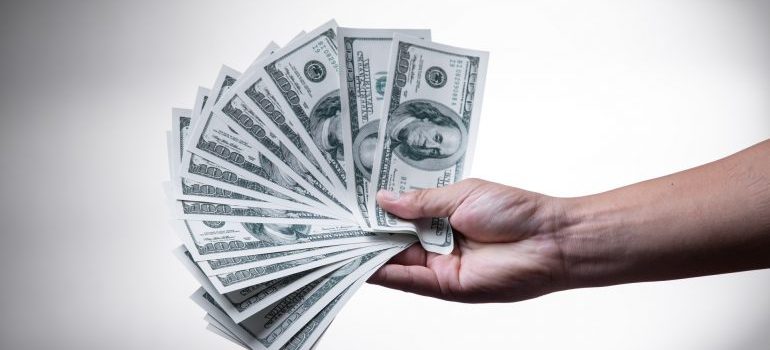 Of course, you must be aware of the costs of living prior to the move and expect higher overall costs of living in San Francisco, given that they are around 40% higher than in Seattle. The difference in housing costs is even higher as the median home cost in San Francisco is about $1,471,200 compared to home costs are $851,400 in Seattle. So make sure to put aside a certain amount of money since life in San Francisco can get quite expensive.
What are the chances to find a solid job?
Though the real estate prices are high in San Francisco, people here have the highest household income in the nation. Moreover, have no worries. In case you have no job, you'll find it soon. Therefore, contact shipping companies Seattle swiftly. No need to wait anymore. There are numerous job opportunities. Some major corporations are located in Silicon Valley. For instance, here you can find Apple, Facebook, Wells Fargo, Viso, Netflix, Tesla, Intel. On the other hand, entrepreneurs can start their own business here.
Will you get used to nice weather rapidly?
You'll leave cold and rainy Seattle. Imagine how pleasant it will be coming to San Francisco. Incredibly nice weather and stunning scenery will simply become enticing. Also, some consider San Francisco has a reputation of being foggy. Still, compared to Seattle, there's no doubt you'll enjoy beautiful weather.
Entertainment opportunities are wide
Rest assured, you'll enjoy your life in San Francisco. First of all, natural beauties and stunning landscapes will take your breath away. Also, San Francisco offers a wide variety of opportunities for outdoor activities.
Muir Woods – It's around 12 miles from San Francisco. True hikers will enjoy it here. Also, take pleasure in walking through beautiful redwoods.
Angel Island – Take a ferry to Angel Island. Some of the best hiking trails wait for hikers. Not to mention, beautiful views
skiing destinations such as Lake Tahoe – Fans of skiing will be delighted with this place.
parks – Among the best parks in the country we could point out Golden Gate Park, Presidio, Dolores Park. Have fun with your children. Furthermore, take your dogs for a walk. After all, San Francisco is known as one of the dog friendliest cities in the country. Dog parks are located in almost every neighborhood.
Alcatraz – Visit Alcatraz by taking a ferry ride.
Museum of Modern art
countless festivals, shopping
Everyone will fit San Francisco
Cultural diversity is just one of the main features of this beautiful city. Regardless of religion, gender, sexual orientation, race, everyone can find their place here. On the contrary, we must mention one of the main problems of Seattle. We are talking about a high percentage of homelessness.
Both cities are quite large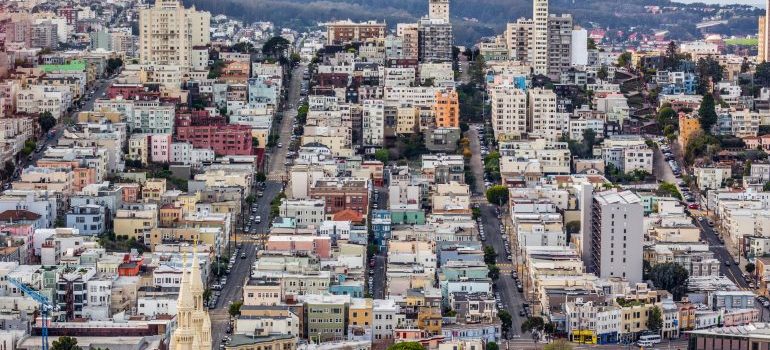 Though both Seattle and San Francisco are highly populated, there's an important difference to be aware of. What about density? Well, San Francisco has a population of 881,000 people. On the other hand, Seattle has 753,000. Still, Seattle covers areas of 8,196 miles. Well, what if we tell you that in 2018 the density in San Francisco was 18,562. Believe it or not, it's still growing. As seen previously, population density is quite problematic for San Francisco residents.
We all want safety and security for ourselves and our families
Be detailed when making a moving checklist. Not surprisingly, everyone will be interested to discover the crime rates of the new destination. Well, you may be surprised but both cities are above the national average. Though, San Francisco is the leader again. One important fact is that San Francisco has more property crimes.
Hopefully, you'll enjoy your new adventure called San Francisco
Overall, moving from Seattle to San Francisco is demanding. Still, don't let it become a trip to the unknown. Hence, create a thorough plan. Get to know the city you're headed to. If not in person, then by using the internet, brochures, or your professional movers. After all, your movers are your biggest allies. As already mentioned, both cities have their positive and negative sides. However, it's all up to you. By having a positive attitude, you'll manage everything. Take the best from San Francisco. After all, we think it has to offer a lot of opportunities for new residents. You are only left to enjoy.
Let our team put together a comprehensive moving plan for you. Complete our simple free quote form or contact us at 1-888-300-7222.