Guide for moving to Vancouver from Seattle
The most populous city in British Columbia is known as "Hollywood North". Many of your favorite movies and TV shows have been filmed in the area. The shire physical beauty of Vancouver is indeed captivating. Surrounded by snow-capped mountains and a serene blue sea, it's constantly featured on numerous lists picking the most beautiful city in the world. Moving to Vancouver from Seattle might just be the beginning of an exciting new chapter in your life. While there are many similarities between the two, there are certain differences you should take note of as well. After all, you'll be moving to a new country. Hansen Bros. Moving & Storage Seattle can simplify your project and turn it into a seamless experience. Our experts are at hand to provide you with anything you need for your move from start to finish. Let's start with a practical guide for planning a relocation from Seattle to Vancouver.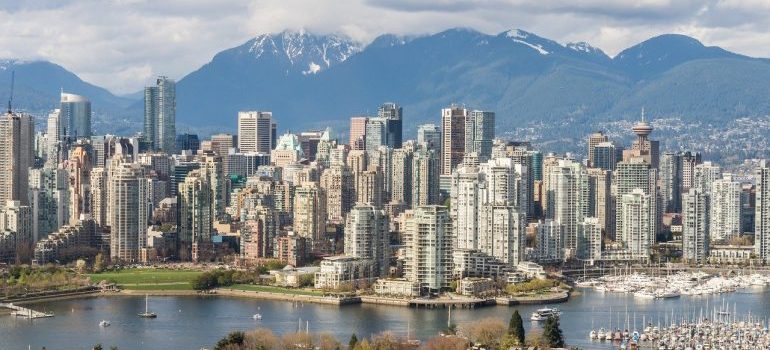 What to know before moving to Vancouver from Seattle?
Vancouver is merely 3 hours drive away from Seattle. The two cities are very similar in terms of climate, weather, and outdoor activities. In this line of thought, you may not even notice you're in a different country. That is until you start opening your wallet. Vancouver is more expensive than Seattle in many regards, except for renting your living space.
Besides the currency difference, the first thing to consider when moving to Vancouver from Seattle is the higher cost of living. You'll find a bit more on this below. On the practical side, make a point to hire seasoned international movers Seattle for the successful outcome of your relocation project. Albeit the distance involved isn't huge, you still need efficient pro help for an easy move. Further, let's look into some practical points to benefit your relocation:
Cost of living
Prepare your paperwork
Healthcare
Population
Education
Activities
The cost of living in Vancouver
As we mentioned already, the cost of living in Vancouver is high. This is an important factor to consider when relocating from Seattle to Vancouver. If you're planning a corporate relocation you'll need to do in-depth research on requirements, as Canadian laws are different than in the US. Besides, property taxes are higher in Seattle than in Vancouver. In other words, rent is cheaper in Canada. On the other hand, groceries, electronics, luxury goods, cars, gas, etc will cost you more. Because of the high living standard in Vancouver, you may end up renting an apartment in a less desirable area of the city. Thus, ensure you visit before you actually move, and pay a visit to your home to be in person.
Have your paperwork sorted before moving to Vancouver from Seattle
Vancouver is a popular place to move to. Despite its relative proximity to Seattle, bear in mind that involves crossing the border to a different country. This means that there are certain regulations applicable. Ensure you have all your employment permits or insurance coverage prepared before you hit the road. Also, have your logistics plan prepared in detail, and well in advance. As moving in big part is about transferring your belongings to a new location, work out the best way to move them. Book your services with well-established shipping companies Seattle for an easy and straightforward process. Your moving from Seattle to Vancouver will be easy, safe, and untroubled experience, with the right pro help.
Your healthcare insurance when moving to Vancouver
Canada has an excellent healthcare system. However, it covers only its residents. There are certain exceptions for those who hold particular work or study permits. There is a mandatory waiting period before you qualify for Canadian healthcare insurance. For your convenience, it's best to check reliable sources and get individual guidelines, based on your specific circumstances. When moving from Seattle to Vancouver it's important to prioritize your healthcare. If you sort this out time, you'll have fewer things to worry about later on and enjoy exploring the beauties of your new home.
The population and culture
While Seattle is considered to be a melting pot of cultures, Vancouver is more of an ethnically diverse mosaic. Both cities share a similar vibe in terms of culture and population. Vancouver definitely has a wider selection of restaurants than Seattle, and fewer people in terms of population density. Both cities are progressive and liberal on a political scale. Moving to Vancouver from Seattle is far from a cultural shock or sudden changes in lifestyle. However, you'll have to get used to filling in gas in liters instead of gallons and driving in kilometers instead of miles. And if you're moving with your furry friend, take note that most condos in Vancouver pose a limit to 25 lb dogs, unlike Seattle.
The education system in Canada
Public schools in Canada are equally ranked with private ones. The education system in the country is of exceptional quality. Moving to Vancouver is a great option if you have a family, as your kids will get access to one of the best education systems in the world. What's even better, you wouldn't have to pay a fortune, as compared to the US.
Activities to enjoy when moving to Vancouver from Seattle
Vancouver is a city of mesmerizing beauty. Whether you're moving alone or with your family, rest assured that there are many things and activities to enjoy. Due to its proximity to both mountains and the ocean, any fan of the outdoors will find something to their liking. To wrap it all up, here is a brief mention of things to enjoy in Lotusland:
Stanley Park is the most famous point of interest for locals and tourists alike. Located on the Downtown Vancouver Peninsula, it's home to the city Aquarium, many beaches, and hiking trails. You can enjoy many activities and visit many attractions here when relocating to Vancouver from Seattle. The park is also home to the Totem Poles, one of the most visited attractions in British Columbia.
Vancouver Cherry Blossom Festival runs from the end of March through mid-April each year. More than 40 000 cherry trees line up the streets of the city and the festival offers many pleasant cultural events.
Salmon and fresh seafood are deliciously famous in Vancouver. If you're curious, you can learn about salmon spawning in Capilano Salmon Hatchery, for free.
Finally, ensure your smooth and easy move by letting our experts take you across the border. Moving to Vancouver from Seattle is exciting. Allow yourself the time and energy to explore, and lean on effective moving assistance. Take note of the tips in our guide, and enjoy a pleasant journey to your new home. Good luck.
Let our team put together a comprehensive moving plan for you. Complete our simple free quote form or contact us at 1-888-300-7222.