Guide to packing rugs and carpets for moving
If you have never bothered with packing rugs and carpets for moving, you may think it is a simple process. You just roll them up and they are good to go! Unfortunately, it is a bit more complicated than that. It is the little things that matter, minute details that can make all the difference. While you can definitely hire one of the moving companies Seattle has to offer to relocate your rugs, it is much better to save some money and pack them yourself. In this article, we will be showing you exactly how to do that. By the time you finish reading, you will know how to pack your rugs like a professional!
Packing rugs and carpets for moving in six easy steps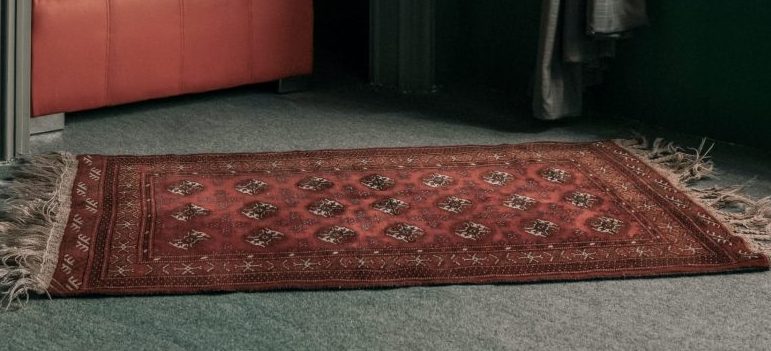 The procedure for packing carpets and rugs is not a very complicated one. But you need to follow it step by step. Otherwise, you may find yourself in a situation that will require much more effort later on. In a nutshell, here's what you need to do:
Clean all your rugs and carpets
Figure out the nap direction
Turn them upside down
Roll them up
Tie everything up
Wrap up to finish the process
We would also like to mention that this works for all "standard" rugs and carpets. If you have a unique piece that you need to relocate, it is always better to leave it to the professionals. You may also need some extra supplies, such as large pieces of Kraft paper, some string, and packing tape. If you need to acquire any packing materials such as moving boxes Seattle or anything else, all you need to do is get in touch with Hansen Bros. Moving and Storage and we will deliver them to you. But for now, let's see about these steps in greater detail.
Cleaning the rugs and carpets
Right, the first order of business is to thoroughly clean your rugs and carpets. Start with vacuuming the rugs to remove any bits of food that are leftover, as well as any accumulated dust. There can be other matter hiding in the fibers and you want to remove it before relocating. The main reason why you want to be thorough is to avoid any interest from pests. If you are not hiring a storage unit from one of the movers Kirkland WA has to offer, for example, and are not sure about the quality of your storage unit, you don't want to risk any pests finding their way to your carpets. For best results, you may also want to leave the rugs out in the sun for a few hours before you pack them.
But if you have a rug or a carpet that is with you for years and years, and is soiled from its long years of service, consider hiring a professional cleaner. Cleaning it on your own may be more trouble than it's worth, to be completely honest.
Figuring out the nap direction when packing rugs and carpets for moving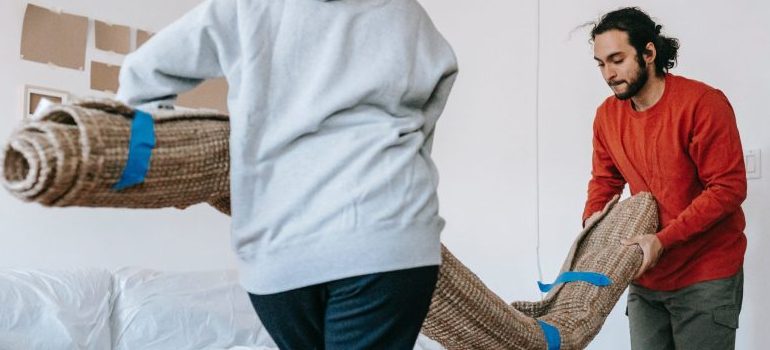 Moving on, did you know that the fibers on area rugs have a specific direction? This direction is referred to as a "nap". In this step, you will be figuring out its direction. The easiest way to do this is to simply rub your palm over the surface of the rug. You will immediately notice whether the fibers are giving you any resistance. One direction will feel smooth while the other will "resist". This is important to know when packing your carpets and rugs for relocation, as you can prevent damage during the transport if you pack correctly.
Turning them up
This step is absolutely critical. Before you can roll the rug and get it ready for transport, you will need to turn it upside down. Why is this important, you ask? The reason is that if you don't do so, you will be putting extra pressure on the backing of the rug. As most inexpensive rugs are stiff-backed, this can cause cracking and stretching, both of which can permanently damage the rug. So, to be perfectly safe, simply turn your carpets and rugs over before getting to the next step.
Rolling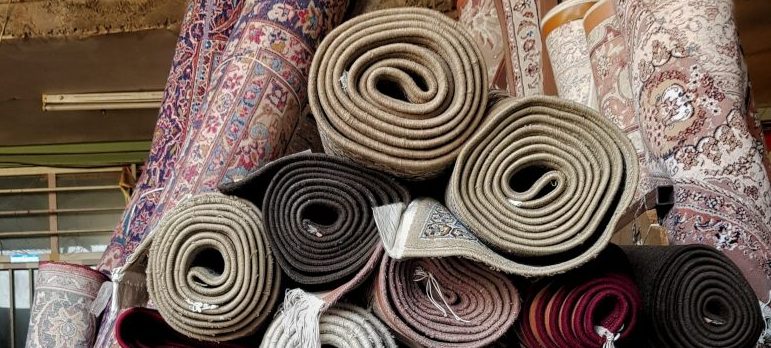 This part is relatively simple. All you need to do is start rolling against the direction of the nap, which you've previously determined. You will want to create a tight cylinder at this point, and you can do that by rolling the rug slowly and carefully. Having a tight cylinder will help you handle and move the rug much more easily. If you absolutely can't manage this step on your own, you can always contact professionals to do it for you. Just make sure to let them know to include rug packing in their free quote. Otherwise, you may be surprised at the packing cost. It is not going to influence things all too much, to be honest, but it is always good to know beforehand.
Tying everything together when packing rugs and carpets for moving
We're getting to the end of the process now. Before we can wrap everything up, there is one more thing that we need to do. And that is tying your carpets and rugs. You are going to need some string, or twine, for this part. And you will use a piece of it to tie the carpets at each end. This is the best way to secure the rugs and carpets for transportation, ensuring that they are not going to unroll mid-way. Make sure not to use any packing tape at this point, as that might damage the rug. You will use it soon enough.
Wrapping up
The last piece of the "puzzle" that is packing rugs and carpets for moving is to wrap them up. You will want to avoid any materials that are made out of plastic, as that can damage the rug. While plastic is excellent for keeping the carpets and rugs safe from external influences, it also prevents them from "breathing". In other words, it will trap moisture in, possibly creating mold and mildew. What you want to use for this purpose are sheets of Kraft paper or hard brown paper. Once you have the rug wrapped, simply secure it with packing tape.
Let our team put together a comprehensive moving plan for you. Complete our simple free quote form or contact us at 1-888-300-7222.