How to boost your relocation budget
We are all aware of the fact that moving is expensive. That's probably the reason why everyone associates negative feelings with the notion of moving. Moreover, that's why plenty of people opt for the DIY moving option, not being aware that DIY move sometimes ends up costing more than an assisted relocation. So, let's pose the question that seems to be on everyone's mind – how to boost your relocation budget and have enough money to pay for premier moving services Seattle? As you are about to find out, there are a couple of simple and creative ways to do just that.
While we can't deny that there are many resourceful ways through which you could earn some additional money for your relocation, the fact is that four of them seem to be the most used ones. The next time you find yourself in need of a budget-friendly location, think about using the following options:
Be careful when choosing your perfect moving company in Seattle.
Make decluttering a mandatory part of your relocation.
Find reusable packing materials of good quality.
Relocate only those things you really need.
1. Choosing your movers
How affordable and successful your relocation will be will depend on the movers you choose. Naturally, you want to have the best movers money can buy, without having to pay a top-dollar price. That's why you need to be really dedicated to your online research as it can reveal all types of details about a company. Once you find a couple of candidates that fit the profile, you can go ahead and ask for a free online moving quote.
But remember – you are not looking for the lowest price. In order to boost your moving budget and have a successful relocation at the same time, you need to find a company with the best quality to affordability ratio. So don't let the price be the deciding factor. Take a look at the services the quote includes and then compare and contrast the quotes you got. Trust us – once you take a good look, the winner will be quite obvious.
2. Decluttering will significantly boost your relocation budget
Take spring cleaning to a whole new level when moving and save a lot of money this way. It's important to mention that decluttering should be a mandatory part of any relocation – even if you are not trying to save money. However, what you do after the cleaning spree will have a significant impact on your relocation budget. Namely, you can put together an irresistible garage sale and make as much as a couple of hundreds of dollars.
Of course, you can always decide to be charitable and donate your superfluous items. If you are donating any larger pieces, make sure you notify your charity of choice. Some of them will have to prepare for your arrival, depending on the volume and size of your donation.
3. Reuse old packing materials
Have you decided to ship your belongings to the new location? Are you opting for DIY packing? Then you are going to need quality packing materials. After contacting international shipping companies Seattle and making an arrangement, you only have one thing to do – shop for supplies. The problem with this one is that a complete spectrum of packing materials can sometimes be very pricey. On the other hand, you need to ensure you have enough of these necessities, as they are vital for your relocation.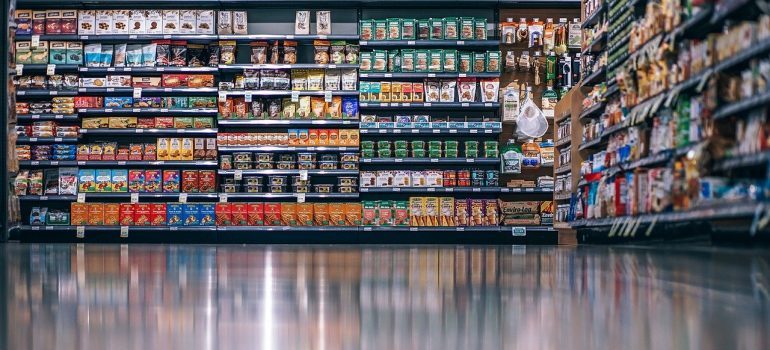 However, there is a great and budget-friendly solution that a lot of people forget about – reusing packing materials, mostly moving boxes. In fact, this is one of the best ways to boost your relocation budget as you don't have to spend any money but can save a significant sum. For starters, ask your relatives and friends whether they have any supplies that they are willing to share. Considering the fact that every American will move at least a couple of times in their lives, so it's safe to say you will be able to find some supplies this way.
But if that doesn't work, you can always tour local supermarkets and bookstores. They receive deliveries on a weekly/daily basis and have sturdy boxes in spades. And when it comes to miscellaneous packing supplies, just visit the local dollar store. You will be able to find a lot of packing materials for, you guessed it, a dollar!
4. Decide what goes and what stays
We completely understand your need to bring all of your possessions with you. Alas, that's only natural, as we all want to keep our most cherished memories alive. But when going through relocation, that's probably the worst thing you can do – if trying to save money, of course. One of the safest ways to give your relocation budget a boost is by packing smart. 
Will transporting an old and run-down sofa be a better choice than replacing it with a new one upon arrival? If you were planning on replacing it in the near future, it's safe to say that you ought to leave it behind. Interstate Movers usually charge based on the weight of the cargo and taking a bulky item out of the mix will significantly help with having a budget-friendly relocation.
Give your relocation budget a boost and have a safe move!
We are firm believers that it's possible to have a safe relocation in Seattle (or any other place for that matter) without having to break the bank. All it takes is a bit of creativity and consideration on your part. When you think about it, you will realize that it's quite easy to boost your relocation budget. Plus, now you have a few tricks up your sleeve – all you have to do is use them wisely and to your advantage!
Let our team put together a comprehensive moving plan for you. Complete our simple free quote form or contact us at 1-888-300-7222.