Label boxes for moving like a pro
Relocation is an event that requires precise planning and good organizational skills. This is why so many people feel uncomfortable when they decide to move. It is not easy to continue with your regular daily activities like job, training, and taking care of children while preparing for the move at the same time. One way to make your situation a bit easier is to get professional assistance for this occasion. Find reliable Seattle local movers and get some of the worries out of the way. This way, you will be able to concentrate on some other equally important stages of the relocation process.
You still have to pick the right house, find a nice neighborhood, and so forth. However, if you decide to pack on your own we know a few useful tricks that will help you get through these difficult times. In this article, we will show you how to label your boxes for moving so you don't get lost and forget something along the way. Make yourself a cup of coffee and let's start.
What tools do you need for this task?
If you wish to accomplish the packing process on your own you will need some basic tools:
Cardboard boxes
Scissors
Marker pens
Label stickers
Packing paper
Bubble wrap
Packing tape
This is essentially everything you need – you can get these items from a local retailer or at competitive prices from a quality moving supplies provider. To make the packing process easier and more enjoyable we advise you to include other members of the family. Make a packing plan and divide the tasks to other household members. Try including your kids in the proceedings. This will make them feel like part of the team, and help them overcome the stress of changing their surroundings. You can also call your friends to help you out, as this might be your last chance to spend some quality time with them, especially if you are moving long distance.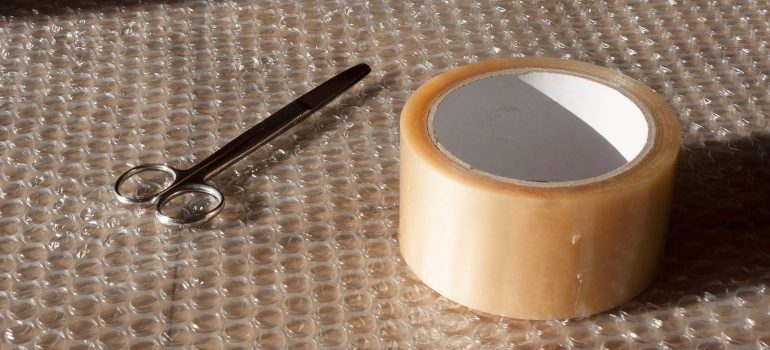 Where to get quality moving boxes?
If you have the time and willingness to source, screen, and retrieve used cardboard boxes, here are some sources you can try, saving you some money along the way.
Your local supermarket. Big stores receive shipments on a daily basis and all those goods come in boxes. Usually, they end up in dumpsters, so there is a fair chance that they would give them to you for free if you ask. Find the store manager, and explain your situation.
Visit your local bookstore or specialized liquor store. Books and bottles are heavy, so you can probably find sturdy boxes in these stores.
Ask friends who recently moved if they still have some leftover boxes.
Internet. These days, social networking sites like Facebook have groups dedicated to almost everything, moving included. See if there is someone in your local community who is giving away used moving boxes.

Moving boxes are not expensive, but you can save some money by getting used ones, or try to get them for free
Label boxes for moving by color and name of the room
This is the oldest trick from the book when it comes to labeling your boxes for the move. Use a black marker to write the content of the box, for example, "Jenny's books" or "Marks' toys". On top of that use a color sticker or marker to indicate to which room that box belongs. Put yellow for kitchen, red for living room and so on.
Labeling systems will greatly reduce the amount of time needed for unpacking, and you will also lower the chances of forgetting something. It will also give your moving crew an idea of where to put the boxes. Don't forget to label all the boxes containing expensive china, artwork, and electronic devices with the caption "Fragile". This way you can rest assured that the moving crew will deal with these boxes with extra care.
Use numbers to label boxes for moving locally
Equally important for a local move is to label each and every box with a number. To summarize, each box should have content written on its side, a dedicated color, and a number. Next, print a list with all the numbers, content, and color adjacent to that number. This way if any of the boxes get lost, you can take a look at your list and immediately know which box is missing and what was inside of it. This is an unlikely scenario if you hire a reputable moving company, but it's better to do that now instead of scratching your head in disbelief later.
And this is exactly the reason why we would like to suggest you check with your homeowner's valuation provider and consider valuation coverage for your move. No matter how professional the moving company might be, accidents can occur. It pays to be protected.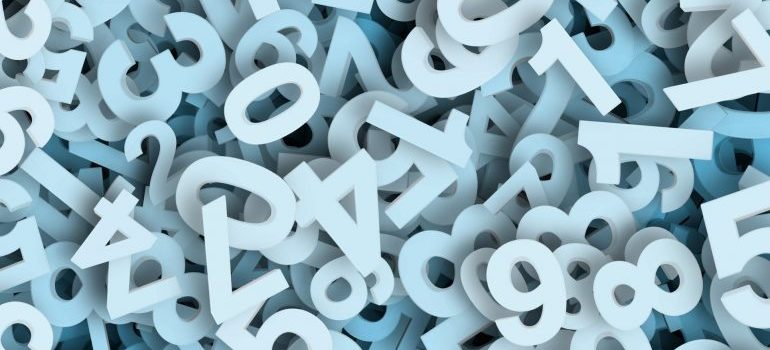 Add priority markings to your boxes
Remember that when you arrive at your new destination the moving process is still not over. You have to unpack and make your new place suitable for living. This is a process that could last for several days even if you are well-organized.
Important tip: clean your home before unpacking. It is easier to clean an empty apartment. When it comes to unpacking, having priority markings on your boxes is crucial. For example, you will need tools to set up your new living space, so mark those boxes with priority labels. Use "Important" or letters H, M, L for "Highly important", "Medium", and "Low". Highly important are boxes that contain clean clothes, some of the dishes, cosmetics and so on. In other words, everything you need to resume your daily activities. On the other hand, you probably won't need your ski equipment and beach accessories immediately. For this reason, mark these boxes as low priority.
As you can see, moving doesn't have to be complicated if you are well-organized and you have a good plan. Most of the unfortunate moving events occur when people forget to label boxes for moving. Follow the tips we have presented above and you won't have any problems. We wish you a safe relocation.
Let our team put together a comprehensive moving plan for you. Complete our simple free quote form or contact us at 1-888-300-7222.