Top eco-friendly packaging ideas to save money
When you're moving, you're spending a lot of money on things that you wish you didn't have to. Most of the time, one of those things is packing supplies. Well, what if we told you that there were ways to use eco-friendly packaging ideas and save money at the same time? Yes, you can save the planet and reduce your moving costs while packing, and it's not difficult either. We know that packing is a nightmare for most people, so we'll try and make it a little bit easier for you. Whether you're packing your things for Seattle storage or for an upcoming relocation, these tips should give you an insight into the world of packing. We hope this will make packing less stressful for you.
Downsize before implementing eco-friendly packaging ideas
Decluttering and downsizing is always a good idea. We all let our belongings pile up over time and we don't even notice that we have too many things at one point. That's why you should try and declutter your home regularly instead of waiting to relocate. When it comes to moving house, downsizing is a step you shouldn't skip.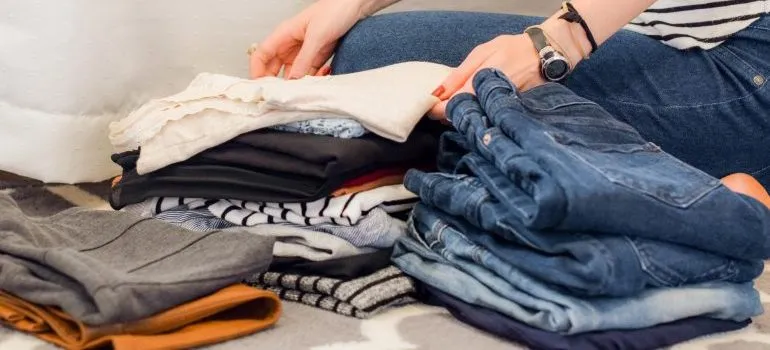 First of all, getting rid of things you don't need will make packing easier and quicker. Other than that, you'll need much fewer moving boxes Seattle, so you'll be saving money and creating less waste. Not only will you be saving money on packing supplies, but you'll also pay less to your professional movers. Because moving companies charge by the weight of your shipment, you'll be paying less if you have less stuff. So, before you get into the eco-friendly packaging ideas, you should ideally pare down of all your unneeded belongings.
Don't worry, this doesn't mean you need to trash everything. There are a few things you could do with the things you don't want to bring to your new home.
Donate the items you don't need or want anymore. You can take them to a charity shop nearby and help those in need.
Give things away to your friends and family. If there's someone in your life who would like to have these items, why not make them happy?
Sell everything you won't be using again. Organize a garage sale or sell these items online. This is a great way to earn some extra cash before your relocation.
Use things you already own for packing
Maybe you aren't aware of this, but you already own a lot of things you can use for packing. And what better way to implement eco-friendly packaging ideas than by avoiding unnecessary purchases and creating zero waste? If you're not sure which things you can use for packing, we'll give you some ideas.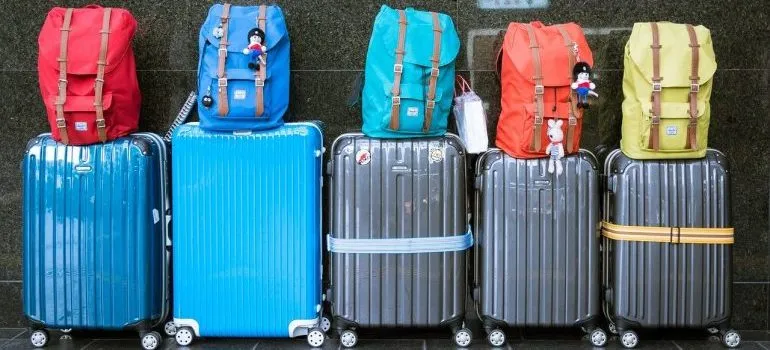 Bags and suitcases: Everybody has a lot of different bags and a few suitcases lying around. When you're moving, you'll definitely bring these things with you. So, why not get some use out of them and utilize them when you're packing?
Dresser drawers: If you're taking your furniture to your new home, there's a way to make it useful. You don't need to take everything out of your dressers. Instead, you can keep your clothes, underwear, socks and other lighter things in the drawers. Just remember to tape them shut.
Laundry baskets
Blankets and towels: Another eco-friendly packing idea is avoiding bubble wrap by using things you have. Instead, use blankets, towels or clothes for wrapping your fragile items.
Not having to buy packing supplies will help you cope with moving stress easier, so look around your home.
Second-hand eco-friendly packing ideas
Another great environmentally-friendly packaging idea is getting used packing supplies. Your first option is looking around your home and seeing if you already have some packing supplies. If you've moved in the past, it's possible you already own the things that you need. If not, don't worry.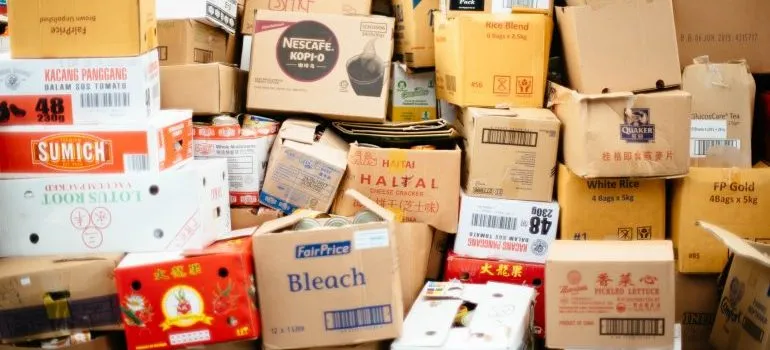 Go online and find used packing supplies there. There are websites like The Freecycle Network where people offer their cardboard boxes and other supplies for free. So, this is a great way to save money.
Ask your friends and family if they have any packing supplies.
Visit your local grocery stores, pharmacies, bookstores, liquor stores, etc. They get regular deliveries so they probably have a lot of cardboard boxes they don't need.
By doing this, you're reusing boxes instead of throwing them out and you're not spending any money. It's a win-win situation.
Use boxes made of recycled plastic
When you're thinking of eco-friendly ideas for packing, you should consider using recycled plastic. Of course, regular plastic isn't environmentally-friendly at all. However, if you're using recycled plastic, you're not harming the environment. This material starts degrading much quicker – sunlight can start the degradation process. If you decide to use this type of moving boxes, make sure to label the boxes and keep them away from the sun.
Do these eco-friendly packaging ideas work for you?
So, these are the eco-friendly packaging ideas we recommend looking into. By using these things for packing your belongings, you're spending less money on packing supplies and you're saving the environment. What more could you ask for? We hope that these tips have helped you and given you an idea of how to pack and remain environmentally-friendly.
Let our team put together a comprehensive moving plan for you. Complete our simple free quote form or contact us at 1-888-300-7222.