How to childproof your Seattle moving day
However exciting moving to a new home might be, it's also a stressful event. There are so many things to think about. And having your young children unattended in the midst of a hectic day spell recipe for disaster. So, Hansen Bros. Moving & Storage has you covered for everything moving-related you may need. Today our specialists will share their best tips on how to childproof your Seattle moving day, and make it safe for the kids, and easier for yourself. Hence, read on and take notes to prepare for smooth sailing to your new abode come moving day.
Childproof your Seattle moving day with a good plan
Planning is the secret sauce for a successful moving day. And this includes a pre-planned strategy on how to make your home safe for your kids upon your Seattle moving day. Of course, you may think that going along with the flow and doing your best to keep your composure is the way to go about it. But, taking it as it comes isn't exactly going to work for the best in this case.
Our seasoned pros at Issaquah moving companies point out that having a foolproof plan on how to keep your children busy is the best possible route to take. So, knowing your options beforehand will spare you the headache later on. It's best to have in mind what exactly can you do to keep your kids safe during the moving process. And ideally, away from the moving scene, to allow everything to glide smoothly and with no delays. There are a bunch of tasks to mind and supervise during your Seattle moving day. Thus, you shouldn't put your multitasking capacity, and nerves, to the test. Hence, here are a few useful suggestions of how to ensure the safety of your Seattle moving day for your kids.
Stash away hazardous items
Make arrangements
Designate a play area
Create moving day rules
Put your kids in charge
Help yourself to organize your move without unnecessary worries by renting self-storage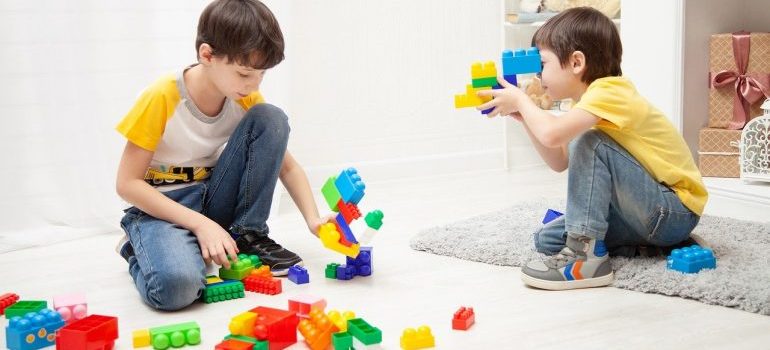 Moving is hectic. Even if you haven't done it before, it's easy to imagine why. Everything around the house gets out of place. Therefore, numerous items present opportunities for your kids to get in trouble. So, it depends on the particular age of your kids, but all the same, you won't have time on hand to watch over them and ensure no one gets hurt.
For instance, if you're particularly worried about your children being around sharp kitchen objects, or household chemicals that you need to put out due to the move, consider tackling this issue with thoughtful utilization of portable self-storage Seattle solutions. Hence, stash everything that disturbed your peace of mind of the way, and allow yourself to productively proceed with your Seattle moving day preparations.
Ensure your childproof Seattle relocation by making arrangements for your kids
Do you perhaps have a relative or a friend whom you trust to watch over your kids while you deal with the task at hand? This will be an ideal solution once your long distance movers Seattle arrive.
Moving creates situations when grown-ups can easily get hurt due to the object moved around, let alone kids. Thus, having your children away from the house on your Seattle moving day will keep your stress levels significantly lower. For example, you can take them to a relatives' house and pick them up later, on your way to your new place. Or, ask your trusted friend to take your kids to the park. If any of this is feasible, it's an effective and simple way to make your Seattle relocation day ultimately safe for the kids.
Designate a kids zone in a safe corner of the house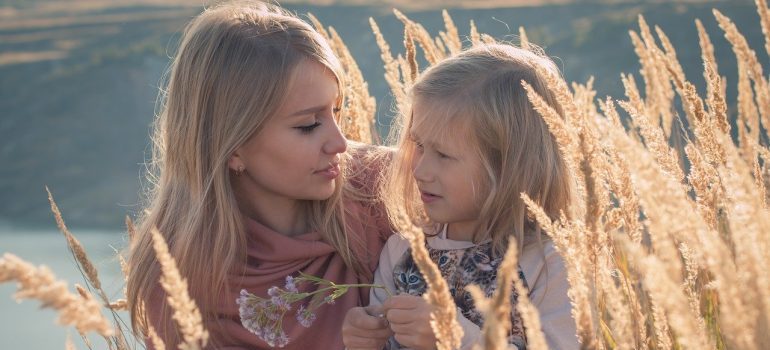 With a bunch of moving boxes and loose pieces all over the place, injuries are easy to occur. Therefore, ensure you create a comfortable corner somewhere in your home for your kids to play. The best way to childproof your home come moving day is to keep your kids busy and off the moving scene. So, figure out a spot where you can make a play area for the day. Provide blankets and pillows for comfort, and supply your kids with their favorite toys. You can also consider hiring a nanny on your Seattle moving day. This way you'll make sure your children are attended to, and stay out of harm's way.
Talk to your kids and make moving day rules
To childproof your Seattle moving day, talk to your kids and come up with a set of rules to follow. Hence, give them the chance to participate in the rule-making process, and they will happily apply those as your Seattle moving day proceeds. Ensure they understand and acknowledge the safety aspect of the process. So, make a deal with them, and you can be sure that everything goes as it should when your movers arrive. The key is to work closely with your kids. As long as they understand that moving is teamwork and everyone needs to do their part to facilitate it, everyone will be shielded from mishaps.
Delegate some duties to your children on your Seattle moving day
If your kids are older, it will be easy to find something to keep them busy and safe on Seattle moving day. For instance, you can ask them to take the dog for a walk in the park or allow them to play with friends nearby. Just set up the time when you'll need them to return. Besides, you can keep them in charge for some simple errands, like getting some refreshments for the moving team from the nearby grocery store. Make your Seattle moving day incident-free for your kids by collaborating and coordinating their duties and tasks ahead of time.
Last but not least, make sure you don't forget the safety aspect in your new home upon your Seattle moving day. Hence, make good use of some of the above tips on how to childproof your Seattle moving day. They will be as effective in your new abode as well. Withal, follow our advice, and you'll move your home and your kids with ease. Good luck.
Let our team put together a comprehensive moving plan for you. Complete our simple free quote form or contact us at 1-888-300-7222.