How to pack and move car equipment
Regardless of whether you're a manufacturer or an enthusiast, it is important to know how to pack and move car equipment. Car parts come in different shapes and sizes, so your approach may be different every time. However, it all revolves around the same principles. Every step of packing and moving auto parts is based on protection and safety during transport. Of course, everything will be perfect if you hire the best moving company in Washington. But even so, you have to make sure everything is perfectly safe before they take over. Today, we'd like to tell you how this can be done. Follow our guide and you won't have to worry about damages and safety. Before you know it, your precious car parts will be at their new home, in mint condition.
Before you pack and move car equipment, take measurements
When it comes to both moving your household items or your car equipment, it is always a good idea to measure the items in question. When you have accurate measurements of all your items, you will be able to solve many problems at once. First and foremost, you will know exactly how many packing materials you'll need to use. Depending on the parts you're moving, you may need some special materials too, such as boxes!
By measuring your items, you'll also know how big your moving crates should be. Remember, you don't want to leave too much empty space in the box because the item can tumble around. Lastly, your chosen local movers Seattle will know just how much space they will need to fit it all inside the moving truck. If you want to make the whole process easier, then grab a tape measurer and get to work!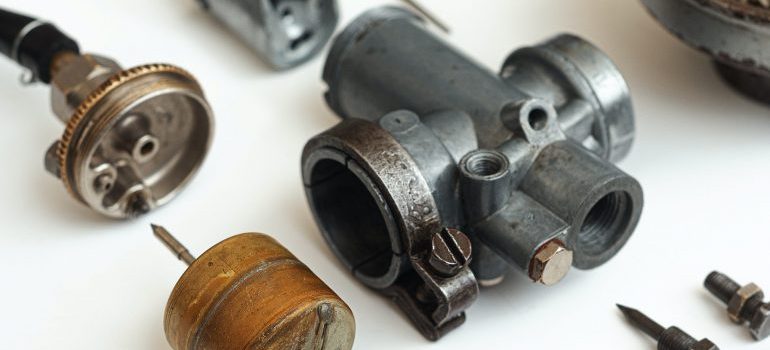 Making sure you know the exact dimension of your car parts is especially important if you decide to ship them over long distances. In this case, good preparation leads to good results. Depending on where your items are going, your carrier or the local authorities may want to know the exact contents and measurements of your shipment. So you can solve this problem too if you prepare in advance. Pair your own good preparation with the professionalism of your chosen movers, and you'll be able to pack and move car equipment without a single issue!
Always make sure that your car parts are completely drained of fluid before moving
If there is one rule to follow when packing and moving car parts, it is this one. Always drain all fluid from your parts before shipping them. When it comes to this specific rule, there are no exceptions. Different fluids, such as water or oil, can cause quite a lot of damage.
Imagine for example, that you're using Seattle storage solutions for the safekeeping of your car parts. If motor oil leaks from an engine, it can ruin both the unit itself and the items you're storing. Not only is it hard to clean, but it is also flammable as well. The same goes for moving companies. Movers and shippers will refuse to move parts that aren't drained of fluids. If a leak occurs, it'll put everything and everyone involved in danger. With that in mind, always remember to drain fluids, and let your movers know that you did so.
Once you drain your car equipment, give it a thorough cleaning and polishing
So, you've made sure that all of your parts are no longer full of troublesome fluids. But it doesn't end there. As different mechanic components are in use, they acquire a layer of dirt and grime on them over time. Then there's also some fluid residue from the draining as well. All things considered, it is time to do some cleaning.
Depending on the materials your parts are made of, you may need different cleaning materials. However, the most basic items you'll need are metal polishers, microfiber cleaning cloths, brushes, soap, and sponges. The good thing is, these items aren't hard to come by and are inexpensive. Maintenance of your car equipment prior to moving goes a long way and greatly benefits the parts themselves. Besides, if you're sending your parts to someone else, the last thing they'd like to see is a box full of greasy gears and components.
Proper choice of boxes makes all the difference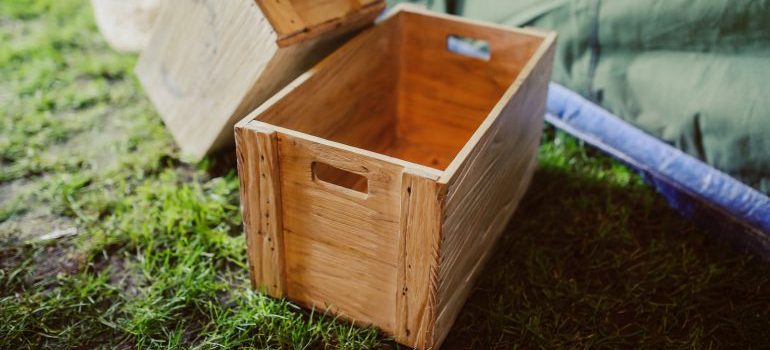 It goes without saying that regular cardboard boxes simply won't work in this situation. Mainly because auto parts can be so heavy and difficult to move around. Then there's the fact that they often have odd, protruding, and sharp edges. For these reasons, thin cardboard isn't a good container. This is why our packing and shipping experts at Hansen Bros. Moving & Storage always advise using durable wooden cases or crates. Do keep in mind, however, that you need to find boxes that are only slightly larger than your parts, in order to secure a snug fit.
There are two ways to prevent your items from shifting around during transport. Either try to find compact boxes which fit your parts, or pack several components in one larger box. If you choose to use a large box, divide your parts with a thin piece of wood to prevent them from bumping into each other.
Quality materials will help you pack and move car equipment with ease
Now that all of your parts are nice and clean, and you have the correct boxes, it is time to put it all together. Before you let our shipping and transport pros take over, you need to use good packing supplies which will ensure maximum safety for your items. For starters, wrap your parts in a generous layer of stretch tape, to provide soft padding for the delicate parts. If you want to reduce vibrations and nudges, you can isolate the inside of the box with sponges, pads, or styrofoam blocks.
The type of cushioning you add to the box will depend on the size of the parts you're shipping. For small parts, you can fill the box with packing peanuts. For big and heavy parts, the most common material used is specialized packing hay. With these materials, you can be sure that your car parts will be perfectly safe!
Let our team put together a comprehensive moving plan for you. Complete our simple free quote form or contact us at 1-888-300-7222.