How to pack your workout gear
Having a home gym can be extremely convenient if you lead a busy lifestyle. You can simply work out whenever and however you want. But, when you decide you want to move your home things can get tricky. That convenient home gym suddenly turns into a nightmare. On top of the usual moving tasks, it is the last thing you want to deal with. Workout equipment is heavy, bulky, and surprisingly fragile. Figuring out how to pack your workout gear for transport is not easy. But it is essential if you want it to arrive in one piece. Whether you need to move a few weights or multiple machines Hansen Bros. Moving and Storage experts offer their advice.
Before you pack your workout gear, make sure it is clean
Before you actually get to packing your gear and equipment, there are a few steps you need to do. Every successful move starts with prep work and research. It is essential if you want to keep organized and safe.
For starters, you should deep clean and disinfect each and every item in your home gym. Bacteria and germs are not something you want to bring into your new home. Moving is a perfect opportunity to get everything nice and tidy. Plus, this allows you to quickly set up in your new place. You will be able to hop onto the treadmill in no time, without disrupting your schedule.
First, remove any obvious signs of dirt and grime. You can simply wipe everything down with a rag and your favorite cleaner. Microfiber cloths are great for removing dust. Pay special attention to any handrails.
Let the gear air dry before proceeding
Apply a sanitizer. The most convenient and quick option are sanitizing wipes. Gently wipe down surfaces and let dry once again.
As a bonus step, you could use a disinfectant. This will ensure no bacteria survives.
Start packing with smaller items
Since packing is such a tedious task, you can make it easier by starting with smaller items. It is easy to get overwhelmed so try to tackle the simpler tasks first. If you find yourself stressed out, consider hiring movers. Most moving services Seattle has include packing in their offers. You can begin by packing items like yoga mats, blocks, resistance bands, towels, etc. All you need is a sturdy cardboard box along with some tape and packing paper. Roll your mats, secure them with tape, and place them inside the box. They are probably the bulkiest item in this category so packing them first is important. Once you are sure they fit well, place the other accessories in. If there is any space left, fill it up with packing paper. If you do not have packing paper, newspapers can work in a pinch.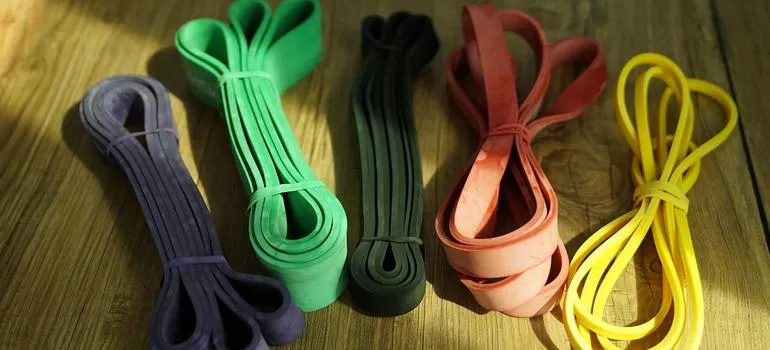 Deal with weights, dumbbells, and kettlebells next
Knowing how to pack heavy workout equipment is the key to getting everything to your new residence safely. Improperly secured exercise weights could damage your belongings or property. Packing weights is difficult for multiple reasons. They are heavy, oddly shaped, and come in a variety of different sizes. It is not as simple as just throwing everything inside a box. Our moving experts recommend small, sturdy boxes. Pack each set individually if possible. This will help distribute the weight. For padding, it is best to use bubble wrap or styrofoam. This will prevent them from moving around during transport. You can even throw in blankets and towels inside as an extra safety measure. However, when it comes to long distance or international moves, we recommend seeking the help of international movers Seattle residents recommend. The risk of damage is simply too high to be neglected.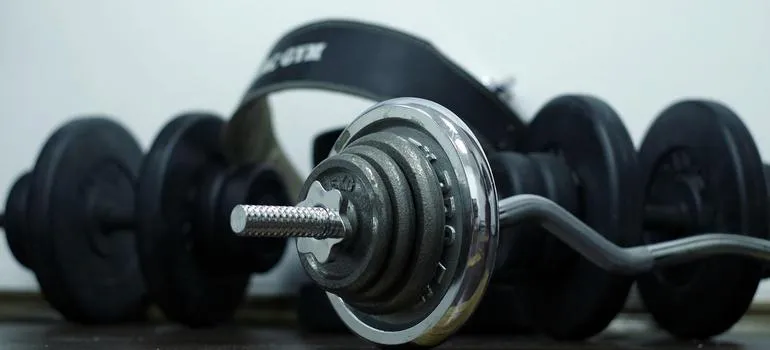 Tackle your large workout gear last
Moving large workout machines is a more complicated process. You will need to come up with a plan and execute it carefully. As a moving company Washington residents trust, we recommend getting professional assistance with this task. Reliable movers will know the most efficient ways to disassemble, pack, and transport such items. However, if you have to do it on your own, here is some general advice that will be helpful:
Packing a treadmill
Moving a treadmill is a workout in and of itself. Before you start, consult the user manual. Some treadmills can be completely disassembled while others can be folded down. Make sure it is unplugged and turned off, with the incline set to zero. Place a moving blanket on the floor to prevent scratches and follow the instructions. Once everything is taken apart, wrap it in moving blankets for protection. For local transport, place it inside a box and seal. For long journeys or international moves, look into shipping crates Seattle movers offer.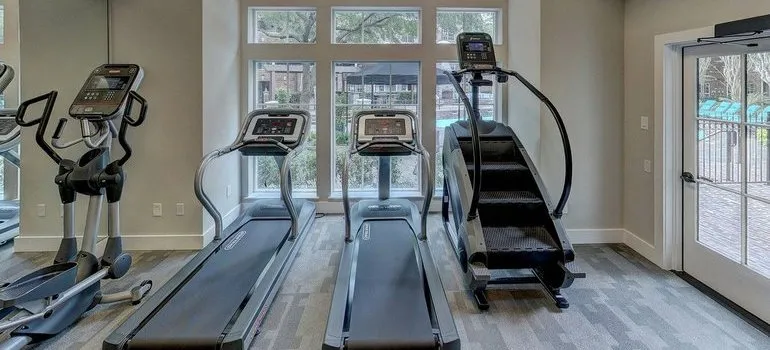 Packing an elliptical machine
Unlike a treadmill, elliptical machines are a bit more complicated to move. This is because of their unique shape and the fact they cannot be simply folded down like treadmills. The best way to pack this particular piece is to take it apart. Of course, consult the user manual before you do. First, unscrew all parts like the console, handlebars, base, and pedals. Wrap each part separately with the packing material of your choice and label the box. Make sure to keep all screws, nuts, and bolts somewhere safe.
You should now have some idea about how to pack your workout gear for moving. It is not an easy process – equipment is heavy but delicate at the same time. It takes up a lot of space and is usually oddly shaped. But with our tips, anyone should be able to do it without a problem. As long as you have a set plan, quality moving materials, and free time it should all go smoothly.
Let our team put together a comprehensive moving plan for you. Complete our simple free quote form or contact us at 1-888-300-7222.