Guide to moving from Washington to Oregon
At a first glance, moving from Washington to Oregon doesn't seem like a big deal. They're neighboring states, so organizing everything shouldn't be that difficult, right? Well, not quite. Every movie requires a lot of planning, time, and resources, and this move is no different. Luckily, we're among the best movers Seattle has to offer, and we'd be delighted to help you on this journey. Anyone who loves natural scenery, great weather, an expansive coastline, a booming economy, and fantastic coffee, will absolutely love moving to Oregon. Its vibrant economy, strong job market, and scenic atmosphere make it one of the most coveted states. However, before you start your journey, you need to prepare. Moving is a big decision, which shouldn't be made lightly. But, that's why we're here! We've put together a guide that will help you on your upcoming adventure.
The most important things to know before moving from Washington to Oregon
Whenever we decide to move, we want to make sure we're familiar with a few important things. Finances play a big part in moving, which is why we want to know what awaits us in the new state. Some of the most important factors to consider are the housing costs, the taxes you need to pay, and the weather of the area. So, let's see where Oregon stands in terms of these factors.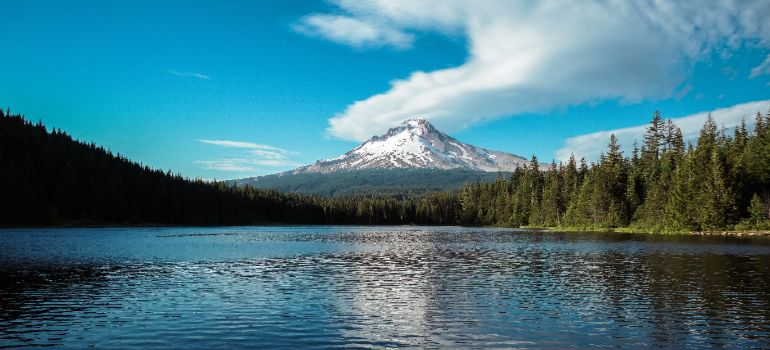 The housing market is very similar to that of Washington
Before you hire cross country movers Seattle, you need to either purchase or rent your new home. And for this, you need a price estimate. Generally speaking, your decision to rent or buy will be determined by your budget, and the area you're moving to. The numbers we are presenting you with are based on larger cities such as Portland. If you want to purchase a property, you will have to set aside roughly $340.000. Since 2019, there has been a 5% increase in home values, and they're expected to grow by another 1% in the upcoming years. Renting, on the other hand, will set you back roughly $1800 for a 2-bedroom apartment.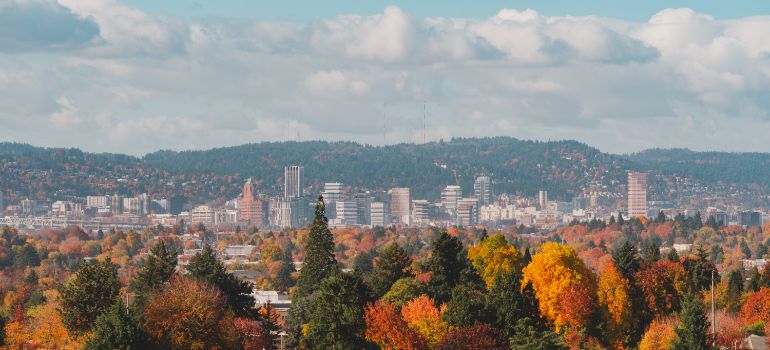 Taxes are moderately low and favorable
If you're moving from Washington to Oregon, you'll be happy to know that taxes aren't high at all. The best part about Oregon is the fact that the sales tax doesn't exist. This is one of the five states that doesn't apply sales taxes on any transaction. No matter what you're buying, the number you see on the price tag is the amount you're paying, no more, no less. This is an amazing perk that keeps residents happy and attracts shoppers from other states as well. As far as property tax goes, Oregon ranks 30th for the lowest rate on a national level. Currently, the real estate tax rate is only 1.5%. Lastly, there is the income tax, which varies depending on your income. You will see a variation between 5% and 9.9%, which is slightly higher than the average, yet still well-balanced.
Prepare for varied, yet balanced weather
In Oregon, you'll experience different climate changes, thanks to its geographic location. The coastal temperatures are modulated by the Pacific Ocean, while the central and eastern sides of the state experience more fluctuations in temperature. Usually, summers are dry and warm, while winters are mildly cold, and wet. So make sure you get both summer and winter clothes out of your self storage Seattle. In the summer, temperatures vary from 53 to 82 degrees, while in the winter, they average at around 45 degrees. Oregon experiences a balanced amount of sun and rain, with roughly 150 days of sunshine, and 160 days of rainfall every year. Keep in mind that the amount of rain differs per location. The eastern parts of the state experience below 5 inches of rainfall, but further west, you can experience up to 200 inches per year.
Pros and cons of moving from Washington to Oregon
Now that you know what to expect from the state of Oregon, we can dwell deeper into whether or not this is the right choice for you. We will now look into the pros and cons of moving, and how they can affect you.
Pros of relocating to Oregon
No sales taxes. As we've mentioned before, sales taxes are not deducted in Oregon. This makes living costs more affordable, however, the income taxes are slightly higher than average.
A plethora of outdoor activities. If you love the outdoors, you'll love Oregon, and you won't have to travel far for a vacation after moving. The vibrant nature is perfect for hiking, whitewater rafting, biking, and so much more.
A very strong economy. Currently, the state is among the top 10 rapidly developing economies. This development is projected to steadily increase as the population and job opportunities arise.
Decent and balanced weather. As we already mentioned, Oregon experiences quite a lot of rain. However, if you compare it to other states, you will see many more sunny days, with low levels of humidity.
Cons of moving out of Washington
Higher living costs. Currently, Oregon's living cost index comes up to 125%, which makes it one-third above the current national average.
Higher-income taxes. As we previously mentioned, the income tax varies between 5% and 9.9%. It is currently the 19th state on the ladder of the highest local and state tax burdens.
Plenty of rain. Some people may like it, some people may not mind it. But it is worth mentioning that there is a lot of rain in Oregon, especially in the western parts.
Lack of professional sports teams. This may come as a disappointment to sports fans. The state of Oregon currently has just one pro basketball team, and one soccer team. These are the Portland Trailblazers (NBA), and the Portland Timbers (MLS).
Risk of earthquakes. The risk remains the same after moving from Washington to Oregon, due to their close proximity. Because of its location, Oregon is prone to quite strong earthquakes.
Let our team put together a comprehensive moving plan for you. Complete our simple free quote form or contact us at 1-888-300-7222.