How to reduce relocation expenses
It is no secret that relocations are rather costly ventures. This can be considered one of the main reasons why people think twice before packing their bags and moving more frequently. Sometimes, however, moving is the only option. And, when it comes to that, it is good to know how you can reduce relocation expenses, thus making this big change in your life a bit more bearable on the budget. From finding affordable Washington movers to minimizing your shipment, we will go through all of the ways you can ensure your wallet suffers the smallest hit possible in times like these.
Little things that will add up
Before we address the major things you can do in order to reduce your moving expenses, let's see what are the other, smaller things you can do for the same purpose. While they may not seem like much when addressed individually, it is when you combine them that you will see a big difference.
see that the moving fee provided by the moving company corresponds with your budget. You may be in a rush and have spent little time doing your research on the moving companies that are at your disposal. It is important that you compare at least the top 3 movers Issaquah WA offers before you make your pick. While choosing on cost alone is not recommended, you don't necessarily have to pick the most expensive provider in order to have a successful moving experience.
pick a time and date when movers offer lower quotes. With most moving companies, holidays and weekends tend to be the periods when the prices for their service goes up. Try to schedule your move during the off-season, and thus knock off a certain amount.
don't take all of the services you mover offers. While some are a definite necessity, you might not need the long-term storage or the moving boxes your company provides.
find free moving boxes. Check your local grocery, liquor and clothing stores, as well as the warehouses nearby. Most of them get goods on a daily basis and will have plenty of boxes to spare. Just make sure that they are damage-free and odor-free.
Big ways in which you can reduce relocation expenses
Depending on the budget you are willing to allocate for this process, you may want to consider scratching more significant things off of your moving list. This can include giving up some of your belongings, as well as some moving services you planned on paying for. Now, this may seem scary, but we will guide you through the process step by step, so don't worry.
Decluttering your home
The price of your move will largely depend on the size of your shipment. It's basic math, really, just ask your shipping companies Seattle based. With this in mind, it is smart to use that math to your advantage, and make your shipment smaller. While parting from your home might be so hard that giving up your belongings is unimaginable, we would beg of you to think twice. When going through your closet, or that room or corner in your house that you seldom visit, what do you think you will find? Things that you haven't used in who knows how long. This only goes to show that you can indeed live without these things as you have during all this time. So, why would you spend money transporting them to your new home when you don't need them, to begin with?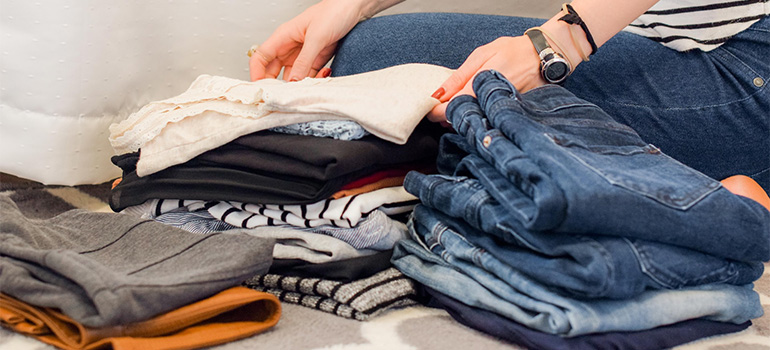 Purge your place of all the redundancies, and considerably reduce relocation expenses by doing so. Just ask yourself whether you've used a certain item in the past 6 months, and if the answer is no – give it up. You can either throw these things in the trash or donate them. There really is no reason for them to stay, apart from them having a certain emotional value. Just don't go assigning the latter to every item you find. After all, you ought to make some space for new things when you move in.
Opting for only one moving service
Whether you are moving internationally or just down the street makes a big difference here. While you may be able to address the latter with greater ease, the former will require a professional touch. However, moving companies have evolved, and now offer a single service for the distance you plan on traveling. That means that you won't have to opt for more services, but rather pick the one that corresponds with your situation. And make sure that you stay with that service without venturing out for more. You may have to give up professional packing, or professional storage units, but times are dire.
Packing is certainly a thing you can take care of on your own. What you need to do is start on time, create a packing plan, and get those free boxes we've mentioned earlier. With plenty of detailed guides on safe packing, you should not struggle with the process. Just make sure to do it thoroughly and conscientiously, especially if you have a long road ahead of you.
Moving on your own
This is the last option and for a good reason. Moving on your own is no simple task, and will require great organization and planning skills. After all, there is a reason why so many people choose the help of professional companies. However, if you want to reduce relocation expenses to the very extreme, this is the only thing that remains. Make sure that you inform yourself properly on the matter of DIY relocation, and call some friends to help if you find yourself struggling. Don't leave it all for the last week, but rather go step by step, so as to ensure nothing is overlooked.
Let our team put together a comprehensive moving plan for you. Complete our simple free quote form or contact us at 1-888-300-7222.