How to ship office inventory from Washington
Office relocation requires thorough preparation and time-wise organization. The more you plan it, the more tasks show up on your list. Besides packing, it's important to know how to ship office inventory from Washington the right way. Only then can you have peace of mind and stay motivated for the duration of your upcoming move. Also, it's necessary to research and hire some of the best movers Seattle has on offer, and pick the ones that will get the work done for you. On the other hand, you can contact us at Hansen Bros. Moving & Storage and check our top-quality offer. Our entire team stands at your disposal, so don't hesitate and give us a call today!
Prepare your office inventory before shipping
Regardless of the duration of your move, you must prepare office inventory properly. Poorly packed chairs, electronic equipment, and other items aren't likely to survive while traveling from point A to point B. That being said, the first thing to do when preparing your office for the move is to organize the upcoming duties. By making a moving schedule, you'll feel less scattered and stressed.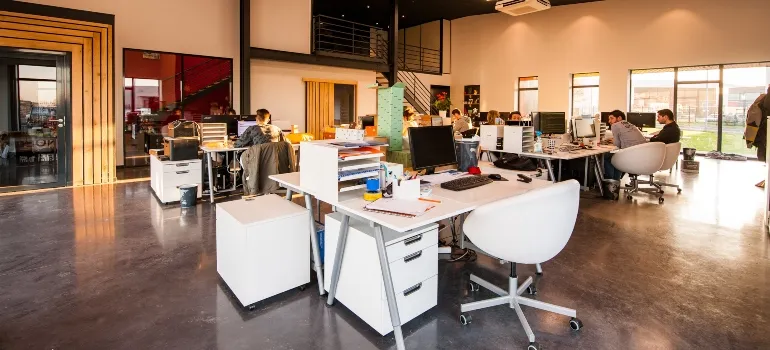 Divide your office move into the following phases:
Choosing shipping method. 
Hiring qualified movers.
Decluttering and shopping for the move.
Renting a storage unit. 
Packing and shipping. 
Choose a shipping method that works best for you
One of the most important factors of business relocation is shipping and transport. Inventory and other goods may get lost in the way, or get stolen. To prevent this, make sure not to jump into hasty decisions when looking for the right shipping company. Rely on various reviews and also get in touch with any particular company. Those that have a developed tracking system are the ones that will ensure your items don't get lost in the process.
Merchant shipping is the most popular shipping method for business owners. However, not all couriers will charge the same amount of money. A total shipping price depends on your destination, storage location, and parcel sizes. Therefore, focus on courier services that provide excellent services at a reasonable price.
Find capable movers experienced at commercial relocations
The movers that are praised by a wide array of small and bigger businesses should be the ones to handle your office move. That's why it's necessary to research the movers before you sign a deal with them. However, bear in mind that looking for the right company can often be time-consuming. It depends on whether the company is available when it suits you, and if it provides much-needed services.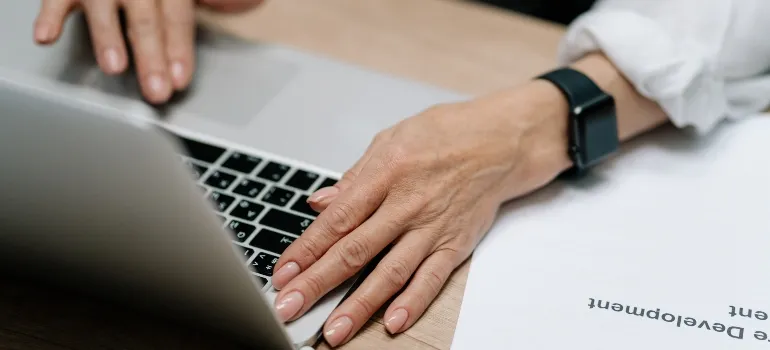 By following these steps, it won't take you much until you connect with the best movers for you:
Remember to look up only licensed movers that provide a free moving quote.
The company's reputation matters, so go with those that have a clean track record and fulfill their duties towards each customer.
Write down contact information and make calls. Speak with their personnel about all moving matters, and don't hesitate to ask questions. Their duty is to provide you with all the information you must know.
Make sure you're hiring a full-service company with rich experience in commercial relocations.
It would be even better if a company you want to hire provided shipping services as well.
Don't forget to declutter
Decluttering is much-needed when moving your office (and business). There's a great chance that not every item has to go with you. That's why you should take a day or two to completely sort all spare items in your office. You may either sell, donate, recycle, or toss the items. The benefits of decluttering are the reasons why this is the first thing to do before you even make a moving shopping list:
When you have fewer items to pack and move, you automatically save a certain amount of money. Once you complete the decluttering process, you can make a moving checklist with an accurate number of boxes and additional supplies.
A smaller number of items means less work for your movers.
You won't clutter your new home once you get rid of spare items.
Secure a good storage unit on time
Research about storage units in your moving destination where your office inventory will be stored. However, ensure the storage you consider renting is pest-free and climate-controlled. Only then your items will be fully safe and sound during the rental period. Just make sure you can have complete access to your belongings. Also, don't forget to read reviews about movers Shoreline WA has on offer and their storage services.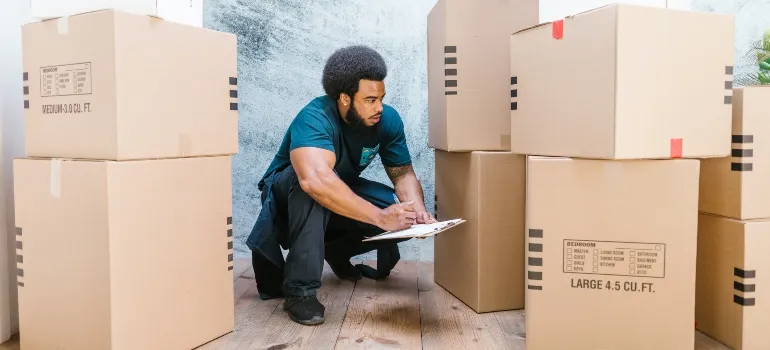 Pack your office inventory properly before you ship it
Packing and shipping come last, after completing all the previous steps. That way, packing your office for the move won't seem as tedious. Plus, when you have professional packers at your disposal, chances for something to go wrong are non-existent. This is especially important when packing sensitive items, as well as complex equipment. Professional packers know how to deal with various kinds of items, which makes packing more easier for you.
In case you have bulkier items, like piano, then consider adding piano movers Seattle to your list. Movers who know how to pack and move pianos the right way will do it precisely and quicker than it would normally take you.
Make sure to track your office inventory once you ship it from Washington
In addition to learning how to ship office inventory, you should get familiar with tracking methods. Nowadays, technology is developed to the point that tracking is possible even from the comfort of your own home. This is yet another important trait of a reliable moving and shipping company you should consider. When you have all services you need in one place, it's easy to stay motivated and relaxed during the complex moving process. Plus, you don't have to worry about the whereabouts of your goods thanks to improved tracking tools.
Let our team put together a comprehensive moving plan for you. Complete our simple free quote form or contact us at 1-888-300-7222.