Guide for moving from Washington to Texas
In recent times, more and more people are flocking to the Lone Star State. Because of this, Texas is the second most populated state in the US. In addition to this, it is physically the largest and fastest-growing state in the country. If you're thinking of moving from Washington to Texas, we have some good news for you. From delicious beef briskets to the strong and thriving economy, there is so much this state has to offer. And the best part is, that you can easily find the perfect city to settle in, regardless of your budget or lifestyle. But, before you leave Washington and head down south, you'll need a bit of help preparing. And that's where Hansen Bros. Moving & Storage comes in! We've put together a comprehensive moving guide that will surely lead you to success.
Moving from Washington to Texas means warmer weather
It goes without saying that Texas is very, very big. Given this fact, it makes sense that weather conditions can vary widely, depending on where you're located. From moderate to extreme temperatures, from humid to dry, the weather in Texas is truly a unique experience. In general, summers are hot, and the temperatures average in the upper 90s. Winters on the other hand are usually in the mid-60s and rarely go below this number. With this in mind, you can consider placing most of your winter clothes in Seattle storage for safekeeping. If you're used to the milder climate of Washington, moving to Texas may come as quite a shock. But if you're someone who thrives in warmer weather, you surely won't regret this decision.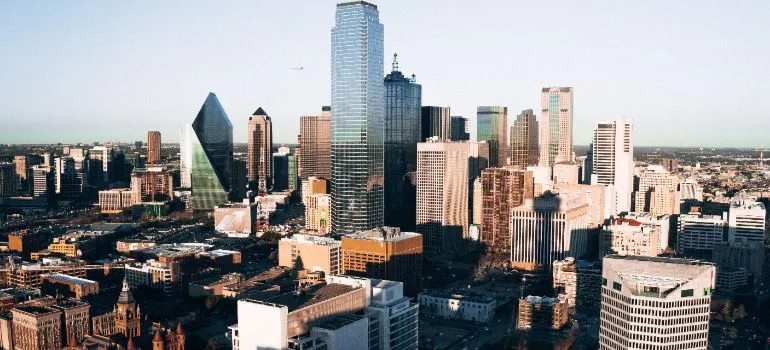 The real estate market is accessible and affordable
One thing is certain, Texans sure love homeownership. According to the statistics, the median home value in the state of Texas is around $190.000. It is worth mentioning, however, that the home values have increased by roughly 6% in the past year. And over the next 12 months, they are expected to rise further. Even so, the values are still far less than the national average. This means that you shouldn't hesitate, and give your trusted moving company Washington a call. Texas has many great cities that range in cost, and some of the best ones are:
Harker Heights – A small town of 28.000 people. With many lakes, community parks, and trails, it offers many options for spending quality time with your family. The housing is very affordable with a median price of $65.000.
Pearland – If you're looking for a safe neighborhood to live in, then Pearland is the place to be. This quaint Houston suburb boasts a crime rate significantly lower than the national average. One of the greatest benefits to the residents is the proximity to all major hubs of Houston. The average home price in Pearland is $185.000.
Frisco – If you're moving from Washington to Texas with kids, you'll love Frisco. The schools here are rated in the top 10% on a national level. The housing costs are on the higher end, however, with the median home price clocking in at $280.000.
Although the home prices vary from city to city, most cities are, as we said, well below the national average. So, do your research before the move, and you'll quickly find the perfect home for your budget and needs.
One of the main reasons for moving from Washington to Texas is the booming job market
Over the past few years, the unconventional boom in the oil and gas market has turned Texas into a true economic giant. The statistics say that, even though the population grew by 13% in the past 10 years, the job market has been able to sustain this growth with absolute ease. Take the fact that the job market is very robust, pair it with very affordable housing, and you have the perfect relocation destination! The main industries in Texas are petroleum, wind energy, education, healthcare, and education. A few notable employers are Shell, Dell, Lockheed Martin Aeronautics, and Anderson Cancer Center.
The electricity bills are considerably lower
If you're trying to boost your moving budget or attempting to save money in other ways, you'll be pleased to know that Texas has a deregulated electricity market. This effectively means that there are various energy suppliers from which the residents can choose. This allows you to pick the company that fits your family's and home's needs the best. Given that you're moving from Washington to Texas, you're probably used to a regulated market and might be concerned about this. But don't worry, because service interruptions are not an issue. Once you choose your provider, it takes a few days for the changes to take effect. Then, you'll get your first bill from the chosen provider next month. With many different providers and rates, it is very easy to manage your energy expenses.
After moving to Texas, prepare yourself for heavy traffic
The first thing you're most likely to notice after moving from Washington to Texas, is that everything is spread out, geographically speaking. One of the bigger downsides of living in the Lone Star State is the lack of efficient public transport. Ask any city-dwelling Texan, and they'll tell you that dealing with long hours stuck in traffic can be really frustrating. This is something you need to take into consideration before hiring reliable interstate movers. Given that you'll have to cover a long distance, you'll have to carefully plan your route, and take traffic delays into account. The main problem lies in the fact that in some places, the roads have not kept pace with the rapidly growing population. So, unless you're living within a 3 to 4 mile radius of your workplace, expect to spend a considerable amount of time on daily transit. Good luck with your move!
Let our team put together a comprehensive moving plan for you. Complete our simple free quote form or contact us at 1-888-300-7222.