How to stay healthy during your move
Going through a relocation process is a taxing experience, both for your mind and your body. If you want to stay healthy during your move, you will need to create a proper plan of action, as well as prepare your meal schedule beforehand. Your body will require more nutrients on the day of the move, as well. Of course, hiring professional movers such as Hansen Bros. Moving & Storage will make the entire relocation process a lot easier. But even if you have them assist you, it is entirely possible that you will need to be more active than usual. In this article, we will go over all the things that you can do to ensure that you are as healthy as possible during your relocation.
Tips to stay healthy during your move
Here is what you will need to do to remain in peak health condition:
Create a plan.
Make a schedule for your meals.
Eat a nutritious breakfast if you want to stay healthy during your move.
Snacks will keep your energy levels up.
Keep a fruit basket in the kitchen.
Stay healthy during your move – Stay hydrated!
Follow all of your doctor's instructions if you have them, overriding the things above when necessary. Everybody is different and you might want to take its particular needs into account, as well. While one of the Issaquah moving companies will do most of the work, you may need to lift an item or two here and there, as well as move around and provide instructions. It is vital that you know what your limits are, and respect them. And you also want to be in a proper mental state. Thus, your first task needs to be to:
Create a plan
Going into the unknown produces stress and can cause a feeling of fear. For this reason, relocations are just about the most stressful situations you can find yourself in. There are many uncertainties, which make for great fear and stress breeding ground. But you can fight them by creating a solid plan, and perhaps a backup plan.
You want to be in control and to know what will be happening at each stage of your relocation process. Work with your long distance movers Seattle and finalize a plan of action before the moving day comes. Even if you are leaving most of the details to them, you will still want to know about the general "flow" of the process. That way, you will not be staring at something unknown but something planned. And that will make you feel better.
Make a schedule for your meals
When your relocation starts in earnest, a couple of days before the moving day, it may get hard to maintain a proper schedule for your meals. Therefore, you need to account for that and create a new, temporary, schedule that will take you through those couple of days. You want to make sure that you are eating properly, and not risk feeling ill or weak when it really matters.
Yes, you can hire a plethora of special services from your movers, and have even less to do on a moving day, but you will still need to make the trip to your new home. And you want to be at your best when you arrive, so you can start your "new life" on the right foot, so to say. Having proper meals at regular intervals will help you with that.
Eat nutritious breakfast if you want to stay healthy during your move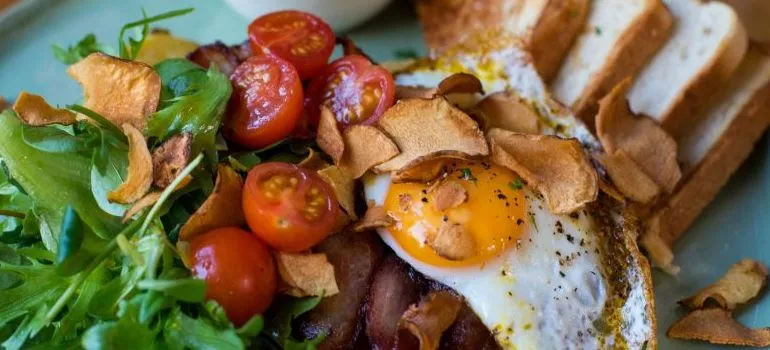 Speaking of meals, the most important meal of the moving day will be your breakfast. Usually, your movers are going to arrive early and start dealing with the relocation necessities. You will spend a lot of energy at that time, and it is vital that you have somewhere to draw it from.
Therefore, do not simply have a small bite and call it a meal, prepare something nutritious that will keep your energy levels high until lunch. The exact "menu" is up to you, it is only important that it provides you with enough energy. You may want to include more carbs than usual, as they will provide you with an immediate energy boost.
Snacks will keep your energy level up!
Depending on your activity throughout the day, you may need a "boost" here and there. For that reason, you may want to prepare some snacks ahead of time. Again, they can be anything that you are used to, or want to eat, but they need to provide you with additional energy when you require it. There are many products on today's market and there is something for everyone, regardless of their food disposition.
Keep a fruit basket in the kitchen
If you can stomach fruit, create a fruit basket and place it in the kitchen. Fruit makes for a perfect snack for the moving day, and your moving crew might appreciate it as well. Whenever you pass by, you can grab something from it. That way, you will keep a steady supply of energy for the entirety of the relocation process. And fruit is healthy for you, to begin with.
Stay healthy during your move – Stay hydrated!
Lastly, the most important thing to remember is to drink plenty of fluids. Water is best, of course, but you can supplement it with other products, too. Try to avoid plenty of sugary drinks, though, as they may have a negative impact. Even a can of soda is perfectly fine, provided that you did not take other sugars previously. But pure water is always best. Our body gets everything that it needs from it, as far as fluids are concerned. Combine that with a proper meal, and you will stay healthy during your move without a single issue!
Let our team put together a comprehensive moving plan for you. Complete our simple free quote form or contact us at 1-888-300-7222.