The importance of referring good movers to others
Finding a good moving company might not be the easiest thing in the world. Many people struggle to find quality movers, and many more fall prey to a moving scam of some sort or experience additional costs, hidden expenses, there are all sorts of things going on. And that is precisely why you should be referring good movers to others if you had a positive experience. For example, if you hired one of the moving companies Kirkland and they did a great job, you should pass that knowledge to your acquaintances, family, and friends. That will make it a lot easier for them. And there might be something in it for you as well.
5 reasons why you should be referring good movers to others
While the referrals themselves provide a huge variety of benefits to everyone, here are the most important ones:
Makes it easier for others to find quality movers
Saves time and energy
Offers assurances
You can get a discount for your next relocation
Reduces the chance for a moving scam
If you spent the time searching for quality movers on your own, then you might already realize how much help it would be if someone just gave you the information on a "silver platter". And that is why you will want to share your experiences with local movers Seattle or any other you came in contact with. But for now, let's see how exactly will this information help the people you will be sharing it with.
Referrals make finding quality movers easier
The fact of the matter is that there are hundreds of moving companies out there. And they all offer similar services to their clients. Figuring out which company is right for you takes considerable time and effort. But if you have a few referrals from a trusted source (in this case, you), the whole process becomes infinitely easier. You get to provide your friends, family members, or any other acquaintance with a way to easily navigate around the available moving companies. And if you help someone find ideal office movers Seattle, you might secure considerable favor, which can help you down the proverbial line. Not that you are doing it to get something out of it but it is a welcome addition.
Time savings
Finding movers takes considerable time investment. And time is something that no one has enough of. By providing a referral to others, you will help them plan and organize their relocation in a more efficient manner. They will not need to search for movers on their own, they can simply follow your referral and have a positive moving experience.
Furthermore, you may allow your friends to make more time for social events, as they will not need to spend it searching for movers. This can have a hugely positive effect on your own life, as you get to spend more time with people you care about.
Referrals provide additional assurances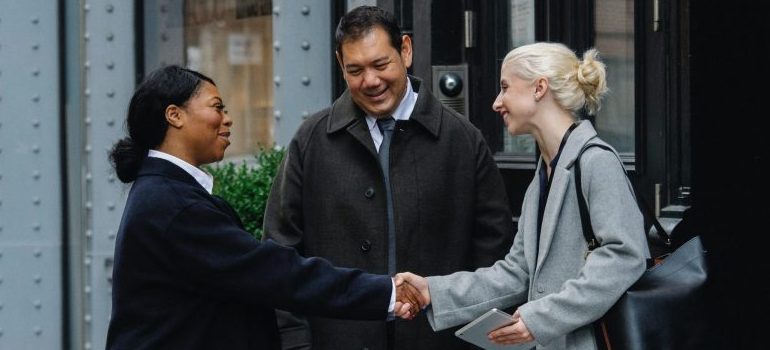 When you share your positive experiences with others, you are providing them with an additional assurance that their moving process can be the same. By recommending quality movers, you are paving the road to yet another successful relocation. Reliability and trustworthiness are highly sought after in this day and age, and others will know how to appreciate it. Just think about when you were looking for movers and how easier it would be if you had a referral to go on.
Most of the moving company's business is based on referrals, in fact, which can work in your favor.
Referring good movers to others can grant you discounts
Since you are directly contributing to the company's business, most movers will be happy to provide you with something for the referral. This can range from discounts, coupons, and even a free relocation! Of course, you would need to provide numerous referrals for the latter but it is a possibility.
For example, at Hansen Bros. Moving & Storage, we are very generous with our customers who bring us more business. We strive to maintain a good relationship with all of our clients and offer great referral incentives. Aside from financial gains, recommending good movers brings a lot of positivity into the whole process. Your friends will be happy that they have a great moving company to work with, and the movers will be grateful for additional business. It's a win-win situation for everyone!
With your referral, the chances of moving scams drop
Lastly, we simply can't disregard the fact that there are moving companies out there that scam their customers. The main tactic of these movers is to offer ludicrously low moving prices. That makes most people think about them as a low-cost relocation alternative. However, the low prices also "tip-off" some people that something is wrong. There are good reasons why most movers have similar prices, after all. But there is a possibility that some low-cost movers might be legitimate.
If you don't have a referral for a low-cost moving company, hiring them poses a considerable risk. But if you do, this risk is significantly lessened and might prove to be the difference between an enjoyable moving experience and a horrible one. By providing a referral, you are reducing this risk by a considerable margin. It is not "bulletproof" of course, as providing quality service to a few customers only to scam others is an often-used tactic. With low-cost movers, there is always a risk, after all, referral or not.
Conclusion
To sum it all up, if you have had a positive experience with a moving company in the city of Seattle, or anywhere else, it is to everyone's benefit to share those experiences. When referring good movers to others, everyone wins, simple as that. You might also want to take some time to write a customer review or two, to help friends and complete strangers both.
Let our team put together a comprehensive moving plan for you. Complete our simple free quote form or contact us at 1-888-300-7222.