Seattle outdoors activities to explore with family
Seattle is a fantastic place to call home. Among countless other perks, The Emerald City with its surroundings boasts sublime natural beauty. Washington state's largest city is a virtual paradise for any outdoor lover. If you're moving here with your family, rest assured that there are countless breathtaking sites to explore, suitable for people of all ages. In continuation, Hansen Bros. Moving & Storage shares the pick of our local experts on Seattle outdoors activities well worth exploring. Hence, take note and experience the beauty of your new home in its full splendor. This is sure to help you settle in with ease after moving with the family. So, let's delve into it.
What to expect when moving to Seattle with your family?
There are many things that make Seattle one of the best places to live on the West Coast. It's a family-friendly place with fantastic schools and amenities that contribute to a great quality of life. Apart from the favorable factors for prosperous living, there are countless Seattle outdoor recreation options that surely make the Emerald City the ideal spot for quality family life. Here you'll never run on options for fantastic weekends spend in nature or relaxing afternoons enjoying the beautiful surroundings with your loved ones. So, here are a few suggestions from your interstate movers on the best Seattle out in the open recreation options you should explore.
Woodland Park Zoo
Green Lake Park
Olympic Sculpture Park
Gas Works Park
Diverse options on Seattle outdoors activities are to be found in Woodland Park
Woodland Park is a large multipurpose recreational area located near Green Lake in Seattle. The park spans an area of more than 90 acres. It offers numerous options for outdoor activities in Seattle for the entire family. Here you'll find space for picnic and barbecue, as well as children's playground area. All of our teams of West Seattle movers agree that this is one of the favorite pastime places for local families. 
The most famous feature of Woodland Park is the Zoo that takes up a large portion of the place. This is an award-winning wildlife conservation organization, also renowned for its environmental and ecological conservation efforts. So, the Zoo hosts a number of fascinating exhibits that fascinate children as much as adults.
Woodland Park Zoo is home to more than 300 animal species, some of which are endangered. It's home to the first immersion exhibit in the world opened in 1970 and it recreates a gorilla habitat. Besides, here you'll find sections focused on Asian jungles, African Savanna, Australian wildlife, penguin enclosures, tropical rainforests, and a butterfly garden.
Of course, your kids are sure to love the children's dedicated play area encouraging education and offering lots of fun for young children. The Woodland Park and the Zoo is a must-try among the long list of Seattle outdoors recreations for families.
A green space oasis in the midst of an urban center – Green Lake Park
Nestling the inky waters of Green Lake, the park with the same name is an oasis of peace and relaxation in the urban center of The Emerald City. It's one of the most beloved green spaces and a sure bet to enjoy Seattle with family.
In Green Lake Park, you can choose from many Seattle activities in nature. Apart from a picnic area and swimming options in the warmer months, the park has a boathouse offering boating, sailing, or canoeing rentals. Besides, this is a popular spot for qigong classes and golf. In the picturesque settings of this park, you can indulge in a host of outdoor activities, such as jogging, in-line skating or simply taking a breath of fresh air while sunbathing. Hence, explore this place to experience one of the best Seattle out in the open recreations options, and you and your entire family are sure to fall in love with your new home before you know it.
Olympic Sculpture Park is where art and nature come together
Art and nature go very well together. And Olympic Sculpture Park is just one way to back up this claim. If you're an art admirer, this place will surely become your favorite spot for fantastic outdoor experiences in Seattle. And if you perhaps can't find the ideal display spot for your beautiful art in your new abode just yet, make some good use of Portabox Storage Seattle.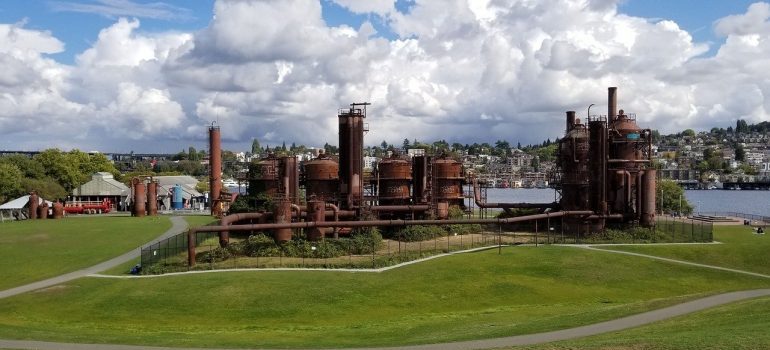 So, Olympic Sculpture Park is a child of the Seattle Art Museum. Here you can admire beautiful pieces of modern and contemporary sculpture in a calming outdoors setting. Among the exhibits are site-specific installations, as well as temporary and permanent sculptures. These are harmoniously paired with the parks' greenery and landscaping, so you'll enjoy great artwork on Mother Nature's backdrop. Besides, all members of your family will surely love the gorgeous views of Puget Sound and the postcard-worthy Seattle skyline. Hence, make no mistake, Olympic Sculpture Park is among the Seattle outdoors recreations options that'll make you happy you've discovered.
Gas Works Park is ideal for relaxing Seattle outdoors activities with the family
Built at a location at which used to stand a coal gasification plant, Gas Works Park is part of Seattle's history and cultural landscape. The park's central feature is a boiler house, which in fact is a picnic area with fire grills and tables. What once was an exhauster-compressor now is a colorful playground for children.
Gas Works Park is situated on the shores of Lake Union, providing a great selection of outdoor activities to enjoy with the family when moving to Seattle. Biking, kayaking, and enjoying a leisure stroll are just some of these, to name but a few. Also, there are many community events that take place in this unique park throughout the year. This certainly is among the many fantastic options for outdoor recreation with the whole family in Seattle.
And so, here we come at the end of our brief account of Seattle outdoors activities for families. Of course, this is by no means all that The Emerald City has to offer to those that appreciate nature. However, the aforementioned few places will give you the lead on where to start exploring Seattle and its fantastic outdoors after moving here. So take note, and have fun.
Let our team put together a comprehensive moving plan for you. Complete our simple free quote form or contact us at 1-888-300-7222.